USB to Avionics Interface Boards
Compact · Easy · Versatile
The Easiest Way to Add Avionics Interfaces to Your Embedded System

Ballard compact and rugged databus interface boards provide an easy USB alternative to traditional embedded card types, while delivering the benefits of small size and light weight.
These boards are the Printed Circuit Board Assemblies (PCBAs) for our popular USB interface products (both USB 3.1 and USB 2.0 models). Each USB model can be ordered without the enclosure so the board can be used in embedded applications. These compact and rugged units provide robust, low power interfaces for MIL-STD-1553, EBR 1553, ARINC 429, ARINC 717 and ARINC 708. The boards link these avionics databuses to widely-available USB ports, which supply all needed power.
Embedded PCBAs from Our Industry-Leading Avionics Interfaces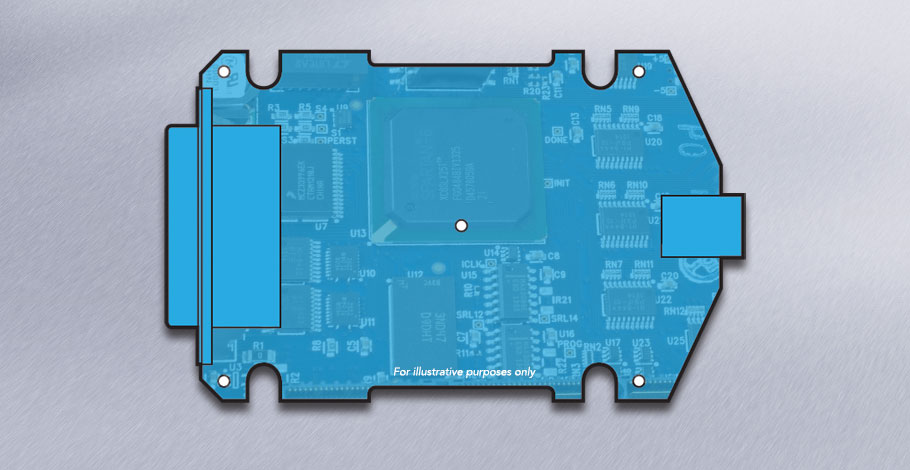 These lightweight and low-power avionics interface printed circuit boards are 'No Enclosure' versions of our portable USB adapter products. We introduced our game-changing Ballard USB interfaces over 10 years ago. Since that time, these reliable and proven peripheral interfaces have been deployed in countless commercial and military flight lines and avionics labs.
Click below to get more details on each type of USB interface product. The ordering information for each includes details for ordering the 'No Enclosure' (/NE) version.
Powerful Performance Combined with Small Size, Weight, and Power
Protocols & I/O
Up to 2 MIL-STD-1553 Channels
Up to 16 ARINC 429 Channels
Up to 4 ARINC 717 Channels
Up to 4 ARINC 708 Channels
Up to 4 EBR 1553 Ports
Up to 4 Serial Ports
8 Avionics Discrete I/O
IRIG A/B PWM and AM
USB Bus Powered
Small, Lightweight and Rugged
Small Size and Weighs only 2.3 Ounces!
At just 2.3 oz. (65 g) and fully USB powered, they allow system designers the opportunity to reduce Size, Weight and Power (SwaP) over other alternatives.
Completely Powered by the USB Port
The PCBAs connect to widely-available USB ports to easily add avionics databus capability to new or existing embedded systems.
Ordering Information
Please contact our Customer Service Department for assistance in choosing the correct model for your application. For more information or to request a quote, call +1.425.339.0281 or fill out the form at the bottom of the page.
Let's Start the Conversation
For more information or to request a quote, fill out the form below or call us at: +1.425.339.0281