Portable Avionics Interfaces for USB
UA2000 Avionics Interfaces for SuperSpeed USB 3.1
The Best Just Got Better
These pocket-sized USB adapters are the easy and portable way to interface your computer to avionics databuses including: MIL-STD-1553, ARINC 429, ARINC 708, ARINC 717, and Discrete I/O. The UA2000 enables computers to communicate with, simulate, test, and monitor avionics equipment and systems.
Astronics Ballard Technology introduced our game-changing USB interfaces over 10 years ago. Since that time, these reliable and proven peripheral interfaces have been deployed in countless commercial and military flightlines and avionics labs. The UA2000 family builds on that success with an all-new USB 3.1 design that will serve your interface needs for years to come.
The Favorite Avionics Test Tool for Military and Commercial Customers Around the World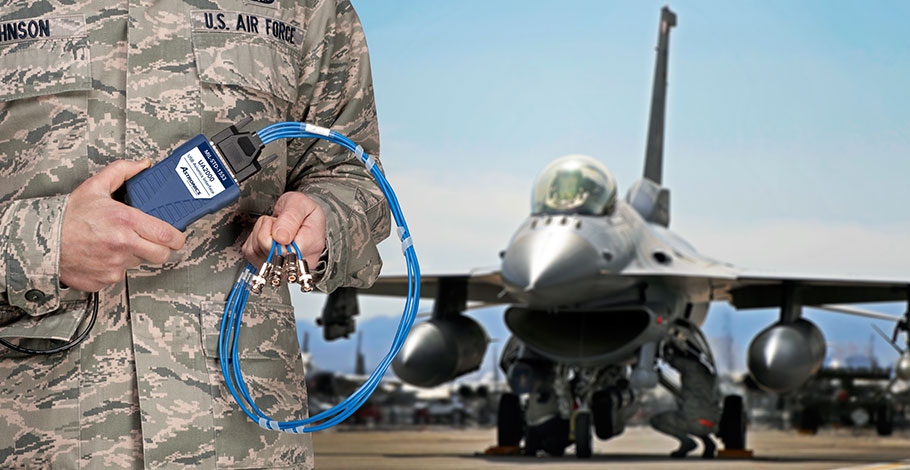 The New Standard
The UA2000 is ready for today and for tomorrow. As a functional replacement for our first generation USB products, you can readily interchange them with your existing units and current software with no application modification typically required. The included USB-A cable makes that easy. As the need arises, simply switch to the USB-C cable for native connection to USB 3, 4 and Thunderbolt to operate flawlessly with the latest computer models available now and in the future.
Easy
Simple plug and play operation and compatibility with USB 2, 3, and Thunderbolt
Effective
Low power operation and proven performance with all avionics protocols
Established
The industry's most trusted and widely used USB Interfaces for avionics test & simulation
Put a New Tool in Your Pocket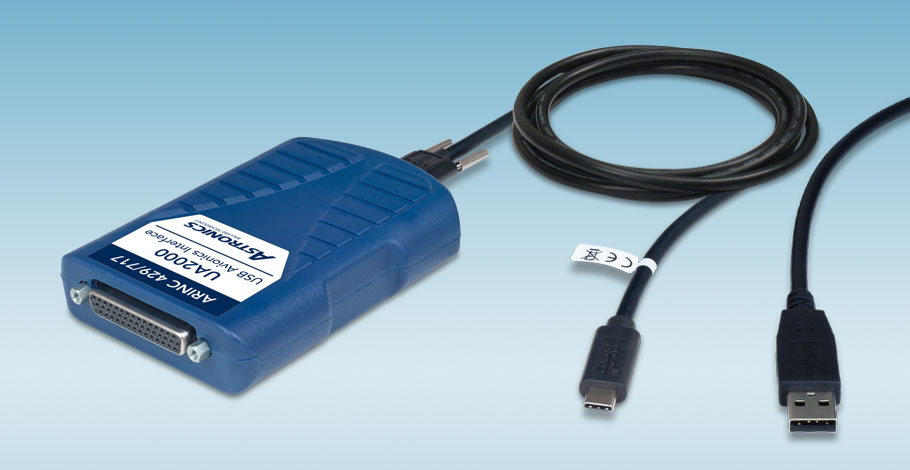 One small tool does it all – databus test, analysis, simulation, and operation. Use it around the lab, in the field, or as an embedded device. Simply connect it to any available laptop, desktop, or tablet PC – it's fully powered by the USB port. You'll want to use it for all your interface applications:
Databus Analysis, Test, and Simulation
Weather radar, CDU, and T-R unit analysis, test, and simulation
Data Loading
Flightline and AOG Support
Replacing Plug-in Cards
Many More Uses in the Lab or in the Field
Easy-to-Use Supporting Software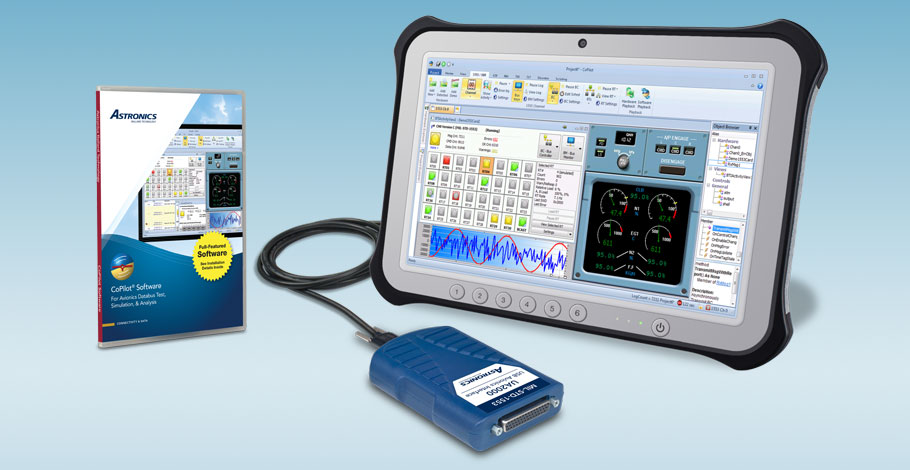 BTIDriver Universal API
The UA2000 includes Ballard's universal BTIDriver™ API, allowing you to quickly develop your own software applications. With only a few function calls, your program can operate the USB hardware and process messages to and from the avionics databuses. Functions include routines for transmitting, receiving, scheduling, recording, time-tagging, and manipulating data. With BTIDriver, application code migrates seamlessly to and from other Ballard devices, reducing development time and costs.
CoPilot Interactive Software
CoPilot® software, available as an option with special bundled pricing, provides easy-to-use, interactive tools for databus test, analysis, and simulation. CoPilot simplifies project development and provides added productivity through virtual instrument displays, flexible monitoring & analysis tools, and a powerful scripting engine.
The UA2000 Family includes models for these avionics protocols: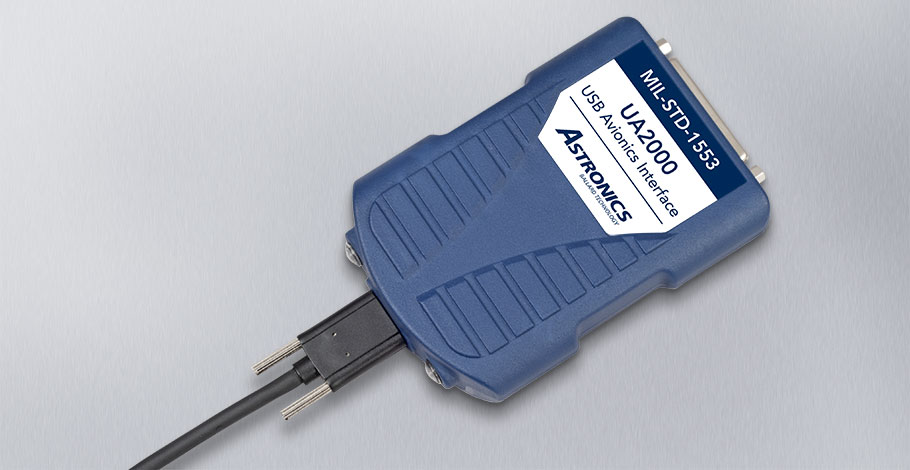 MIL-STD-1553 Series
Enable computers to interface with MIL-STD-1553 equipment and systems. Depending on the hardware model, each 1553 channel may be either single-function, multi-function, or bus monitor only.
1 or 2 dual-redundant channels
Full MIL-STD-1553 functionality: BC, RT, and/or Monitor; Error injection (Multi-function); LEDs indicate bus traffic and errors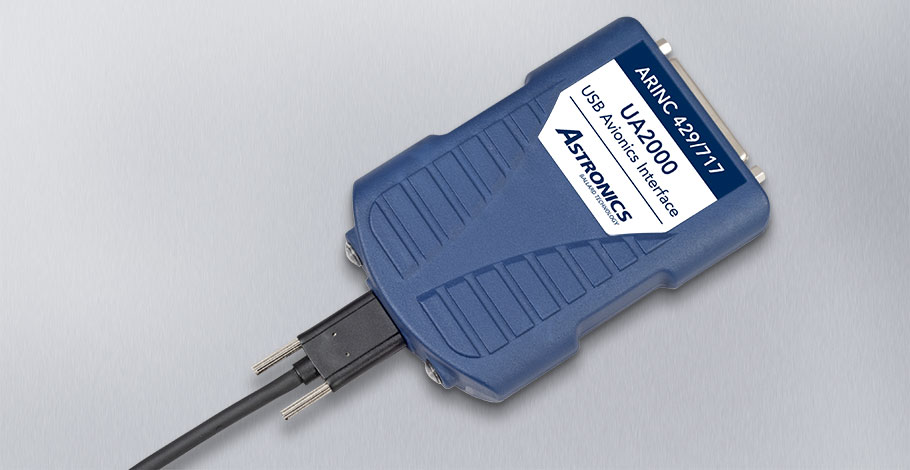 ARINC 429/717 Series
Enable computers to interface with ARINC 429/717 equipment and systems. Models are available with ARINC 429, ARINC 717, or a combination of both.
Up to 16 ARINC 429 channels (12R4T)
Up to 4 ARINC 717 channels (2R2T)
Full ARINC 429 functionality: Handles periodic and transfer protocols; Message filters and schedules; Standard and non-standard bit rates; Error detection and selective injection; Variety of syncs and triggers; Several message buffering schemes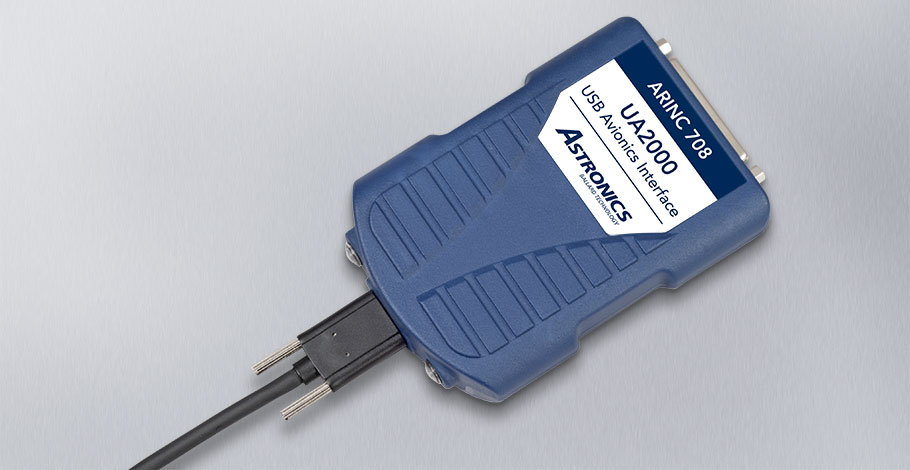 ARINC 708 Series
Enable computers to interface with ARINC 708 and custom weather radar display databuses. They feature extensive functionality for testing and simulating weather radar systems, CDUs (Control-Display Units), and T-R (Transmit-Receive) units.
Up to 4 channels (2R2T)
Full ARINC 708 functionality: Receive, Transmit, and Monitor; Direct coupled channels per 708; Strappable on-board termination
UA2000 – Avionics Interfaces for SuperSpeed USB 3.1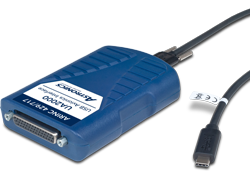 Standard Blue Case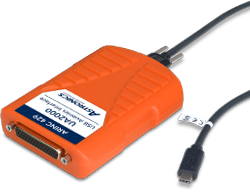 Flight Test Orange Case
(high-visibility case for flight test use)
Proven Performance
The UA2000 is the result of over 10 years of highly-successful avionics interfacing experience using USB.
Universal Compatibility
The all-new USB 3.1 design and low-power requirements mean the UA2000 is compatible with USB 2, USB 3, USB 4, and Thunderbolt™ ports. The product ships with both USB-C and USB-A cables for easy connection to current and future computer ports.
Powerful Protocol Engine
The UA2000 hardware performs all protocol processing, freeing your software to focus on high-level application-specific processing.
Small, Rugged, and Portable
The UA2000 easily fits in the palm of the hand and is equally at home in the lab or in the field. Flight Test Orange units are available for on-aircraft use.
Easy to Use
Plug and play and hot swap features make the UA2000 easy to install and move between computers. The unit is fully powered by the USB port.
Key Features
Interface USB to avionics databus protocols
Small, portable, and rugged
Easy Plug and Play installation
Compatible with USB 2, USB 3, USB 4, and Thunderbolt™ ports
8 programmable avionics discrete I/O
IRIG A/B PWM and AM
64 MB Data Memory
2 LED indicators:
Green: Power, databus activity
Red: User controllable
USB Cables Included:
USB-C Locking to USB-C (5 ft/1.5 m)
USB-C Locking to USB-A (5 ft/1.5 m)
FCC, CE and RoHS compliant
3-year limited warranty standard
Select your desired UA2000 Interface model(s) in the table below. For more information or to request a quote, call +1.425.339.0281 or fill out the form at the bottom of the page.
UA2000 Models
| | | | |
| --- | --- | --- | --- |
| Protocols | Channels | Hardware & CoPilot* | Hardware Only |
| MIL-STD-1553 | 2 Multi-function | CP-UA2133 | UA2133 |
| MIL-STD-1553 | 1 Multi-function | CP-UA2130 | UA2130 |
| MIL-STD-1553 | 2 Single-function | CP-UA2122 | UA2122 |
| MIL-STD-1553 | 1 Single-function | CP-UA2120 | UA2120 |
| MIL-STD-1553 | 1 Multi-function, 1 Bus Monitor | CP-UA2131 | UA2131 |
| MIL-STD-1553 | 1 Single-function, 1 Bus Monitor | CP-UA2121 | UA2121 |
| MIL-STD-1553 | 2 Bus Monitor | CP-UA2111 | UA2111 |
| MIL-STD-1553 | 1 Bus Monitor | CP-UA2110 | UA2110 |
| MIL-STD-1553 | 4 Bus Monitor** | CP-UA2140 | UA2140 |
| ARINC 429 | 12R4T | CP-UA2440 | UA2440 |
| ARINC 429 | 8R4T | CP-UA2430 | UA2430 |
| ARINC 429 | 4R2T | CP-UA2420 | UA2420 |
| ARINC 429 | 1R1T | CP-UA2410 | UA2410 |
| ARINC 429 / ARINC 717 | 8R4T / 2R2T | CP-UA2431 | UA2431 |
| ARINC 717 | 2R2T | CP-UA2401 | UA2401 |
| ARINC 708 | 2R2T | CP-UA2720 | UA2720 |
| ARINC 708 | 1R1T | CP-UA2710 | UA2710 |
Notes
*Includes optional CoPilot Test & Analysis Software at special bundled pricing
**Channels are non-redundant
nRnT = number of Receive/Transmit channels
Multi-function channels have protocol error injection capability and can simultaneously be a Bus Controller (BC), Bus Monitor (BM), and up to 32 Remote Terminals (RTs).
Single-function channels can be configured in software as either a Bus Controller (BC), a Bus Monitor (BM), or up to 32 Remote Terminals (RTs).
Options
To order options, add the appropriate suffix to the end of the part number. Example: CP-UA2133/FTO
/FTO - Flight Test Orange case in place of the standard blue case
/NE - No Enclosure, Printed Circuit Board Assembly only, for embedded use
/FXY - Conformal coating (Parylene)
Included Accessories
All UA2000 products (except /NE models) include:
• 1553 transformer-coupled I/O cable with PL-75 connectors (3 ft) (MIL-STD-1553 models only)
• USB-C to USB-C cable with screw-locks (5 ft)
• USB-C to USB-A cable with screw-locks (5 ft)
• Mating HD44P D-Sub I/O connector
• Manuals (digital download) and software CD