Dual Sensor Enhanced Vision Systems
See It All with Two Cameras in One

Enhance your safety and situational awareness while flying with Max-Viz dual sensor enhanced vision systems (EVS) from Astronics. These multi-spectral imagers include a long wave infrared sensor, a visible light + near infrared sensor, and patented blending and dynamic range management image processing to enable pilots to see clearly during day and night.
Astronics' Max-Viz EVS systems offer the best way to see the real-world environment in real-time.
Clear vision through haze, smoke, light fog and other challenging conditions
Take off: Maintain situational and spatial awareness
En-route: Avoid bad weather for a smoother ride
On approach: See ground-based hazards in dark and low visibility conditions; see the landing environment during black hole approaches
During taxi: Avoid other aircraft, airport equipment, and potential incursions before they become an issue
These state-of-the-art enhanced vision systems are lightweight, solid-state, low power, uncooled thermal cameras. Some EVS models include zoom capability. Compatible with leading MFDs and EFBs, the sensor image can appear on any display that accepts composite video (RS-170), NTSC, or PAL signals.
Experience the Difference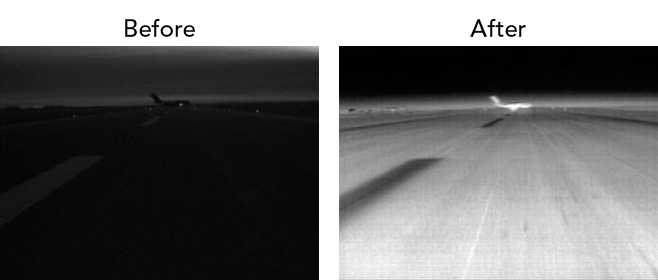 ---
Let's Start the Conversation