SATCOM Inflight Connectivity Solutions
Astronics AeroSat keeps people connected no matter where they fly. Leveraging over 20 years of experience and millions of flight hours, we offer aircraft manufacturers and operators proven, reliable, and certified satellite communication (SATCOM) connectivity systems that lead the industry in RF performance, bandwidth data speed, and reliability.
Our tail-mount and fuselage-mount SATCOM systems work with any Ku-band satellite network and perform seamlessly to deliver a fast, enjoyable passenger and crew connectivity experience.
We drive innovation in the industry, and partner with connectivity leaders including Intelsat, SES, Satcom Direct, the Seamless Air Alliance, among others. Through our global presence and partner networks, we offer global support and service to ensure our systems perform reliably.
From commercial transport to business aviation, from VIP to military programs, Astronics AeroSat offers proven inflight connectivity solutions that deliver the industry's best user experience on any aircraft.
Dependable. Scalable. Supportable. View our IFC Antenna and Radome Solutions.

To request product or service information/pricing and for all other requests, the following details are requested to be sent as part of the inquiry. Click here to submit a request.
Astronics AeroSat Flight Demo
Certifications
About Astronics AeroSat
Introduction
Mission
Astronics AeroSat endeavors to be an industry leading company that provides innovative airborne integrated solutions.
Vision
Driven To Innovate and Integrate
Through technological innovation and customer engagement, we create aviation systems that enhance the in-flight experience for air transport, business aviation, and special missions customers to provide the most advanced, secure, and robust airborne systems available.
Core Values
Integrity – Trust and Honesty are critical and required.
Urgency – Timeliness and Responsiveness is paramount.
Attitude – It's my job to serve each other and our customers.
Commitment – AeroSat is our company.
Astronics AeroSat, based in Manchester, New Hampshire, designs and manufactures fuselage- and tail-mounted Very Small Aperture Terminal (VSAT) Satellite Communication (SATCOM) solutions for general aviation, business, commercial transport, VVIP, head of state, and military aircraft around the world. AeroSat's mission is to keep you connected, no matter where you fly. For over a decade, AeroSat has been developing and manufacturing aircraft connectivity solutions that provide revolutionary inflight high-speed broadband internet and satellite television services for passengers and crew globally.
Today, AeroSat is on the cutting-edge of inflight high-speed broadband connectivity, a market with significant growth now and in the future. Our innovative Ku-band aircraft SATCOM antenna systems enable aircraft to connect to the Internet and receive direct broadcast service (DBS-TV) television whether in flight or at the gate, affordably in every region of the world. AeroSat's unique and patented aircraft SATCOM solutions provide connectivity service where others can't, due to a weak signal, low-to-horizon positioning, or humid/wet weather conditions.
Our mission is to become the aviation standard for wireless inflight broadband connectivity, satellite TV, email, Voice over IP (VoIP), and internet conferencing. AeroSat's technology roadmap includes continuous introduction of the next generation of airborne connectivity solutions, delivering even greater connection speed at the lowest cost possible to the user.
Innovative products. Proven performance.
AeroSat's product line includes multiple aircraft connectivity solutions tailored to unique aircraft and operator needs. This includes both fuselage-mounted and tail-mounted SATCOM solutions for maximum installation flexibility. Our patented aircraft antenna design provides the highest performance and sensitivity allowing AeroSat's systems to work when other's fail.
Certified and approved
Astronics AeroSat's quality management system is certified by TUV USA to ISO 9001:2015/AS9100D and we hold FAA Parts Manufacture Authority (PMA) as well as FAA and EASA Part 145 certification. Today, our airborne SATCOM products are in use on Boeing, Airbus, Gulfstream, Bombardier, Dassault, and Cessna aircraft, among others.
Quality Policy
Astronics AeroSat is dedicated to meeting customer and regulatory requirements and exceeding market expectations in terms of innovation, quality, product delivery and service.
Astronics AeroSat is committed to continual improvement of the quality management system to enhance quality performance, while continuously striving to maintain effectiveness by setting and meeting goals and objectives in order to support overall company growth and customer satisfaction.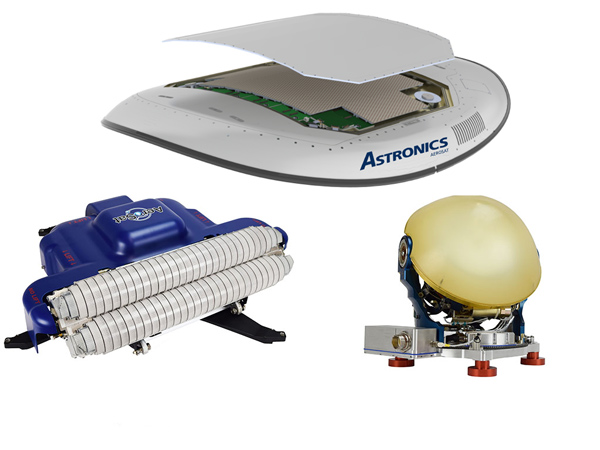 STC
AeroSat SATCOM antennas and systems are approved for a wide range of aircraft and are proven and trusted connectivity solutions across platforms and companies.
Fuselage mounted units have been approved for:
Airbus A319
Airbus A320
Airbus A330-200
Airbus A330-300
Airbus A340
Boeing 737 (all models)
Boeing 747 SP
Boeing 747-100
Boeing 747-200
Boeing 747-300
Boeing 747-400

Boeing 757-200
Boeing 767-200
Boeing 767-200ER
Boeing 767-300/F
Boeing 767-300ER
Boeing 767-400ER
Boeing 777-200
Boeing 777-300
Boeing Business Jet

Tail mounted units have been approved for:

Bombardier Challenger 601
Bombardier Challenger 604/605
Bombardier Global Express/XRS
Bombardier Global 5000/6000
Cessna Citation X
Dassault Falcon 2000
Dassault Falcon 7X

Dassault Falcon 900
Gulfstream G450
Gulfstream G500
Gulfstream G550
Gulfstream GIV
Gulfstream GIV-SP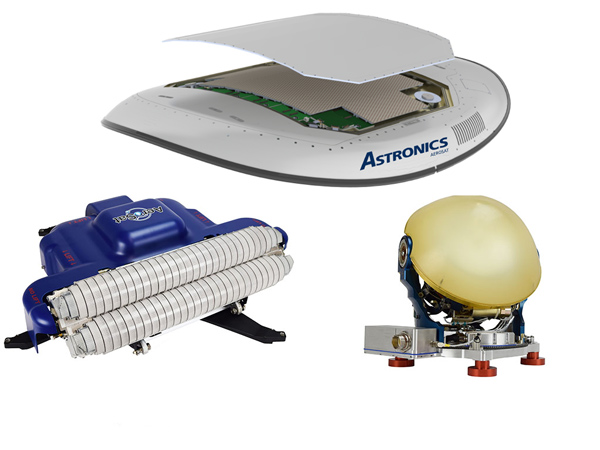 Customer Support
Product Support
AeroSat SATCOM connectivity solutions provide passengers with wireless Internet, satellite television, Voice over IP (VoIP), streaming video, and internet conferencing - anywhere in the world - in flight or at the gate. For support using these products, please contact us today.
For 24/7 emergency issues call +1.603.400.2528.
Contact:
Field Service Engineering
(M-F Eastern Standard Time 8AM-5PM)
Office: +1.603.879.0205
E-Mail: AeroSat.support@astronics.com
Product Registration
Need to register your product?
Send all product registration requests to AeroSat.Registration@Astronics.com
Please include the following registration details in the email:
Product designation - Part Number
Date of installation
Serial Number
Aircraft type on which installation has occurred
Installation location - company and location performing installation
Contact Name
Contact phone number
Contact E-Mail
Name of company providing satellite connectivity service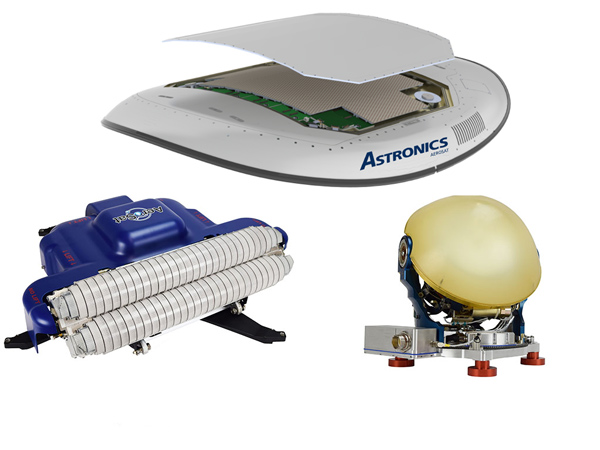 Downloads
F-Series Product Datasheet
T-Series Product Datasheet
AeroShield Product Datasheet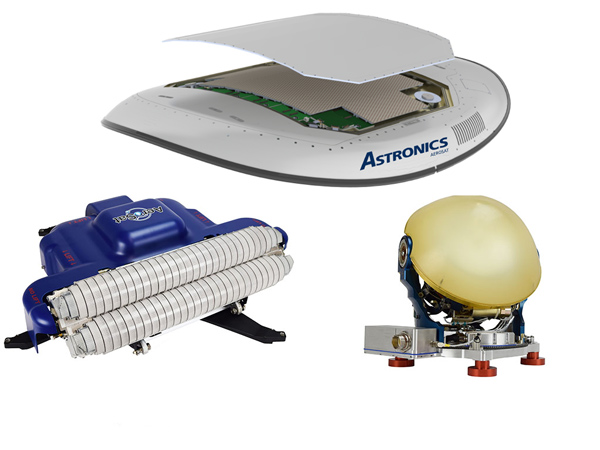 Featured Products
The T-311 system is the next generation tail mount connectivity solution ideal for broadband connectivity

View Product

Don't settle for aerodynamic drag penalties when installing connectivity antennas.

View Product

The F-310 is a next-gen connectivity system using Ku-band HTS spot-beam technology.

View Product
Featured Products
The T-311 system is the next generation tail mount connectivity solution ideal for broadband connectivity

View Product

Don't settle for aerodynamic drag penalties when installing connectivity antennas.

View Product

The F-310 is a next-gen connectivity system using Ku-band HTS spot-beam technology.

View Product
Featured News
Astronics recently executed an agreement with Collins Aerospace's to provide its Ku-band tail-mounted satellite communications (SATCOM) antenna technology for the Collins Aerospace KuSAT-2000 solution.

More Information

Astronics will preview its next-generation SATCOM connectivity solutions at the Aircraft Interiors Expo (AIX) in Hamburg, Germany, from April 2-4, 2019.

More Information

Astronics AeroSat recently received European Aviation Safety Agency (EASA) certification of its next generation SATCOM connectivity system.

More Information
Telephone
+1.603.879.0205




AOG & Support
Location
AOG
Support
P:
+1.603.879.0205 technical support