Flight Deck Power Systems
EmPower for the Flight Deck
Astronics brings its expertise in aircraft power systems to the flight deck.
Whether you need to update an existing fleet or fill out a new build, EmPower® outlets are available for both linefitting and retrofitting your aircraft. Pilots increasingly use electronic flight bags (EFBs) with real-time applications that can drain power, requiring easily accessible power on the flight deck.
Keep critical electronics like EFBs charged and operating with the industry-leading technology of EmPower.
Linefit Flight Deck Power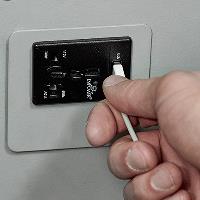 Multiple EmPower products are already a standard linefit option on Boeing and Airbus. Astronics flight deck power systems are modular in design and available in 110VAC, high power USB (10W), and the latest USB power delivery technology - USB Type-C (60W).
Linefit Datasheet
For more information about linefit installations, contact Astronics AES.
Retrofit Flight Deck Power
Astronics EmPower systems carry Supplemental Type Certificates (STCs) for retrofit installations in the flight deck on multiple Boeing aircraft types.
The STCs are for installations of 110VAC and USB outlet combinations, plus power supplies and associated wiring kits, on Boeing 737, 757, 767, and 777 aircraft. Astronics expects to receive additional STCs for more Boeing and Airbus aircraft this year.
For more information about retrofit installations, contact Astronics CSC.
---
Let's Start the Conversation