The Easy Avionics Interface
These pocket-sized USB adapters are the easy and portable way to interface your computer to ARINC 429 and ARINC 717 Avionics databuses.
Key Features
Up to 16 ARINC 429 Channels
Up to 4 ARINC 717 Channels
8 Avionics Discrete I/O
IRIG A/B PWM and AM
USB 2.0 Bus Powered—No External Power Supply Needed
2 MB Data Memory
RoHS Compliant Design
Standard Black or Flight Test Orange Case
Small, Portable, and Rugged
Boards also available without enclosure for embedded use
There is a newer version of this product available: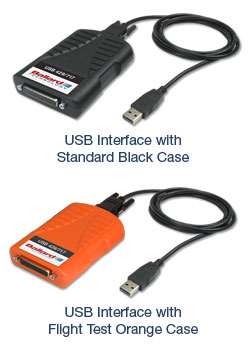 Applications
ARINC 429/717 Analysis, Test, and Simulation
Data Loading
Flightline and AOG Support
Replacing Plug-in Cards
Many More Uses in the Lab or in the Field
Powerful 429/717 Interfaces
The USB 429 family of pocket-sized USB adapters enable computers to communicate with, simulate, test, and monitor ARINC 429 and 717 equipment and systems. These rugged USB 2.0 peripherals feature extensive 429/717 functionality and are compatible with virtually all modern PC laptop, desktop, and tablet computers.
These versatile interfaces are suitable for a wide range of applications in the lab and in the field. They support maximum data throughput on all ARINC channels and have a large 32 MB built-in memory. All power necessary for operation is provided via the single USB port. Plug and Play and Hot Swap features make them easy to install and move between computers.
Hardware
Models are available with ARINC 429 channels only, ARINC 717 channels only, or a combination of both. All include eight avionics level input/output discretes and IRIG time synchronization/generation. They also provide useful non-standard functionality, such as a range of data rates, use of parity as data, and error injection. Once configured, the USB hardware performs all the protocol processing. It manages the reception, transmission, error checking, time-tagging and buffering of messages—freeing your software to focus on high-level application-specific processing.
Software
Develop software applications with the included BTIDriver API, or use Astronics' optional CoPilot software. CoPilot provides powerful, easy-to-use interactive tools for databus test, analysis, and simulation.
ARINC 429 functionality
Mix of receive and transmit channels
Handles periodic and transfer protocols
Message filters and schedules
Standard and non-standard bit rates
Error detection and selective injection
Variety of syncs and triggers
Several message buffering schemes
ARINC 575 support
LEDs indicate bus traffic
Similar Products
Other portable USB Interfaces are also available with different protocol and software options. Click on the following links for more information:
ARINC 429 Channel Details
Numeric and file transfer protocols
Standard and custom bit rates

12.5 and 100 kb/s standard
Configurable per channel
Wide range of custom bit rates

Set parity per channel (odd/even/data)
Sync output on all or selected messages
Internal self-test bus
ARINC 717 Channel Details
Software selectable biphase/bipolar
Subframe and superframe support
Data rates: 64, 128, 256, 512, 1024, 2048, 4096, 8192 words per second
Standard Features
Model dependent 429/717 capability
USB 2.0 interface
8 Avionics Discrete I/O
IRIG A/B input and output
2 LED indicators
32 MB on-board memory
Environmental
Component temperature: -40 to + 85 deg C
Storage temperature: -55 to +100 deg C
Mechanical
Dim: 3.0 x 4.45 x 0.97 inch (76 x 113 x 25 mm)
Weight: under 5 oz (140 g)
I/O Connector: HD44F D-Sub
Secure locking connectors
Power: Single USB Port
MTBF: 1,200,000 hours
Ordering Information
For more information or to request a quote, call +1.425.339.0281 or complete the form above.
| | | | |
| --- | --- | --- | --- |
| Protocols | Channels | Hardware & CoPilot* | Hardware Only |
| ARINC 429 | 12R4T | CP-UA1440 | UA1440 |
| ARINC 429 | 8R4T | CP-UA1430 | UA1430 |
| ARINC 429 | 4R2T | CP-UA1420 | UA1420 |
| ARINC 429 | 1R1T | CP-UA1410 | UA1410 |
| ARINC 429 / ARINC 717 | 8R4T / 2R2T | CP-UA1431 | UA1431 |
| ARINC 717 | 2R2T | CP-UA1401 | UA1401 |

*Includes CoPilot analysis & test software
nRnT = number of Receive/Transmit channels
Options
To order options, add the appropriate suffix to the end of the part number.
Example: CP-UA1440/FTO
/FTO - Flight Test Orange case in place of the standard black case
/NE - No Enclosure, Printed Circuit Board Assembly only, for embedded use
/FXY - Conformal coating (Parylene)
Cables & Accessories
The following accessories are included with all models except /NE versions:
USB-A cable with screw-locks (5 ft)
Mating HD44P D-Sub I/O connector
Software CD
A wide variety of cables and accessories are also available to complement Astronics' line of avionics databus interface products.