The Easy Test Solution
The TS 717 is a portable USB-powered test set that enables Windows computers to display ARINC 717/573 data from a Digital Flight Data Recorder (DFDR) or Digital Flight Data Acquisition Unit (DFDAU).
Benefits
Single solution for many applications
Portable, versatile, and durable
USB 2.0 bus powered—no external power supply needed
Compatible with virtually all Windows-based computers
Intuitive graphical software display
Rugged case allows unit to be stored with cables connected for quick setup
Use in the lab or in the field
FCC and CE compliant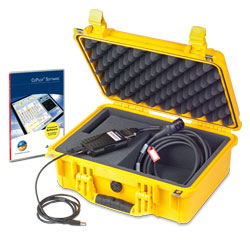 Applications
717 (and optional 429) analysis, test, and simulation
Flightline and AOG support
Data recording
Avionics validation/testing
Portable Problem-Solver
The TS 717 Test Set for ARINC 717 is a convenient, easy-to-use tool for test and maintenance of aircraft systems that are tied to the Digital Flight Data Recorder (DFDR). The compact interface/cable hardware is conveniently stored in a rugged carrying case for easy transport and quick deployment. To use, simply connect one end to the aircraft test plug, the other to the USB port on any Windows® computer, and the accompanying CoPilot software displays the user-specified data received from a Digital Flight Data Acquisition Unit (DFDAU) or DFDR output databus.
Operation
When connected to an ARINC 573 or 717 databus, the test set automatically senses and adjusts to the bit rate (from 64 to 8192 words per second). It then synchronizes to the sync words in the serial data stream. Status is continuously reported including the bus speed, state of the sync, and current subframe and superframe. To display a particular flight data parameter, the operator specifies the word by entering the desired word number, subframe, and superframe. The display is updated each time the specified word is received. Subframes may be specified uniquely or as odd, even, or all. Specify superframes uniquely or all.
Key Features
Easy to use
Receives, displays and transmits ARINC 573 and 717 data
Displays data in multiple radices
Shows bus speed and position status
Auto speed and sync detection
Selectable word, subframe, and superframe
Also available with ARINC 429 support
What's Included
All TS 717 models include the following items:
ARINC 717 databus to USB interface (also available with ARINC 429)
ARINC 717 aircraft cable
Locking USB cable*
44-pin mating connector for building custom cable
Rugged carrying case
Instruction manuals
*USB cable screw-locks securely to the interface hardware. If cable becomes damaged, a stardard USB printer cable can be substituted until a replacement is obtained.
Content continues below address block.
Avionics Interfaces
ARINC 717: 2R2T
ARINC 429: 8R4T (TS-UA1431-01 only)
Discrete I/O: 8 channels
ARINC 717 Details
Software selectable biphase/bipolar
Subframe and superframe support
Data rates: 64, 128, 256, 512, 1024, 2048, 4096, 8192 words per second
Environmental
Component: -40 to +85 deg C
Storage: -55 to +100 deg C
Mechanical
USB Interface: 3.0 x 4.45 x 0.97 in (76 x 113 x 25 mm)
Case: 16.0 x 13.0 x 6.9 in (407 x 330 x 175 mm)
Aircraft Cable
Connects to Boeing System Test Plug for Flight Data Recorder
length: 10 feet
Computer Interface
Power
I/O Connector
Ordering Information
For more information or to request a quote, call +1.425.339.0281 or complete the form above.
| | |
| --- | --- |
| Part Number | Description |
| TS-UA1401-01 | Test Set for ARINC 717. Includes ARINC 717 USB interface, 717 aircraft cable, USB cable, CoPilot software, rugged case, and manuals. A 44-pin mating connector is included to aid in building a custom cable. |
| TS-UA1431-01 | Test Set for ARINC 717 and 429. Same as above, but interface also supports ARINC 429 (8R4T). |