---
webCS WIRELESS AIRCRAFT COMMUNICATIONS SERVER
The first highly-integrated smart AID/server/router that securely bridges avionics data with wired and wireless networks in a single compact box.
The webCS® is a smart wireless aircraft communications server platform that is simple to install and configure, safe to interface with aircraft domains, and provides highly secure data transfer. This compact, versatile device enables aircraft operators to easily gather and process aircraft data, and then route it to where it is needed—whether on or off the aircraft.
Dependable Avionics Network Interfacing
The webCS performs all of the critical functions of an Aircraft Interface Device (AID) to connect with and gather needed flight data from essential aircraft equipment, while isolating and safeguarding aircraft data domains from interference or harm. Built-in avionics interfaces include ARINC 429, ARINC 717, ARINC 708, and discrete I/O. Data can be held for processing in the webCS, delivered via the resident ARINC 834 server, or both operations simultaneously.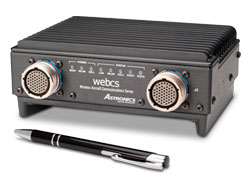 webCS with integral Wi-Fi and Cellular Antenna Array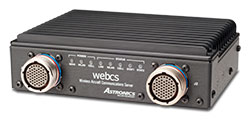 webCS with External Antennas
Concurrent Application Hosting
The webCS features the robust computer resources necessary to host and run multiple applications that make use of aircraft data and flight parameters. The system is based on open-architecture standards, so it is ideal for custom and 3rd-party applications such as Electronic Flight Bag (EFB) apps, flight optimization programs, aircraft health monitoring, flight logs, and more.
Versatile Wired and Wireless Communications
The webCS is a highly-integrated device that manages multiple communication pathways (Ethernet, wireless, and cellular) without the need for add-on components. For Ethernet, the webCS includes a configurable network switch that supports VLANs. The webCS also distributes information throughout the aircraft using its own wireless network, connecting directly with client devices such as those running Apple®, Windows®, and Android™ OS. Additionally, it can connect to an existing Wireless Access Point (WAP).
High-Speed Cellular Data Connectivity
When moving data off-board the aircraft, the integral cellular interface allows data connections to 3G/4G LTE cellular networks from multiple providers based on region. The webCS supports dual SIMs to utilize the most cost-effective cellular provider based on location.
Secure Operation
The webCS can be used with confidence. The IEEE 802.11 a/b/g/n interface provides strong access and data protection using WPA2-Enterprise wireless security. Wireless Ethernet encryption using WPA2-Personal (with PSK or pre-shared key) is also supported.
Content continues below address block.