PXIe Avionics Interface Cards
Advanced · High Performance · Flexible
Connect Your PXIe-based Test Setup to Multiple Avionics Databuses

The Ballard OmniBus II PXI Express (PXIe) card is designed for use in multi-slot PXIe and CompactPCI Express test systems. It enables these systems to interface with multiple avionics databuses for testing, validating and simulating commercial and military avionics equipment and systems. The card is highly configurable and includes two internal Cores that can be populated with a variety of databus protocols and discrete I/O modules.
The OmniBus II PXIe is the next-generation of Astronics' popular OmniBus product with faster I/O and processing capabilities. With the newest advanced set of MIL-STD-1553 and ARINC 429 modules, users can verify wave form compatibilities, test functions of bus shorts and opens, and—when combined with our CoPilot® software—perform lab, production and flight test verification and simulation right out of the box. Readily available as Commercial Off-The-Shelf (COTS) products, the PCIe interface is perfect for challenging simulation, test, interface, and data recording applications.
The Highly Flexible Databus Interface Solution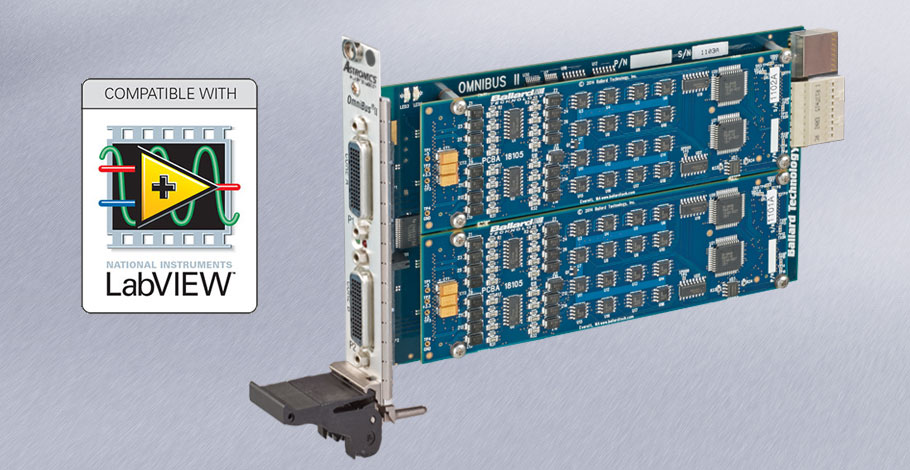 Flexibility is key with the OmniBus II PXI Express avionics interface. This high-performance card includes an array of functional features and a modular I/O design. When ordering, just add the combination of modules to get the exact mix of I/O you need. When your needs change, the modules can be changed.
With the OmniBus II PXIe, you get:
Compatibility with both PXIe and CompactPCI Express (cPCIe) test systems
PXI triggers/syncs/clocks
Advanced timing: IRIG, 10 MHz, and PPS
Multiple protocols
Built-in test: PBIT, IBIT and CBIT
LabVIEW compatible hardware and driver available at ni.com
Get the Exact Interface You Need with the OmniBus II Modular Design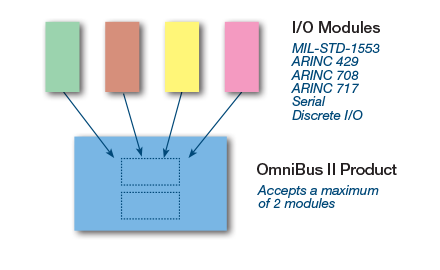 How it works...
OmniBus II cards include an array of functional features with the base configuration. Avionics I/O is added through the use of interchangeable modules. When ordering OmniBus II cards, you can specify the combination of modules for the exact mix of I/O you need. OmniBus II cards can accept a maximum of two modules, and each module has its own circuitry to handle the channels and protocols associated with it.
For OmniBus II ordering information, click here.
OmniBus II PXIe Software Options
OmniBus II PXIe cards can be purchased from ni.com with the LabVIEW™ instrument driver or Astronics with the BTIDriver™ API.
| | | |
| --- | --- | --- |
| | Purchased from Astronics | Purchased from NI |
| Driver | BTIDriver API | LabView Instrument Driver |
| Protocols | All Available | MIL-STD-1553 and ARINC 429 |
| CoPilot | Can be purchased with hardware at special bundled pricing | Can be purchased from Astronics after delivery |
| Support | Direct from Astronics | Available from NI |
BTIDriver API
Users can develop their own software applications with the BTIDriver API. With only a few function calls, a program can operate the interface card and process messages to and from the avionics databuses. Code migrates seamlessly between BTIDriver compatible devices.
CoPilot
Optional CoPilot software provides easy-to-use, interactive tools for databus test, analysis, and simulation. CoPilot simplifies project development and provides added productivity through virtual instrument displays, flexible monitoring and analysis tools, and a powerful scripting engine.
OmniBus II PXIe at a Glance
OmniBus II modules used on this card feature the latest 6th generation protocol engines and bus mastering to yield high performance. Power is obtained from the backplane bus—no supplemental power is needed. All cards are standard 3U size and include sixteen TTL level input/output discretes and IRIG time synchronization/generation. User software can indicate status by controlling the two LEDs.
Applications
Product development and validation
Production testing
Simulation of databus and I/O system traffic
Data servers
Data recorders
System analysis and integration testing
Performance monitoring and analysis
Available Interfaces
MIL-STD-1553 - Up to 2 dual-redundant, single- or multi-function channels per module
ARINC 429 - Up to 16 Tx/Rx configurable channels per module; advanced ARINC 429 modules are also available with added test features
ARINC 717 - Up to 4R/4T channels per module
ARINC 708 - Up to 2R/2T channels per module
Serial - Up to 4 Serial UARTs per module
Avionics Discrete I/O - 32 programmable Input/Output per module
Key Features
2 Core I/O sites
8 bidirectional TTL discrete I/O per core
2 user controlled LED indicators per core
3 syncs and 3 triggers per core
Standard 3U size (100 x 160 mm)
10 MHz/PPS clock synchronization
IRIG A or B, AM, PWM and PPS
64-bit hardware time tag (1ns resolution)
Let's Start the Conversation
For more information or to request a quote, fill out the form below or call us at: +1.425.339.0281