Chassis
VXI Chassis
Astronics provides a large selection of VXI chassis for high performance applications. Available in both portable and rack mount versions, these chassis deliver maximum reliability at an affordable price.

These products were formerly produced under the Racal Instruments brand name.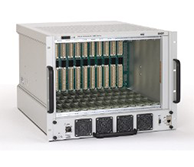 Product Information
Available in 3 product families, these VXI chassis may include linear power supplies as well as adaptations for specialized applications.
Download our Chassis Selection Guide.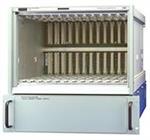 1261B Series
The 1261B high-performance VXI chassis serves as the standard for most military ATE systems. All 1261B chassis include full-power protection features such as overvoltage and overcurrent protection, and also incorporate a quick-check diagnostic connector to verify performance of power supply voltages, currents and specific VXI signals.
1261B Series of Chassis
Datasheet
User Manual 1261B
User Manual 1261B/BL
1261B- Linear Series of Chassis with Included Linear Power Supply for RF & Microwave Applications
Datasheet
User Manual
1263 Series
The 1263 Series includes medium-power (1263MPf) and high-power (1263HPf and 1263HPr) models that leverage all the features of the VXI 4.0 standard for performance that meets your most demanding test requirements. The 1263 series is ideal for digital test applications.

1263HPf High Power, Front-Maintainable Mainframe
Datasheet
User Manual

1263HPr High Power, Rear-Maintainable Mainframe
Datasheet

1263MBf Medium-Power, Front-Maintainable Mainframe
Datasheet
User Manual
1264 Series
The Astronics 1264C is a low-cost, 6-slot, C-size VXI chassis, designed and built with ISO-9001 certified quality. This chassis includes performance features normally found only in high-end, 13-slot chassis.
The 1264C is ideal for portable applications. Available rack ear and slide kits also make this chassis the natural choice for rack mount applications with limited space or budget. The sister model 1264C/D is recommended for rack mount applications requiring an integral cable tray.

1264C Compact 6-Slot VXI Chassis
Datasheet
User Manual

1264C/D 6-Slot Chassis with Integral Front Door and Cable Tray
Datasheet
Contact & Support
Astronics Test Systems