Astronics, a leading provider of technologies for business aviation OEMs and operators, is set to display a variety of new and proven solutions at the upcoming NBAA conference in Las Vegas, October 22-24, booth C11617.
These technologies bring together a set of power, connectivity, lighting, and other solutions that help airlines and airframe manufacturers improve the passenger experience while providing cost and operational efficiencies.
---
Bringing Wireless Charging to the BizAv passenger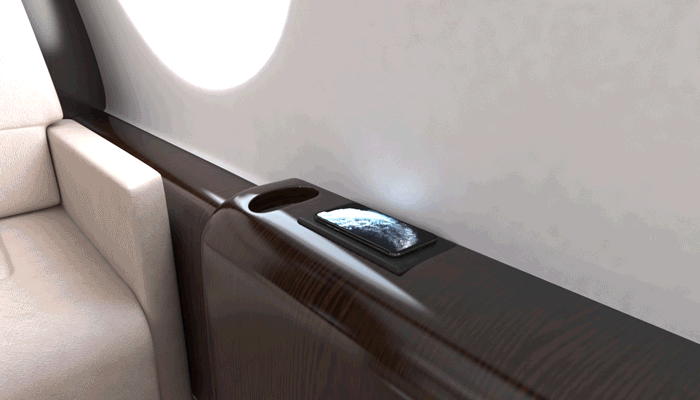 Since its introduction last year, seat manufacturers for commercial aircraft have widely adopted Astronics' new Wireless Charging Module (WCM) for use in first class and business class seats. Now, Astronics is introducing this innovative new charging system to the BizAv market.
Optimized for aircraft, Astronics' WCM delivers safe, fast, wireless charging for passenger and crew devices such as smartphones. The WCM easily integrates into the cabin environment with placement options in passenger seats, furniture, or galleys, and provides an industry-leading output of up to 15W in support of quick charging enabled devices. Astronics' innovative technology design ensures a wide placement radius for the PED to receive the charge, making it user-friendly.
"Business jet and VIP travelers expect the luxuries of home in their aircraft, right down to how they keep their newest phones and tablets charged," explains Dennis Markert, Director of Business Development for Cabin Electronics at Astronics AES. "Our wireless charger is flight proven and integration ready to bring an upscale touch to your next business jet program."
The WCM from Astronics is the only Qi-certified wireless charging module available, and it is already linefit offerable by both Airbus and Boeing. Qi certification ensures safety through testing as well as device compatibility.
See the Wireless Charging Module details.
Also at NBAA, Astronics will demonstrate its complete line of EmPower® passenger charging outlets for business and VIP jets. Stop by the booth to check them out!
Make your NBAA sales appointment or press appointment
Back to top
---
SATCOM Antennas for BizAv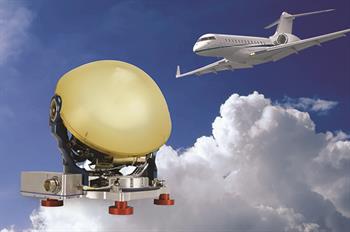 We recently announced that Astronics is providing its T-Series Ku-band satellite communications (SATCOM) antenna for the Collins Aerospace KuSAT-2000 solution, which will serve as the framework for delivering the new LuxStream high-speed connectivity service in partnership with SES.
The Astronics T-Series keeps the productivity and entertainment going on business jets by providing broadband Internet and live DBS-TV access. No matter where you fly - over land or water in any region of the world - you can browse the Internet, send and receive emails and texts in real-time, use Voice-Over-IP (VoIP) telephony, access your VPN, and conduct video conferencing.
"We are excited to provide our industry-leading tail-mounted antenna technology to Collins Aerospace as it teams with leading satellite operator SES to offer LuxStream, a high-speed broadband connectivity service for the business aviation market. Astronics is committed to supporting Collins Aerospace's world-class sales and support teams," said Matthew Harrah, President of Astronics AeroSat.
According to Collins Aerospace, Vista Global will serve as the launch customer. The LuxStream service will provide the fastest broadband speeds available up to 25 Mbps in the U.S. and 15 Mbps globally, proving enough bandwidth to support multiple apps and HD content simultaneously.
Stop and see the Astronics T-Series antenna it in booth C11617 at NBAA or click to see the details now.
Make your NBAA sales appointment or press appointment
Back to top
---
Upcoming Trends in Business and VIP Aviation IFE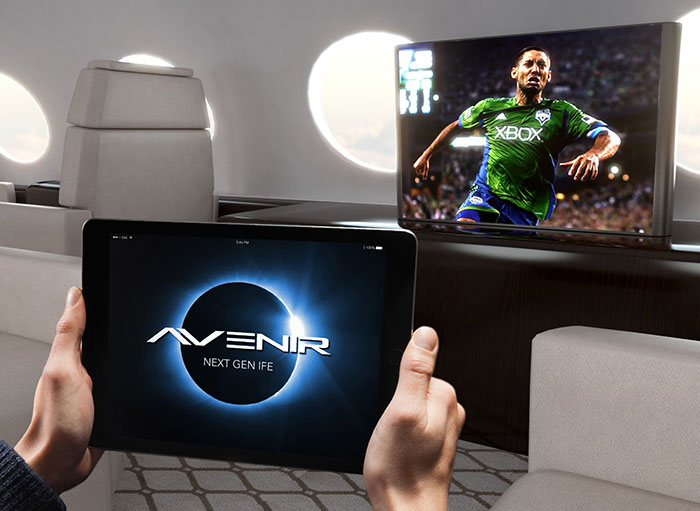 Inflight entertainment represents the next great challenge for incorporating the conveniences of a home- or office-like environment. As a provider of customized VIP inflight entertainment (IFE) systems, Astronics details several trends that are driving the next wave of innovation.
Ultra High-Def Screens: VIP customers today view 4K screens as a basic expectation throughout the cabin. As the first to certify a 4K OLED screen for use on a 787 VIP platform, Astronics is busy serving up this technology for VIP clientele, even in screens down to 19". Jay McGrath, Vice President of Business Development for Astronics Custom Control Concepts (CCC), summarizes the next screen technology trends: "We are excited to explore the newer technologies like 8K and short throw projectors, which will require a deep look into lightening the components and controlling for the aircraft vibration factor." Astronics expects 8K screen quality in a flat panel package to become the next standard in business and VIP aviation IFE.
System Performance Improvements: With ultra-large 4K and 8K file sizes putting a squeeze on IFE system bandwidth, companies that can deliver performance with a minimum latency on monitors and wireless PEDs will win the day, according to McGrath. "We are helping customers 'future proof' with systems that satisfy a minimum of 300 GB per second specification, which is over four times what is available today."
Other VIP IFE innovations Astronics is working on include wiring reduction and human interface design. Read the complete article of what you can expect to preview in VIP IFE at NBAA here.
Make your NBAA sales appointment or press appointment
Back to top
---
Advancing the More Electric Aircraft
Astronics continues to innovate under the More Electric Aircraft initiative, providing electric airframe power systems that provide weight savings, efficient operation, and system health monitoring capabilities.
At NBAA, Astronics will debut its most recent airframe power system with a hands-on demo on the business jet demonstrator in the booth. Stop by to see this system perform in real time, and understand the benefits that this system is already providing for airframe OEMs worldwide.
The centerpiece of our electric airframe power system is the innovative new electronic circuit breaker system. At the show, we'll be talking about both our DC version as well as introducing our new AC version.
Make your NBAA sales appointment or press appointment
Back to top
---
Enhanced Vision Equipment Hits 1,100,000 Flight Miles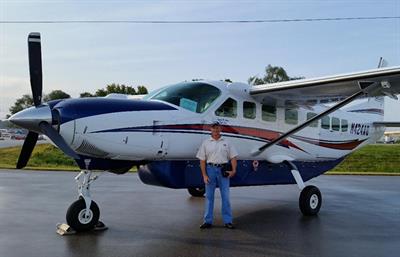 At NBAA, Astronics will display its latest enhanced vision equipment for bizjets including the Max-Viz 2300 and the Max-Viz 1400. Key features of this equipment include:
The most widely deployed solution across private aviation
Linefit with Bell, Cirrus, and Leonardo
Highest value system available
Interested to understand this technology in action? Read our new 1,100,000 mile customer story and check out the exact unit in the booth.
Make your NBAA sales appointment or press appointment
Back to top
---
Don't Miss It! In-booth Tech Talks!
Make sure you stop by to learn the latest technology trends affecting business aviation. Topics include:
Trends in the More Electric Aircraft
Trends in VIP IFE Systems
Wireless Charging for Business Aviation
Stop by the booth to see the talk schedule.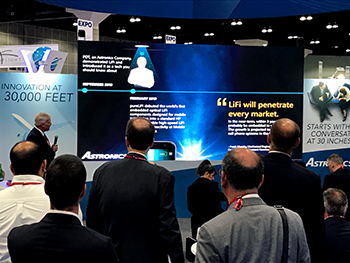 Make your NBAA sales appointment or press appointment
Back to top
---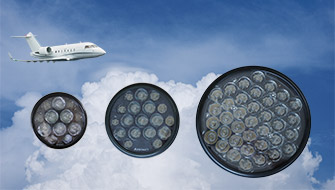 Make your NBAA sales appointment or press appointment
Back to top
---
And finally...the really great news...you're invited to our Happy Hour!
Please join us from 4:00 to 6:00 pm on Tuesday, October 22, in our booth C11617 for food, fun, and music with the Astronics crowd. Hope to see you there!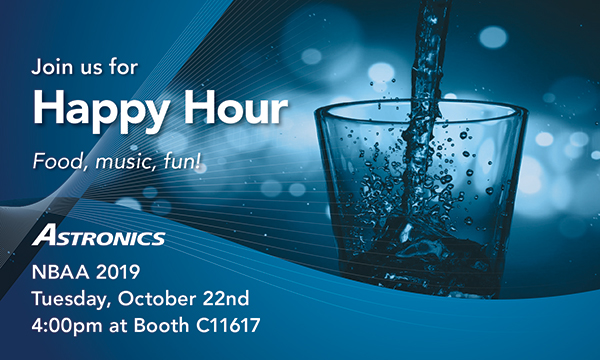 Make your NBAA sales appointment or press appointment
Back to top
---
Innovation at 40,000 Feet Starts with a Conversation at 40 Inches
Where some companies start with a contract, we prefer to start with eye contact.
Astronics brings a long history of working side-by-side with customers to innovation and the successful introduction of new technologies and products to market. These new technologies plus Astronics' existing proven, certified, systems enable Astronics to supply airframe manufacturers, airlines, IFE providers, and other industry participants with a myriad of solutions from a single vendor partner.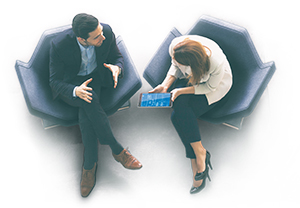 Interested to meet with us at the show? Make your appointment by emailing events@astronics.com.
Note to editors: Astronics will be conducting media briefings in the booth on these new technologies plus other news items. Please schedule your appointment by emailing press@astronics.com.