---
Databus to Network Interfaces
Flexible Interfacing
OmnibusBox II, a member of the Omnibus family, is the next generation appliance for avionics databus test and simulation in a lab environment.
Key Features
Highly flexible databus interface solution
Interchangeable I/O modules
Dual Core PPC Embedded Processor
Ethernet, serial and USB
Multiple protocols
Extensive timing features
Return to factory settings feature
Accepts lab and aircraft power (AC)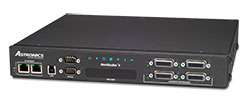 Two OmniBusBox II Versions
Four I/O Cores
Full-featured with expansion sites for: PMC/XMC, Mini-PCIe, and mSATA memory storage
Two I/O Cores
Easy-to-use network appliance
Applications
Simulation of databus and I/O system traffic
Data and protocol conversion
Databus and network bridging
Data servers
Data recorders
Communications
Controllers
Radio controls including VoIP
USB Interfaces to Multiple Simultaneous Avionics Protocols
The OmniBusBox II (OBB2) enables computers and networks to interface with multiple avionics databuses for testing, validating and simulating commercial and military avionics equipment and systems. These versatile units can be controlled through Ethernet or USB, or can be programmed to operate standalone. Readily available as Commercial Off-The-Shelf (COTS) products, the OBB2 is perfect for challenging simulation, test, interface, bridging, control, simulation and data recording applications.
The OmniBusBox II is the next-generation of Astronics' popular OmniBusBox product with faster I/O and processing capabilities. The OBB2 is highly configurable and includes built-in standard peripherals (Ethernet, serial, and USB), along with four internal Cores that can be populated with a variety of databus protocols and discrete I/O modules. With the newest advanced set of MIL-STD-1553 and ARINC 429 modules, users can verify wave form compatibilities, test functions of bus shorts and opens, and—when combined with our CoPilot® software—perform lab, production and flight test verification and simulation right out of the box.
Architecture
At the heart of the OmniBusBox II is a P1022 Freescale PowerPC processor and Ballard's FPGA protocol engines. In addition to the built-in standard peripherals and core I/O functions, PMC/XMC and Mini-PCIe sites in the 4-core version provide customer expansion capabilities such ARINC 664, CAN, IEEE 1394 and wireless protocols. The OBB2 includes extensive timing synchronization with multiple sources including 10MHz, PPS, IEEE 1588 and IRIG A/B. The 1U high case is easily placed on a desk or rack mountable. Though designed primarily as a lab product, the OBB2 has potential for use in large fixed-wing aircraft and light vehicle applications.
Modular Avionics Interfaces
Each Omnibus II product includes an array of functional features to which I/O is added through the use of interchangeable modules. When ordering an OmniBus product, you can add the combination of modules to get the exact mix of I/O you need. Each OmniBus product can accept at least two modules, and each module has its own circuitry to handle the channels and protocols associated with it.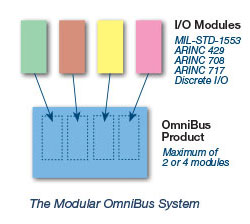 Available Interfaces
MIL-STD-1553 - Up to 2 dual-redundant, single- or multi-function channels per module
ARINC 429 - Up to 16 Tx/Rx configurable channels per module; advanced ARINC 429 modules are also available with added test features
ARINC 717 - Up to 4R/4T channels per module
ARINC 708 - Up to 2R/2T channels per module
Serial - Up to 4 Serial UARTs per module
Avionics Discrete I/O - 32 programmable Input/Output per module
Standard Features
OmniBusBox II is available in a large number of configurations that all share the standard features below:
P1022 Freescale dual core PPC (800MHz)
1 GB DDR3 SDRAM
2 Ethernet ports (10/100/1000)
2 RS-232/422/485 (selectable)
1 USB 3.0 device port
Voltage and temperature monitoring
RoHS Compliant
Environmental
Storage Temperature: -40 to 85°C
Operating Temperature: -20 to 55°C
Convection cooled, internal fans
Humidity: 0 to 95% (non-condensing)
Mechanical
Size: 1.8 (1U) x 12.0 x 10.5 in
(45 x 305 x 267 mm)
Weight (typical): 3.5 lb (1.6 kg)
Ruggedized construction
Mounting options: Table top (rubber feet), bolt down, and rack mount (parts included)
Electrical
Input power: 110-240VAC, 60 or 400Hz
Replaceable fuses
Advanced Timing
64-bit hardware time-tag (1ns resolution)
IRIG A/B input and output (AM, PWM)
Generate or synchronize timer
Synchronize hardware time-tags
10 MHz and PPS
Frame synchronization
Synchronize hardware time-tags
Extensive Timing Features
10 MHz/PPS clock synchronization
IRIG A or B, AM, PWM and PPS
IRIG and clock sync generators
IEEE 1588 Hardware Assist
64 bit hardware timetag (1ns resolution)
NTP Server/client
Hardware Discrete Sync and Trigger
Software
Ordering Information
For more information or to request a quote, call +1.425.339.0281 or complete the form above.