---
Databus to Network Interfaces
Flexibility and Power.
OmniBusBox provides the solution to networked test and simulation systems. It has the power and flexibility to operate as a simple or intelligent peripheral (USB or Ethernet) or as a stand-alone embedded computer, and is a unique alternative to plug in cards. OmniBusBox can be ordered with up to two modules to support a variety of avionics databus protocols.
Key Features
PowerPC processor
High channel counts
Mixed protocols
PowerPC® user processor
Ethernet and USB ports
CompactFlash® slot
IRIG time synchronization
Can be upgraded/reconfigured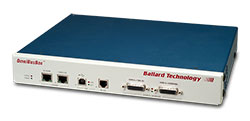 There is a newer version of this product available:
Protocols & I/O
MIL-STD-1553
ARINC 429
ARINC 708
ARINC 717
CSDB
Serial (RS-422/232/423)
Discrete I/O
OmniBus Family
OmniBus is a highly-flexible and high-performance family of avionics databus interfaces combining a selection of industry-standard platforms (PCI/cPCI, VME, PMC and Ethernet/USB) with a wide-viariety of I/O choices (MIL-STD-1553, ARINC 429, ARINC 708, ARINC 717, Serial, CSDB and Discrete). This sophisticated OmniBus design allows users to order the exact number, functionality, and mix of protocol channels that they need. It also lets users upgrade or reconfigure their OmniBus (at the factory) as requirements change.
High-Performance Architecture
OmniBus products are built using an integrated board, core, and module architecture. PCI, cPCI, and Ethernet/USB boards include 1 or 2 cores, VME boards have up to 4, and PMC boards include a single fixed core. Each on-board core has a dedicated protocol processor, IRIG timer, and 3 sync and 3 trigger lines. These cores are the support circuitry for the I/O modules, which contain the interface to the databus protocol(s). Isolating the protocol interface on the I/O module provides the flexibility to create custom, user-specified configurations for single or mixed protocols. The protocol-specific OmniBus architecture provides a better solution with greater performance than general-purpose modular systems (such as IndustryPack™).
Modular Avionics Interfaces
Each Omnibus product includes an array of functional features to which I/O is added through the use of interchangeable modules. When ordering an OmniBus product, you can add the combination of modules to get the exact mix of I/O you need. Each OmniBus product can accept two modules, and each module has its own circuitry to handle the channels and protocols associated with it.
Available Interfaces
MIL-STD-1553 - Up to 2 dual-redundant, single- or multi-function channels per module
ARINC 429 - Up to 16 channels per module
ARINC 717 - Up to 4R/4T channels per module
ARINC 708 - Up to 2R/2T channels per module
CDSB - Up to 4R/4T per module
Serial - Up to 4 Serial UARTs per module
Avionics Discrete I/O - 32 Discrete I/O per module
Standard Interfaces
Ethernet: 10/100 auto-speed sensing
RS-232 ports: 2
DIO: 2 inputs, 2 outputs plus 3 inputs, 3 outputs per module
RIG A/B input and output
Standard Features
OmniBus Modules: 2
Processor: IBM PowerPC®
Memory: 64MB SDRAM, 4MB Flash
CompactFlash slot: Type I/II
Real Time Clock
Power: 100-250 VAC (28 VDC optional)
Ordering Information
For more information or to request a quote, call +1.425.339.0281 or complete the form above.