---
Avionics Interfaces for PCIE
Flexible Avionics Interfacing
OmniBus II PCIe cards, part of of the Omnibus family, enable computers to interface with multiple avionics databuses with flexible, modular I/O choices.
Key Features
Supports multiple protocols in one card
3 syncs and 3 triggers per core
Advanced timing: IRIG, 10 MHz, and PPS
Built-in test: PBIT, IBIT and CBIT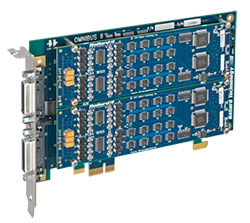 Applications
Product development and validation
Production testing
Simulation of databus and I/O system traffic
Data servers
Data recorders
System analysis and integration testing
Performance monitoring and analysis
Multi-Protocol Avionics Databus Interface
The OmniBus II PCIe card enables computers and networks to interface with multiple avionics databuses for testing, validating and simulating commercial and military avionics equipment and systems. It is highly configurable and includes two internal Cores that can be populated with a variety of databus protocols and discrete I/O modules.
The OmniBus II PCIe is the next-generation of Astronics' popular OmniBus product with faster I/O and processing capabilities. With the newest advanced set of MIL-STD-1553 and ARINC 429 modules, users can verify wave form compatibilities, test functions of bus shorts and opens, and—when combined with our CoPilot® software—perform lab, production and flight test verification and simulation right out of the box. Readily available as Commercial Off-The-Shelf (COTS) products, the PCIe interface is perfect for challenging simulation, test, interface, and data recording applications.
Hardware
OmniBus II modules used on this card feature the latest 6th generation protocol engines and bus mastering to yield high performance. Power is obtained from the backplane bus—no supplemental power is needed. All cards are standard half size and include sixteen TTL level input/output discretes and IRIG time synchronization/generation. User software can indicate status by controlling the two LEDs.
Modular Avionics Interfaces
Each Omnibus II product includes an array of functional features to which I/O is added through the use of interchangeable modules. When ordering an OmniBus product, you can add the combination of modules to get the exact mix of I/O you need. Each OmniBus product can accept at least two modules, and each module has its own circuitry to handle the channels and protocols associated with it.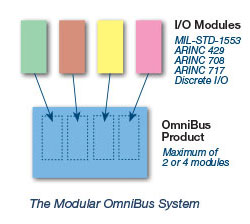 Available Interfaces
MIL-STD-1553 - Up to 2 dual-redundant, single- or multi-function channels per module
ARINC 429 - Up to 16 Tx/Rx configurable channels per module; advanced ARINC 429 modules are also available with added test features
ARINC 717 - Up to 4R/4T channels per module
ARINC 708 - Up to 2R/2T channels per module
Serial - Up to 4 Serial UARTs per module
Avionics Discrete I/O - 32 programmable Input/Output per module
Standard Features
OmniBus II PCIe is available in a large number of configurations that all share the standard features below:
2 Core I/O sites
8 bidirectional TTL discrete I/O per core
2 user controlled LED indicators per core
64 MB memory per core (ECC)
Temperature monitoring
RoHS compliant
Environmental
Component Temperature: -40 to 85°C
Storage Temperature: -55 to 100°C
Mechanical
Size: 4.4 x 6.6 inch (110 x 167 mm)
I/O Connectors: LFH60
PCIe bus: x1 lane, bus mastering
Power: +3.3 and +12 VDC
Advanced Timing
64-bit hardware time-tag (1ns resolution)
IRIG A/B input and output (AM, PWM)
Generate or synchronize timer
Synchronize hardware time-tags
10 MHz and PPS
Frame synchronization
Synchronize hardware time-tags
Interrupts/Logging
Poll or use interrupts
Configurable event log
Programmable event logging/interrupts from messages, tx schedules, and buffers
Software
Ordering Information
For more information or to request a quote, call +1.425.339.0281 or complete the form above.