Omnibus II Ordering Information
OmniBus II Part Numbers
The part number for an OmniBus II product is a combination of the platform number, module number(s), CoPilot code, and options. This results in hundreds of possible part number combinations. Contact Astronics Ballard Technology sales for assistance in determining the best OmniBus II order number to fit your needs. Each platform core can accept one module. A core without a module may be used for future expansion.
NOTE: OmniBus and OmniBus II modules are incompatible and cannot be interchanged between systems.
Example Part Numbers
264-544-544-442-451
4-core OmniBusBox II with 2-two channel 1553 (level M) modules, a 16R/T configurable ARINC 429 module, and 4R/4T ARINC 717 module
262-544-442
2-core OmniBusBox II with a two channel 1553 (level M) and a 16R/T configurable ARINC 429 module
212-458-822
OmniBus II PCIe card with a 8R/8T parametric ARINC 429 and a 2R/2T parametric ARINC 708 module
222-441-000
OmniBus II PXIe card with a 8R/T configurable ARINC 429 module and an unpopulated core
Omnibus II Platform and Module Charts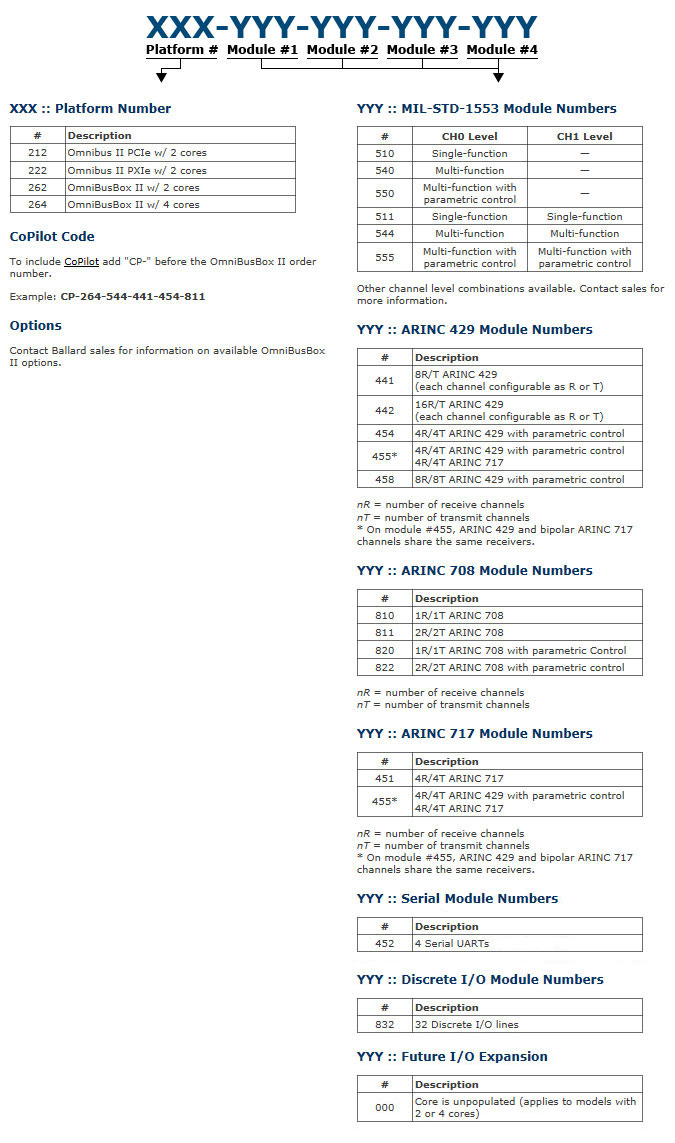 Downloads

Manuals, Drivers, etc.