LP429-5 (PCI) / LE429-5 (PCI Express)
The LP429-5 (PCI) and LE429-5 (PCIe) are personal computer expansion cards for communicating with ARINC 429 and ARINC 717 systems. These feature-rich interfaces provide programmable dual redundant data buffers and deep built-in memory. Models offer 4 to 32 ARINC 429 channels, and up to 4 ARINC 717 channels, 16 input/output avionics level discretes, and IRIG time synchronization/generation. Avionics discretes can be used as general purpose I/O or linked in hardware to databus activity as triggers or syncs.
The Lx429-5 products support maximum data throughput on all avionics interfaces. Each channel is independently configurable for high or low speed operation. Messages can be captured by a sequential monitor for all channels, or via individual message monitoring. Notification of databus activity is handled through the on-board Event Log, which can be processed by polling or via an interrupt. To dramatically reduce the host CPU processing, the sequential monitor has a DMA mode that automatically moves records to host memory through PCI/PCIe bus mastering.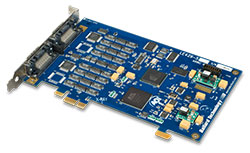 Key Features
4 to 32 ARINC 429 channels
ARINC 717 (4 channels optional)
IRIG & 16 Avionics discrete I/O
Large 32 MB on-board memory
48 bit, 1 uSec hardware time-tagging
All power drawn from backplane (no auxiliary cabling required)
RoHS compliant design
Translation DLL for application conversion
CoPilot® databus analyzer software available
Hardware
The Lx429-5 products are half size compliant cards. Avionics transition cabling is available from the unit's I/O connectors to standard cable connections. The universal PCI or PCI Express interfaces available make the Lx429-5 compatible with virtually all modern desktop, rackmount, and server computers.
Avionics Interfaces
ARINC 429 - Up to 32 channels
ARINC 717 - Up to 4 channels
Receive
Message filtering (Label/SDI)
Current value and multi-buffered list messages
Automatic bit rate detection
Error detection and logging
Transmit
Periodic and asynchronous messages
Automatic transmit schedule generation based on rep rates or min/max times
Gap and parity error injection
Standard Features
Memory: 32 MB on-board memory
DIO: 16 avionics level inputs/outputs
IRIG: A or B, AM, PWM and PPS modes
Mechanical
Size: 6.9 x 4.2 in. (both PCI and PCIe)
Weight: 4.0 oz
Ordering Information
For more information or to request a quote, call +1.425.339.0281 or complete the form above.