Avionics Data Connectivity for Portable EFBs
World's First Wireless AID FAA Approved for Use in the Flight Deck
The ultra-compact webFB® easily fits in the palm of the hand, yet incorporates the capabilities of both an AID and a wireless server. The built-in AID safely gathers essential data from the aircraft's ARINC 429 and 717 databuses and conveys it to custom software or EFB apps hosted on the internal server. Using a wireless connection to portable EFB tablets, the webFB securely delivers this valuable information right to the fingertips of the flight crew.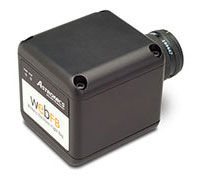 Key Features
Certified device with FAA Parts Manufacturer Approval (PMA)
Small, lightweight, and low power
256-bit secure 802.11 b/g wireless
Integrated secure web page
Easy to install and operate
webFB is an Innovative Wireless EFB Solution
The webFB includes avionics interfaces for ARINC 717, ARINC 429, and RS-232 to connect with and gather needed flight data from essential aircraft equipment, such as ACARS, SATCOM, the flight data recorder (FDR), and other avionics. The diagram below shows the typical connection for the webFB: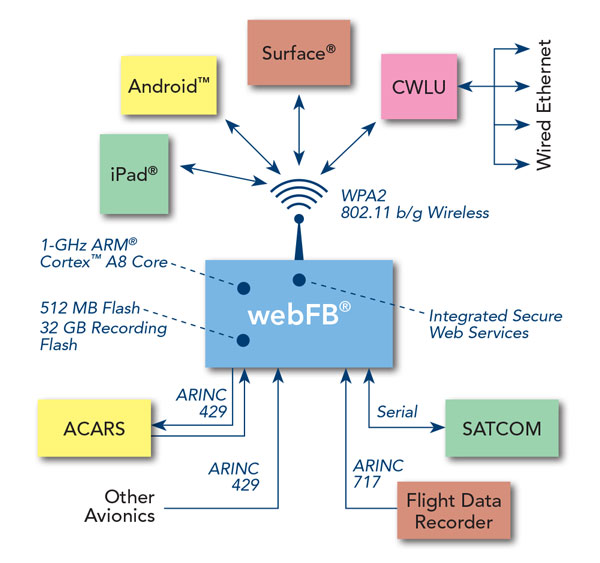 Standard and Extended Range Models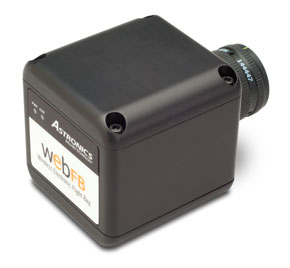 Standard Range webFB
Wi-Fi range is intentionally limited to the flight deck area in order to:
Attenuate signal to limit visibility within the cabin
Wirelessly connect to EFBs
Securely transfer data in real-time to EFBs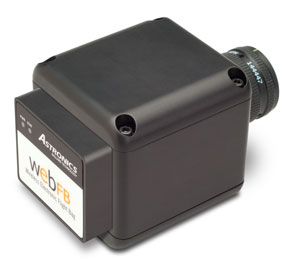 Extended Range webFB
Increases the effective Wi-Fi range in order to:
Wirelessly connect to cabin Wi-Fi
Concurrent internet connectivity for EFB and webFB
Enable real-time data transfer off the aircraft
Content continues below address block.
The Ultra-Compact, Easy-to-Install, Smart AID/Server/Router
The webFB is the cost-effective AID solution for today's airline industry. It quickly installs on aircraft connectors typically used for quick access recorders with no aircraft modification required. This compact device can not only run multiple applications, but also connects to portable EFBs using its own wireless network, providing a flexible and future-proofed platform for many years of effective and reliable operation on your aircraft.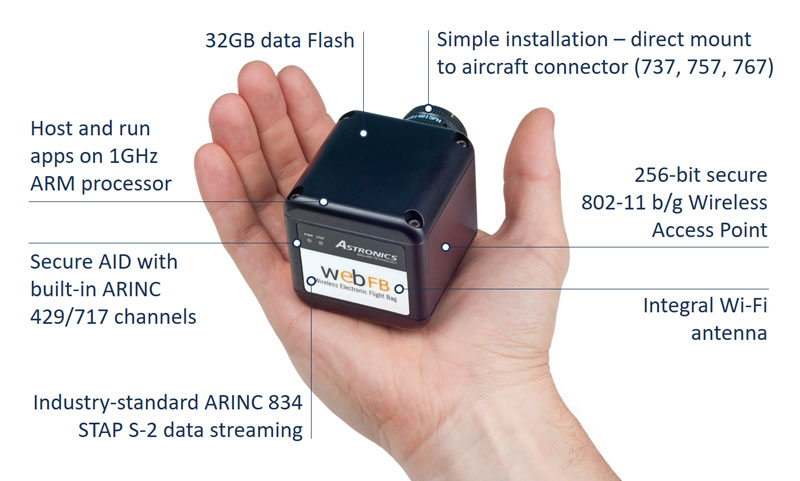 Avionics Interfaces
ARINC 717
Up to 3 channels (3R)
Biphase/Bipolar
ARINC 429
Up to 3 channels (2R/1T)
Serial
1 port, RS-232
Standard Features
1-GHz ARM Cortex-A8 Core
512 MB SDRAM
512 MB Flash
32 GB Recording Flash
Real Time Clock
IEEE 802.11 b/g
Power: 120 VAC nominal, 400 Hz, 10W maximum
Environmental
Operating temperature: -15 to 45°C
Storage temperature: -40 to 85°C
Weight: 0.6 ±0.1 lb (0.27 ±0.05 Kg)
DO-160
Mechanical
Dimensions: 3.39 x 2.25 x 2.25 in. (86 x 57 x 57 mm)
Direct mount to aircraft connector
CAD installation drawings available
Connector
Device: MS24266R14B15PN (15-pin)
Mating: MS24264R14B15SN (not included)
Ordering Information
For more information or to request a quote, call +1.425.339.0281 or complete the form above.
| | |
| --- | --- |
| Part Number | Description |
| 50-11045-01 | webFB with ARINC 717 (2 Biphase/1 BiPolar Receive Channels) |
| 50-11045-02 | webFB with ARINC 429 (2 Receive, 1 Transmit), ARINC 717 (1 BiPhase Receive), RS-232 (1 Port) |
| 50-11045-04 | Extended Range webFB with ARINC 717 (2 Biphase/1 BiPolar Receive Channels) |
| 50-11045-05 | Extended Range webFB with ARINC 429 (2 Receive, 1 Transmit), ARINC 717 (1 BiPhase Receive), RS-232 (1 Port) |