Mini PCI Express Interface Cards
Small Size · Large I/O · Huge Value
The Rugged ME1000 Family of mPCIe Interface Cards for Avionics Databuses

When space is at an absolute premium, get proven COTS (Commercial off the Shelf) avionics interface cards that fit your application and minimize program risk. The Ballard ME1000 family of Mini PCI Express® (mPCIe) cards from Astronics is the ultimate low-SWaP embedded I/O solution.
Ballard ME1000 mPCIe cards enable space-constrained embedded systems to interface with avionics databuses, providing the capability to reliably communicate with, analyze, simulate, and monitor avionics equipment and systems. They are ideal for use in small mission computers for UAVs and other aerial platforms, laptops, and tablets. Do more with the most I/O in a mPCIe card, including MIL-STD-1553 or ARINC 429/717, serial, discrete, and IRIG.
With the Ballard ME1000, you get reliable designs, long life, and industry-leading customer support for the best overall value.
Miniature Avionics Databus Interfaces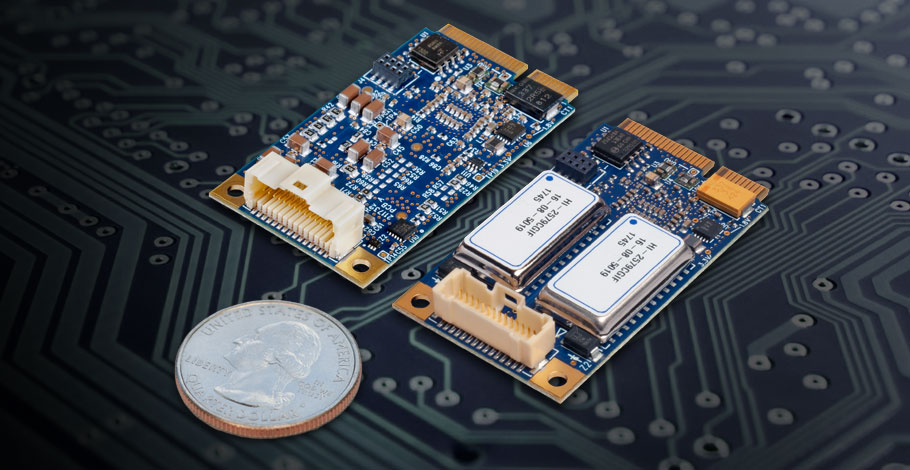 Ballard mPCIe cards feature high reliability and long service life for years of trouble-free operation. Our thoughtful design incorporates many unique elements to ensure that you get the most cost-effective I/O solution—that fits right where you need it:
Compact Size – The miniature size of the board allows installation in the smallest of systems.
Flexible Mounting – A choice of horizontal or vertical I/O connector ensures you can make the most of the limited space available.
Reduced Cost – The cost-effective connector style on the ME1000 means a lower price tag for your mating connectors, keeping your overall system costs low.
Go with the Leader in Avionics Databus Interface Solutions
You can count on Ballard avionics interface products from Astronics, the industry-leader for reliable avionics databus interface solutions and world-class customer support. We designed our rugged mPCIe interface cards to easily integrate into your hardware and perform the way you expect—with no surprises. With over 30 years in the industry, Astronics delivers quality embedded products you can count on to ensure the success of your program. Plus, we back each one with our 2-year warranty.
ME1000 Family Overview
---
MIL-STD-1553 Models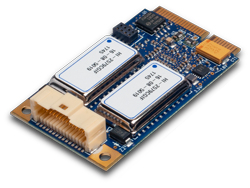 These feature-rich cards include 1 or 2 dual-redundant MIL-STD-1553 channels, along with avionics discrete I/O and IRIG signals. RS-422/485 Serial is optionally available.
ARINC 429 & 717 Models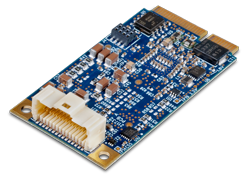 ARINC models feature up to 12 channels of ARINC 429 and ARINC 717, IRIG signals, and up to 8 avionics discrete I/O. See Ordering Information below for specific I/O details.
ME1000 – mPCIe Interface Cards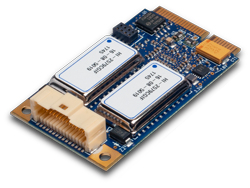 Horizontal Connector
Vertical Connector
High Reliability
Ballard ME1000 interface cards use our time-tested 5th-generation avionics protocol engine, a large 32 MB built-in memory, and high-performance bus mastering capability. The rugged product features an extended temperature range. For added protection, conformal coating of the board is available as an option.
Concurrent Multi-Function MIL-STD-1553 Operation
Like all Ballard MIL-STD-1553 multi-function cards, the ME1000 provides full concurrent Bus Controller (BC), Remote Terminal (RT), and Bus Monitor operation. In addition, multi-function features protocol error injection (word, gap, and message errors). If concurrent operation is not required, our cost-effective single-function cards provide BC/RT/Monitor operation separately.
Robust Software Capabilities
Users can develop their own software applications with the included BTIDriver™ API. With only a few function calls, a program can operate the interface card and process messages to and from the avionics databuses. Functions include routines for transmitting, receiving, scheduling, recording, time-tagging, and manipulating data. The interface card can use applications developed for other Ballard devices; code migrates seamlessly from BTIDriver compatible devices.
Key Features
1 or 2 dual-redundant MIL-STD-1553 channels
Up to 12 ARINC 429 and 717 channels
Rugged Extended Temperature Design
Single- or Multi-function MIL-STD-1553 models
IRIG time synchronization/generation: A/B PWM and AM
Up to 8 Avionics Discrete I/O
Differential Discrete I/O*
RS-422/485 Serial*
Easy-to-use software interface
RoHS compliant
Optional conformal coating
*MIL-STD-1553 models only
Ordering Information
The table below lists the current ME1000 models that are available for order and shipment today. For more information or to request a quote, call +1.425.339.0281 or fill out the form at the bottom of the page.
MIL-STD-1553 Models
Number of Channels
Models with MIL-STD-1553 only
Models with MIL-STD-1553 and Serial
Single Function
Multi Function
Single Function
Multi Function
1
ME1100
ME1200
ME1102
ME1202
2
ME1300
ME1400
ME1302
ME1402
All models include Discrete I/O (6 In/2 Out) and Differential Discrete I/O (1 In/1 Out)
ARINC 429 and 717 Models
ARINC 429
ARINC 717*
Discrete I/O
Model Number
In
In/Out
4R4T
1R1T
6
2
ME1020
6R2T
1R1T
6
2
ME1030
6R4T
1R1T
2
2
ME1040
8R2T
1R1T
2
2
ME1050
8R4T
1R1T
0
0
ME1060
*ARINC 717 channels are pin-shared with ARINC 429 and will reduce the available ARINC 429 channel count when enabled.
Serial and Differential Discrete I/O not available on ARINC models.
nRnT = number of Receive/Transmit channels
Options for All Models
Horizontal I/O Connector is standard. To order with Vertical I/O Connector, add "/V" to the end of the part number (example: ME1402/V).
For conformal coating (Parylene), add "/FXY" to the end of the part number (example: ME1402/FXY).
Let's Start the Conversation
For more information or to request a quote, fill out the form below or call us at: +1.425.339.0281