Astronics is excited to be exhibiting at Aircraft Interiors Expo 2022, Stand #3B30 in Hamburg Germany. This year we will showcase innovative solutions for Aircraft Passenger and Crew Power, Aircraft Connectivity and Inflight Entertainment (IFEC), Integrated Lighting and Safety Systems, Aircraft Interior Components, and Expert Service and Structure Capabilities.
Here is a quick preview of what's new and recently introduced at Astronics to help airlines and airframe manufacturers improve both their passenger experience and their operational efficiency.
Choose a subject below or read on to discover more about our innovative solutions.
---
Introducing the EmPower® UltraLite G2 USB In-Seat Power System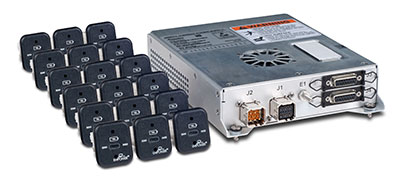 Astronics Advanced Electronic Systems (AES) introduces the industry's most powerful and intelligent passenger electronic device (PED) power system: UltraLite G2. The innovative UltraLite G2 is the most flexible and scalable passenger power system, allowing airlines to deploy the optimal PED power system for their passengers and budget. The unique 'zonal' design eliminates the need to install a power supply in every seat group, reducing overall system weight and total cost of ownership (TCO).
Intelligence is built into every UltraLite G2 component, which continually communicate with one another to provide enhanced power management across the entire system. This advanced capability results in a system that is adaptable for virtually any installation requirement, any selected level of power management, and can be tailored to create a unique passenger experience. UltraLite G2 features the smallest form factor in the industry yet boasts an industry-leading 800 Watts per power supply, with up to 60W of USB Type C power at every seat. The system is line-fit offerable and offers a choice of single USB Type A, single Type C, combination outlets with both, or can power our line-fit offerable Wireless Charging Module.
Whether LCC or full-service carrier, the Astronics EmPower® UltraLite G2 is fully configurable to the needs of every airline, every aircraft platform, and every passenger.
Learn more about In-Seat Power Systems >
---
Astronics Introduces the First Wi-Fi 6E Enabled Cabin Wireless Access Point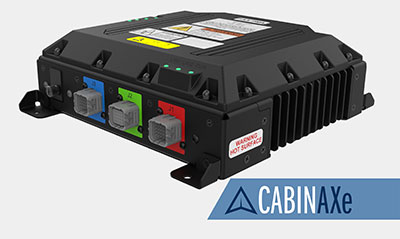 CabinAXe is the industry's first Wi-Fi 6E enabled Cabin Wireless Access Point (CWAP). CabinAXe introduces unparalleled Wi-Fi performance, marking the first time a CWAP will utilize the recently adopted Wi-Fi 6E standard. Astronics has shipped over 16,000 previous generation CWAPs, and CabinAXe continues the evolution of Astronics' CWAP firsts by offering the industry's first tri-radio CWAP integrating Wi-Fi 6E.
Wi-Fi 6E makes use of up to 1.2GHz of unlicensed spectrum in the 6GHz band. This new authorization provides less congestion and larger channel widths for greater connectivity throughput.
"CabinAXe is truly an innovative building block for the advanced Summit Line IFEC system," said Mike Kuehn, President of Astronics Connectivity Systems and Certification. "Delivering blazing-fast Wi-Fi performance and increased throughput for added reliability, CabinAXe is a powerful demonstration of our commitment to passenger experience. Added sensing capabilities for IoT applications and integration with Summit Line components demonstrates our attention to existing IFEC systems with a strong look to the future in the cabin."
---
Portable IFE Gets an Upgrade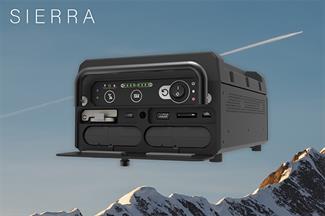 Also on showcase is Astronics' new Sierra Portable IFE system, winner of the 2019 GOOD DESIGN Award. Astronics' Sierra is the third generation of an affordable, scalable, IFE solution that delivers IFE as a standalone unit from a single battery or, when installed and powered, can employ multiple units merged into a single network to cover a larger aircraft cabin. Sierra enables passengers to enjoy hundreds of hours of streaming audio, video, digital magazine content, and more. Sierra stands up to the rigors of flight in the overhead bin while delivering streaming content that matches the experience of installed IFE without the need for a supplemental type certificate (STC).
See the video demonstration of Sierra >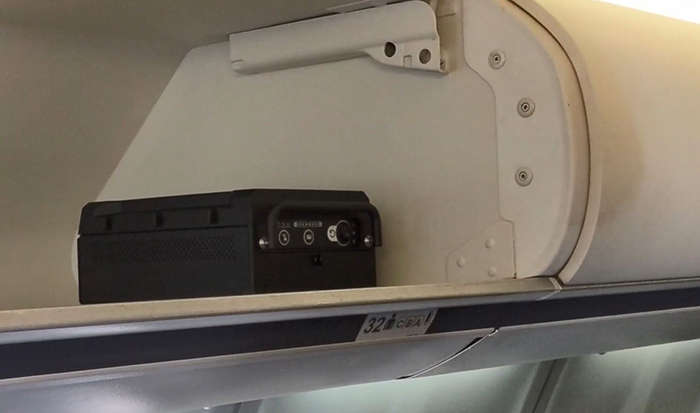 ---
Your Source for Passenger Service Units
Astronics serves commercial applications for Passenger Service Units (PSU), offering vertically-integrated solutions that include in-house design, manufacturing, and finishing capabilities.
With extensive knowledge of PSU systems and a track record of successful collaboration, we minimize your risk and ensure the success of your program. In fact, for most PSU programs, Astronics assumes full responsibility for design, development, and qualification of new technologies, and then manufacture, assemble, and deliver the final product ready for installation right when you need it.
See more about Astronics PSUs >
---
Nuancia™ Line Enhancements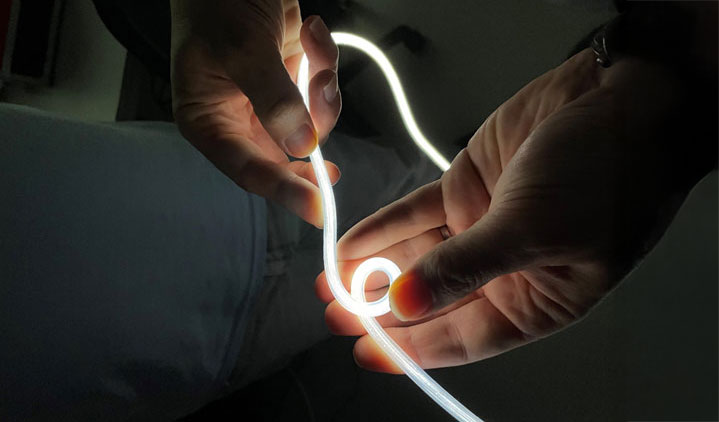 Astronics is now offering an enhanced Nuancia™ line, with updates and additions in two categories: monochrome and dynamic colors under the trade names of Nuancia One and Nuancia Art.
As part of this launch, we are excited to introduce the new Nuancia One fiber optic and light source. The Nuancia diffusing fiber optic is available now and will complement Astronics' ambient lighting offering with the ability to highlight cabin interiors elements (seats, cabins, bars) with light, coupled with unmatched integration capabilities—comparable to what is already offered in the high-end automotive industry.
This new fiber optic line offers many important benefits for our customers:
Unmatched impact resistance to facilitate integration in the most demanding environments.
Uncompromising flexibility, thanks to a bending radius reduced to 1 inch.
The ability to be integrated anywhere, even near water points such as toilets or showers.
Seamless adaptability, as the fiber can be cut to the desired length at any time even after serial delivery.
---
Lighting and Safety Updates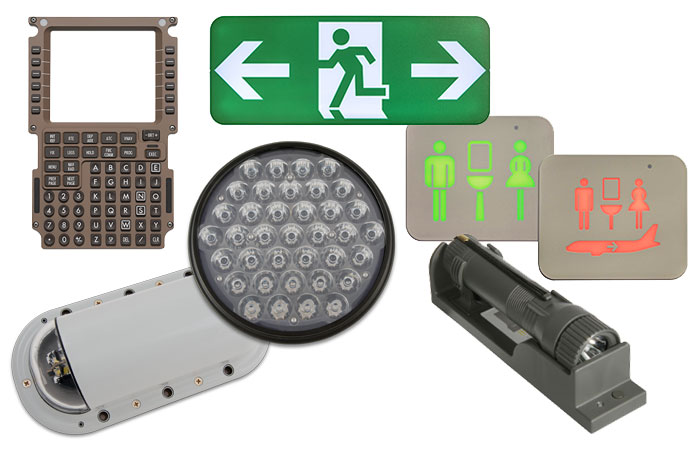 For aircraft cabins, Astronics offers its full suite of cabin emergency lighting systems including floor path marking, ceiling emergency lighting, running man emergency exit signs and evacuation area lights, as well as its newest technology for passenger information signs. Finally, in emergency lighting, Astronics will be featuring their Air Lite® LED flashlight systems for aircraft.
Lighted components for the cockpits, including HMI panels, dimmers, controllers and other products, include newer technologies. Astronics' exterior lighting, as always, offers the latest generation of low weight, highly efficient and reliable technologies.
For premium, first, and business class lighting, Astronics is introducing its new ELEA LED reading light, the slimmest reading light on the market, which includes an easy front-mount install plus a user-friendly dimming feature. Available in three standard finishes plus a premium metallic finish, this light is certified and flying with Airbus and Boeing. Astronics will also showcase an evolution to ELEA through a larger line called Elea Series.
---
Innovation at the Core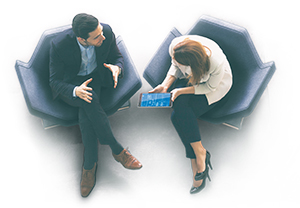 Astronics is dedicated to bringing our long history of innovation and collaborative work style to your next program.
This blog speaks to some of our latest technology advancements, as well as proven systems we can provide for aircraft manufacturers, airlines, IFE providers, and other industry participants to improve experiences for passengers while also improving cost and efficiency for aircraft operators.
We are eager to collaborate side-by-side with you on your next program. Simply contact us when you're ready.
---
Note to editors: Astronics can provide an online briefing for you or answer questions in writing. Please just email press@astronics.com.