UltraLite USB In-Seat Power System
Powerful · Intelligent · Flexible
The Industry's Most Powerful and Intelligent Passenger Portable Electronic Device (PED) Power Solution
The EmPower® UltraLite USB Power System from Astronics is an innovative aircraft passenger In-Seat Power System (ISPS) architecture which provides up to thirty (per power supply) High Power USB (HPUSB) passenger outlet units using remotely located zonal power supplies. This revolutionary architecture eliminates the traditional seat-mounted power supply resulting in a lower cost, lower weight system with less impact on the passenger foot and storage space when compared to traditional seat-based architectures.
Seat suppliers applaud the simplistic installation process as only outlet units are installed at the seat. This approach provides a high level of installation flexibility and reduces overall seat weight. Passengers enjoy the available and reliable power they need to charge and use their electronics devices during flight.
The newest addition to the UltraLite line, the UltraLite G2, adds increased power capacity and intelligent power management in an even smaller form-factor.
UltraLite G2 – Next Generation In-Seat Power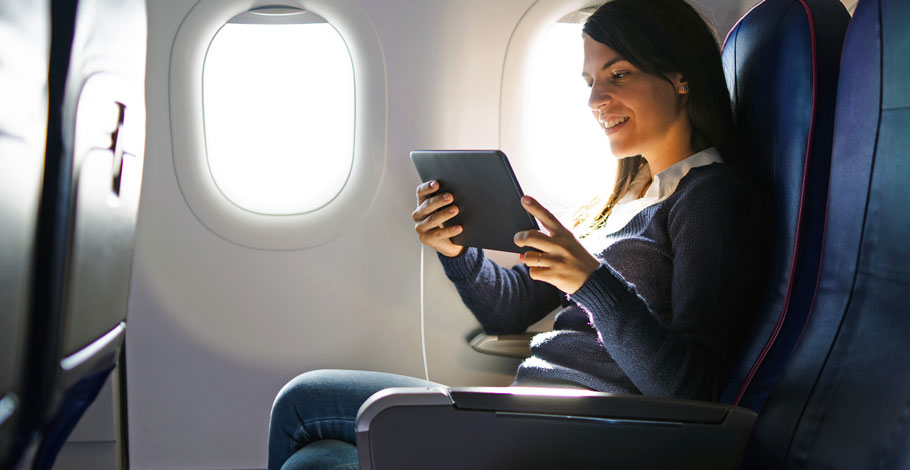 UltraLite G2 is the next generation of the revolutionary Astronics EmPower® UltraLite system. With an industry-leading >93% efficiency, UltraLite G2 provides 800 Watts per power supply in a form factor common for power supplies with half that power. UltraLite G2 also adds intelligence to every component for enhanced power management and simpler system operation and management.
With the UltraLite G2 system, you get:
Highest power, smallest form-factor
Lower weight and cost
Greatest installation flexibility
Choice of USB Type C, Type A, or combination Type A/Type C Outlets
Up to 60W of USB Type C power at every seat
The Solution You Need
Whether LCC or full-service carrier, the Astronics EmPower® UltraLite G2 is fully configurable to the needs of every airline, every aircraft platform, and every passenger.
The Highly Flexible and Scalable Solution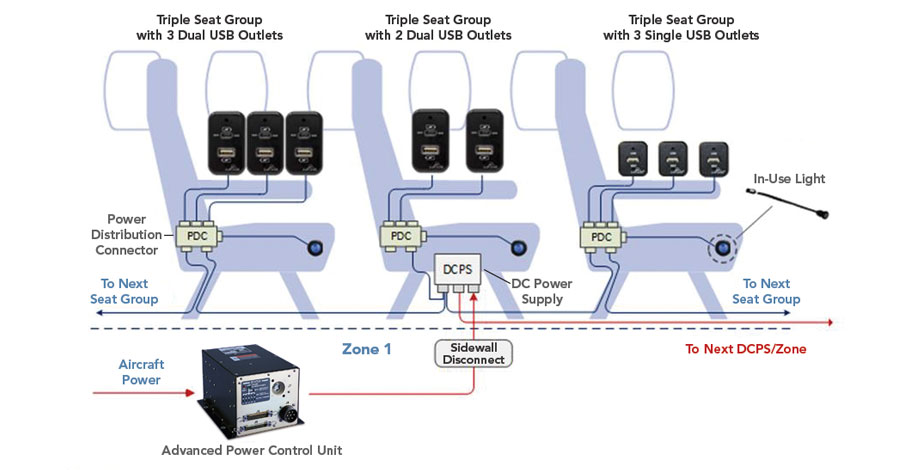 The groundbreaking zonal design of the UltraLite G2, along with its high power capacity and advanced features, provide the highest degree of installation flexibility and scalability, allowing airlines to deploy the optimal PED power system for their passengers and budget.
With a single product line, airlines can configure a system that is optimized for all their aircraft types, and even optimized for the unique service classes on each aircraft, so that all passengers can enjoy the reliable power they need to charge and use their electronic devices during the flight.
The Intelligent Power Solution
The UltraLite G2 employs a high level of intelligent processing to enhance system capability and performance. Intelligence is built into every UltraLite G2 component, which continually communicate with one another to provide enhanced power management across the entire system. This advanced capability results in a system that is adaptable for virtually any installation requirement, any selected level of power management, and can be tailored to create a unique passenger experience.
UltraLite G2 intelligent components manage the power so you don't have to. The result is a reliable system that is simple to operate and manage.
Astronics—The Aircraft Industry's Power Experts
Astronics invented in-seat power, and we've continued to innovate and expand our product line over the years. Today, major OEMs and airlines count on Astronics to provide the industry's most comprehensive, most certified, most widely deployed set of in-seat power solutions in the world.
Count on Astronics for
Decades of service on 2 million+ seats on 290+ airlines worldwide
Commercial transport, business aviation, and rotorcraft systems
Award-winning, patented, and certified designs
Customizable solutions for your unique needs
Future-proof technologies with proven, upgradeable technologies
Linefit and retrofit ready solutions for Boeing and Airbus aircraft
Let's Start the Conversation
For more information or to request a quote, fill out the form below or call us at: +1.425.881.1700