---
PC/104 Avionics Interface Cards
PM429-2
The PM429-2 is a PC/104-Plus compliant interface card for communicating over ARINC 429 and ARINC 717 avionics databuses for both simulation and embedded applications. This interface provides current value registers and 32MB of SDRAM for list and monitor buffering. PM429-2 models offer up to 16 ARINC 429 channels, 4 ARINC 717 channels, IRIG time synchronization and 16 input /output avionics discretes. The discrete I/O can be used as general purpose I/O or for trigger or sync activities in coordination with protocol functions. Several error detection and injection features along with label/ SDI filtering enable this interface to support numerous application requirements.
The PM429-2 product line supports maximum data throughput and simultaneous operations of all ARINC 429 and ARINC 717 channels. Notification of databus activity is handled through the on-board Event Log, which can be processed by polling or via a PCI interrupt. To dramatically reduce the host CPU processing, the sequential monitor has a DMA mode that automatically moves records to host memory through PCI bus mastering.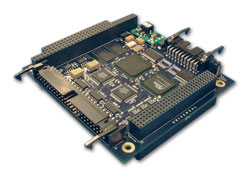 Key Features
PC/104-Plus compliant
Up to 16 ARINC 429 channels
Up to 4 ARINC 717 channels
Large 32MB memory for Tx/Rx/Mon buffering
16 Avionics discrete I/O signals
48 bit, 1 usec hardware time-tagging
IRIG A/B PWM and AM synchronization
Rugged extended temperature design
Easy to use software interface
Benefits
Large channel count and multiple protocols
Larger number of discretes for additional flexibility
Unified BTIDriver™ API compatible with many other Ballard Products
A wide variety of configurations
RoHS compliant design
ARINC 429 Channels
ARINC 429 receive channels speed may be set by the user or defined through automatic speed detection and independent label and SDI filtering. Transmit channels may be independently set for standard low or high speed bit rate (12.5 or 100 Kbps). Each transmit channel automatically maintains accurate label repetition rates and are capable of driving a full 20 standard ARINC 429 receiver loads. To support data transfer protocols, aperiodic words may be transmitted without altering the timing of periodic words. All channels can be monitored independently or by using a channel/label filter. Messages can be captured by a sequential monitor buffer for the entire interface. The BTIDriver™ API provides for automatic scheduling of labels based on transmission rates, making it straight-forward to implement transmission schedules from an ICD or migrate from third party products.
ARINC 717 Channels
The PM429-2 offers two transmit and two receive ARINC 717 channels. Each ARINC 717 channel is independently configurable through software for Harvard biphase or bipolar return-to-zero operation. Sub-frame data structures are used to transmit and receive from the ARINC 717 databus. In addition, super-frames can be enabled with configurable counter location and number of frames per super-frame.
Avionics Interfaces
ARINC 429 - up to 16 receive channels
ARINC 429 - up to 8 transmit channels
ARINC 717 - up to 2 receive and 2 transmit channels
Avionics Discrete I/O - 16 programmable input/output signals
Standard Features
Model dependent protocol capability
16 Avionics Discrete I/O
IRIG A/B input and output
32 MB SDRAM
4 MB Flash
PCI Bus
Universal PCI Signaling
32b/33MHz PCI Bus
PCI bus mastering
Enviornmental
Component temperature: -40 to + 85 deg C
Storage temperature: -40 to +125 deg C
Mechanical
Weight: approximately 3.4 oz (97 g)
Dim: 3.6 x 3.8 inch (90 x 96 mm)
Software
Universal BTIDriver API for C/C++, C#, VB, VB.Net, and LabVIEW™
MS Windows® and Linux® OS drivers
Translation DLLs for older Ballard devices
Call for latest language and OS support.
Ordering Information
For more information or to request a quote, call +1.425.339.0281 or complete the form above.
| | | |
| --- | --- | --- |
| Part Number | ARINC 429 | ARINC 717 |
| PM429-2/201 | - | 2R/2T |
| PM429-2/210 | 16R | - |
| PM429-2/211 | 16R | 2R/2T |
| PM429-2/220 | 12R/4T | - |
| PM429-2/22 | 12R/4T | 2R/2T |
| PM429-2/230 | 8R/8T | - |
| PM429-2/231 | 8R/8T | 2R/2T |
| PM429-2/240 | 8R | - |
| PM429-2/241 | 8R | 2R/2T |
| PM429-2/250 | 4R/4T | - |
| PM429-2/251 | 4R/4T | 2R/2T |
| PM429-2/260 | 2R/2T | - |
| PM429-2/261 | 2R/2T | 2R/2T |
Options
Conformal coating (Parylene)