---
PC/104 Avionics Interface Cards
Rugged and Powerful.
The PM1553-5 family of PC/104-Plus cards enable embedded computers to interface with MIL-STD-1553 avionics databuses.
Protocols and I/O
Up to 4 MIL-STD-1553 channels
16 avionics discrete I/O
IRIG A/B PWM and AM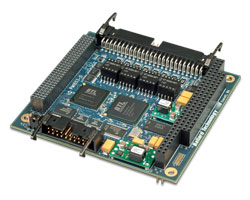 Key Features
Powerful protocol engine
Easy installation
32 MB Data Memory
PC/104-Plus Compliant
Rugged Extended Temperature Design
RoHS compliant
Reliable Operation
The rugged PM1553-5 family of PC/104-Plus cards provide reliable MIL-STD-1553 functionality for communicating with, and monitoring 1553 equipment and systems. The family includes single or multi-function models with a choice of 1 to 4 dual-redundant 1553 channels.
Easy to Use
This interface card is easy to install and operate. It supports maximum data throughput on all 1553 channels and has a large 32 MB built-in memory. With all its capability and versatility, the PM1553-5 is suitable for a wide range of MIL-STD-1553 applications.
High Performance
PM1553-5 interfaces have the latest 5th generation protocol engine and bus mastering to yield high performance. The cards are fully compliant with the PC/104-Plus standard. All models include sixteen avionics level input/output discretes and IRIG time synchronization/ generation.
Single or Multi-Function
Depending upon the hardware model, 1553 channels may be either single-function or multi-function. Single-function channels can be configured in software as either a Bus Controller (BC), a Bus Monitor (BM), or up to 32 Remote Terminals (RTs). Multi-function channels have protocol error injection capability and can simultaneously be a BC, BM, and up to 32 RTs.
Programming
Users can develop their own software applications with the included BTIDriver API. With only a few function calls, a program can operate the PM1553-5 and process messages to and from the avionics databuses. Functions include routines for transmitting, receiving, scheduling, recording, time-tagging, and manipulating data.
The PM1553-5 can use applications developed for other Ballard devices. Code migrates seamlessly from BTIDriver compatible devices or through a translation driver from older Ballard devices.
Avionics Interfaces
Up to 4 MIL-STD-1553 channels, dual redundant, bus A and bus B
Single-function channels are software configurable as BC, 32 RTs, or Bus Monitor
Multi-function channels are software configurable as BC, 32 RTs and Bus Monitor
Channels support transformer or direct coupling with jumper-selectable on-board termination
Standard Features
32 MB on-board memory
Avionics Discrete I/O: 16 programmable inputs/outputs
IRIG: A or B, AM, PWM and PPS modes
Environmental
Component Temp: -40 to +85 deg C
Storage Temp: -55 to +100 deg C
Mechanical
Dimensions: 3.55 x 3.75 inch (90.2 x 95.9 mm)
Weight: 3.5 oz. (99 g)