---
AB2000 Avionics Computers
An Embedded Computer and So Much More
With so many built-in capabilities, the highly-flexible AB2000 family is the ideal fit for a wide range of applications. These rugged, conduction-cooled, COTS devices combine a powerful computer processor, multi-protocol databus interfaces, Ethernet, USB, other I/O, and PMC expansion in a small, lightweight package.
Multiple Databus Protocols
Avionics databus protocols are not an add-on with the AB2000. Choose the model that includes one or multiple protocols built right in to meet the unique needs of your application. Powerful interface circuitry manages protocol functions so the AB2000's processor is free to concentrate on your software application.
Available interfaces include:
MIL-STD-1553
ARINC 429/575
ARINC 708/453
ARINC 717/573
RS-232/422/485
Ethernet (10/100)
USB 2.0 Host (High Speed)
Flash Storage
Discrete I/O
PMC Expansion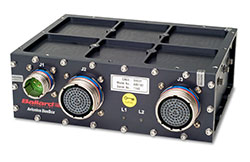 PMC Expansion
The AB2000 has an internal PMC site that can be populated to adapt the functionality of the device to applications requiring other types of I/O, additional channels, or special capabilities. These Factory-installed PMC cards allow you to add additional I/O and functionality such as Ethernet switch, relays, synchronous serial, CAN bus, and more.
Powerful Application Solutions
The AB2000 Series (also called the Avionics BusBox 2000 or simply Ballard Box) is a small form factor system that delivers outstanding performance on the ground and in the air. They are routinely deployed on helicopter, fixed wing, and ground mobile platforms in applications that include:
Data and protocol converter
Network server
Health monitor
Local/distributed control
Electronic Flight Bag (EFB) integration
Maintenance gateway
Data recorder
Ethernet switch
Avionics Interfaces
The following interfaces are available on common COTS configurations:
MIL-STD-1553 - Up to 4 dual redundant channels
ARINC 429 - Up to 24 channels
ARINC 708 - Up to 4 channels
ARINC 717 - Up to 2 channels (Biphase/Bipolar)
Avionics Discrete I/O - Up to 48 programmable Input/Outputs
Standard Computer Interfaces
All models have the following interfaces:
RS-232/423/422/485 2 channels (selectable)
Ethernet (10/100) 1 port
USB 2.0 2 host ports
IRIG A/B AM/DC TTL receiver
Additional Interfaces
The PMC expansion architecture of the AB2000 provides flexibility to include many other interface capabilities, such as:
9-port Ethernet switch
Additional Asynchronous Serial
Synchronous Serial
CAN bus
Relay Module
Additional Avionics Interfaces
Contact factory for more information and other options
Standard Features
PowerPC processor
64 MB SDRAM
16 MB Flash
Real Time Clock with backup power
Voltage and temperature monitoring
Flash drive
Conduction cooled PMC site
Power: 28 VDC nominal
MTBF: 350,000+ hours
Environmental
Extended Temperature
Conduction or convection cooled
DO-160, MIL-STD-810, MIL-STD-461
Mechanical
Compact enclosure: 5.46 x 7.31 x 2.48 in (139 x 186 x 63 mm)
Weight: 3.5 lb (1.6 kg)
Horizontal & vertical mounting
Software
Embedded or Tethered Operation
There are two ways software can operate the AB2000, either embedded or tethered. Embedded programs are typically first developed on a host computer and then uploaded to the AB2000's universal BTIDriver non-volatile solid-state storage. At power-on the embedded application boots and runs without host intervention. The tethered case is where a separate computer runs the application and controls the AB2000 over Ethernet.
Ordering Information
For more information or to request a quote, call +1.425.339.0281 or complete the form above.
Astronics offers over 60 COTS AB2000 configurations. The following are a few example configurations:
| | |
| --- | --- |
| Model | Description |
| AB2342 | Standard features plus 8R/4T ARINC 429, 1R/1T ARINC 708 and 1 dual redundant multi-function MIL-STD-1553 channel |
| AB2146 | Standard features plus 8R/4T ARINC 429 and 1R/1T ARINC 717 channels |
| AB2280 | Standard features plus 4 dual redundant multi-function MIL-STD-1553 channels |