---
AB1000 Avionics Computers
Small problem-solver
The AB1000 is a small, lightweight embedded computer with built-in interfaces for avionics databuses and a variety of standard I/O types. Under the direction of its application specific software, the AB1000 can autonomously perform tasks that involve receiving information from some interfaces and processing and mapping the information into other interfaces.
Available Interfaces
MIL-STD-1553
ARINC 429/575
RS-232/422/485
RS-232/422/485
Ethernet (10/100)
USB 2.0 Host (High Speed)
CompactFlash® disk
Discrete I/O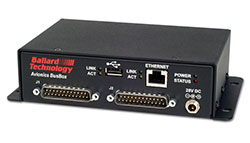 Flexibility For A Variety of Applications
The flexibility of the AB1000 Series (also called the Avionics BusBox 1000 or simply Ballard Box) is a small form factor system that lends itself to many different applications. As a protocol converter, the AB1000 can aid in the integration of commercial and military avionics. For example, acting as a MIL-STD-1553 Bus Monitor and an ARINC 429 transmitter, the AB1000 could make navigation data from a military system available to a commercial device. The Ethernet port may be used in a variety of applications including an Ethernet-to-avionics bridge, an avionics data server, or a remote control/monitoring interface for avionics devices. Aircraft data can be monitored and recorded to the on-board CompactFlash disk. This is useful in maintenance applications where flight data can subsequently be analyzed to detect potential problems.
Applications
Protocol converter
Data server (Ethernet)
Data recorder
Remote monitoring
Architecture
At the heart of the AB1000 Series is a user programmable PowerPC® processor, which controls the various standard (serial, Ethernet, and USB) and avionics databus (MIL-STD-1553, ARINC 429/708, etc.) interfaces. The high level of functionality implemented in the hardware interface circuitry gives the software application full use of the PowerPC processor.
Additional Features
The USB host port allows for the connection of a wide variety of devices. For example, a USB mass storage device could be used for transferring data to/from the AB1000 Series, or an 802.11 wireless device could be attached as an alternative to the wired Ethernet port. Also included are serial ports and avionics level discrete I/O which can be used to interface with other devices.
MIL-STD-1553
Up to 1 dual-redundant channel
BC/RT/MON (Single or Multi-Function)
Hardware controlled transmit scheduling
TA/SA message filtering
Sequential monitor
ARINC 429/575
Up to 6 channels
Periodic and asyncronous messages
Hardware controlled transmit schedule
Receive message filtering (Label/SDI)
Sequential monitor
RS-232/422/485
2 channels
Selectable baud rates
Optional handshake signals (232 mode)
Ethernet
1 port
Auto-sensing 10/100 Mb/s
TCP, UDP
Built-in Telnet, FTP, and Web servers
USB 2.0 Host
1 port
High Speed (480 Mb/s)
Mass storage devices
Discrete I/O
4 Outputs: Open/GND
6 Inputs: Open/GND or 28V/Open
Standard Features
PowerPC processor
64 MB SDRAM
16 MB system flash
Real Time Clock (with 650+ hours of backup)
CompactFlash slot - factory populated with 512 MB CompactFlash (with power fail protection)
High resolution timer for time-tagging events (1 µs)
2 RS-232/422/485 (selectable)
1 Ethernet (10/100) port
6 Open/GND discrete inputs
4 Open/GND discrete outputs
28 VDC supply (industrial grade)
MFBF: 450,000+ hours
Time-tag/IRIG
48-bit hardware time-tag (1μs resolution)
IRIG A or B, PWM, and PPS (generate or synchronize, synchronize hardware time-tags)
Environmental
Component Temperature: -40 to 85ºC
Storage Temperature: -55 to 100ºC
Mechanical
Compact Enclosure: 4 x 6 x 1.7 inch (102 x 153 x 44 mm) excluding connectors and flange
Weight: 22 oz (624 g)
Software
Embedded or Tethered Operation
There are two ways software can operate the AB1000, either embedded or tethered. Embedded programs are typically first developed on a host computer and then uploaded to the AB1000's universal BTIDriver non-volatile solid-state storage. At power-on the embedded application boots and runs without host intervention. The tethered case is where a separate computer runs the application and controls the AB1000 over Ethernet.
Ordering Information
For more information or to request a quote, call +1.425.339.0281 or complete the form above.
The AB1000 Series is available in a number of configurations. The standard models are shown below.
| | |
| --- | --- |
| Model | Description |
| AB1150 | Standard features plus 4R/2T ARINC 429, and 1 dual redundant multi-function MIL-STD-1553 channel |
| AB1140 | Standard features plus 4R/2T ARINC 429 channels |
| AB1110 | Standard features plus 1 dual redundant multi-function MIL-STD-1553 channel |
| AB1100 | Standard features plus 1 dual redundant multi-function MIL-STD-1553 channel |
Standard Options
AB1000 models can be customized with the following standard options. Please contact Astronics Ballard Technology for more information.
Conformal coating
Larger CompactFlash
Transmit disable
Hardware write-protect memory
Power input on D-Sub pins