TRD Software
Document Your Test Programs
The Test Requirements Document (TRD) System helps users develop and document the strategy and structure of test programs.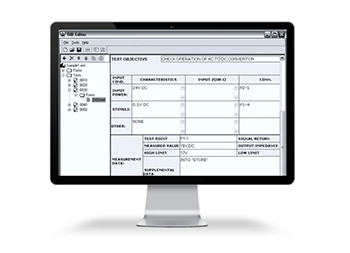 Product Information
TRD offers format screens, flowchart generation tools, and documentation formats, all in accordance with the most popular military standard formats or with unique custom formats.

It also automatically generates an ATLAS test program from the TRD information provided by the user.
TRD is an ITAR-controlled product.
TRD Release Notes
Version 3.2.0 - PDF
Version 3.1.0 - PDF
Version 3.0.7 - PDF
Version 3.0.6 - PDF
Version 3.0.5 - PDF
Version 3.0.4 - PDF
Version 3.0.3 - PDF
Version 3.0.0 - PDF
Version 2.1.6 - PDF
Version 2.1.5 - PDF
Version 2.1.4 - PDF
Version 2.1.3 - PDF
Version 2.1.2 - PDF
Version 2.1.1 - PDF
Version 2.1.0 - PDF
Version 2.0.1 - PDF
Version 2.0.0 - PDF
Contact & Support
Astronics Test Systems