Test System Solutions Designed for You
Custom Test System Solutions
No time to think about test? One-size-fits-all testers not ideal? Existing solution no longer fits your needs? Then count on integrated test solutions from Astronics. We'll assist you with your test strategy and your test system, setting you on the path to market at a pace and ROI that ensures your program success.
Astronics helps you solve your toughest test challenges with a host of integrated test solutions for any high reliability application. With more than 55+ years of experience, we offer you customized solutions from a broad base of technologies and systems components to deliver your solution quickly, to your exact specifications, at any location worldwide.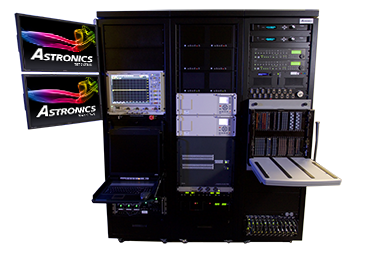 Product Information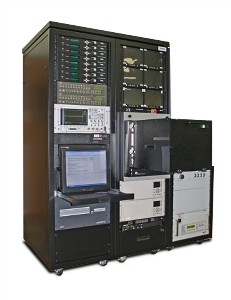 As your test solutions partner, Astronics offers a breadth of technical capabilities and systems integration experience that exceed expectations in meeting your functional requirements, deadlines, and future supportability needs. Rely on our test expertise so you can spend your energies on bringing your product to market successfully.

Overall, we offer "just enough test" for your program, providing you with:
Test systems design including hardware and software integration
Systems manufacturing with proven production control systems and strict supply chain management procedures
Test procedure development
Design verification and acceptance testing
On-site commissioning, including installation, calibration and training
Complete configuration-controlled documentation for quality repeatable builds, including drawings, user manuals and spares lists
Logistics and ongoing support, including maintenance, repair, spares, training, and other services
Technology, Expertise and Logistics that Ensure Your Success
Count on Astronics for:
A strong heritage of custom systems integration
Modular, configurable, future-supportable systems
A collaborative design workflow
A vertically integrated team offering electrical, mechanical, software and test engineering all under one roof
More than 150,000 square feet of manufacturing capability
World class partnerships with NI and Keysight, among others
End-to-end logistics and program lifecycle management
Customer Experience
Over the years, we've provided test systems to the world's largest customers to verify their critical systems.
All prime aerospace OEMs
Space agencies and OEMs
U.S. and international military organizations
Semiconductor manufacturers
Consumer product manufacturers
Medical device manufacturers
Technology Capabilities
We offer a complete menu of proven technology to build sophisticated solutions quickly and expertly.
Instrumentation - analog, digital, synthetic
Switching - DC to light
Signal measurement and generation - photonics, microwave, RF, DC, AC
Power - subsystems, distribution, control
Optical systems
Robotics
Automation
Software - test program sets, test executives, integration, remote monitoring
Thermal - stress testing, multiphase heating/cooling
Custom PCB development
Mechanical - including cable design/management and cabinetry
Contact & Support
Astronics Test Systems
Testimonials
"The Astronics FTS-940 has turned out to be a perfect test system for us. During development, the Astronics Test Systems team consistently went the extra mile to add useful features and exceed our requirements."