ATS-5000 Functional Test Systems
Configurable Functional Test
Maximize the uptime of your most critical electronics with the ATS-5000 Functional Test System from Astronics Test Systems.

Deployed globally for more than 20 years, the newest version of this tester provides a configurable, affordable solution that delivers just enough test.

View our solution brochure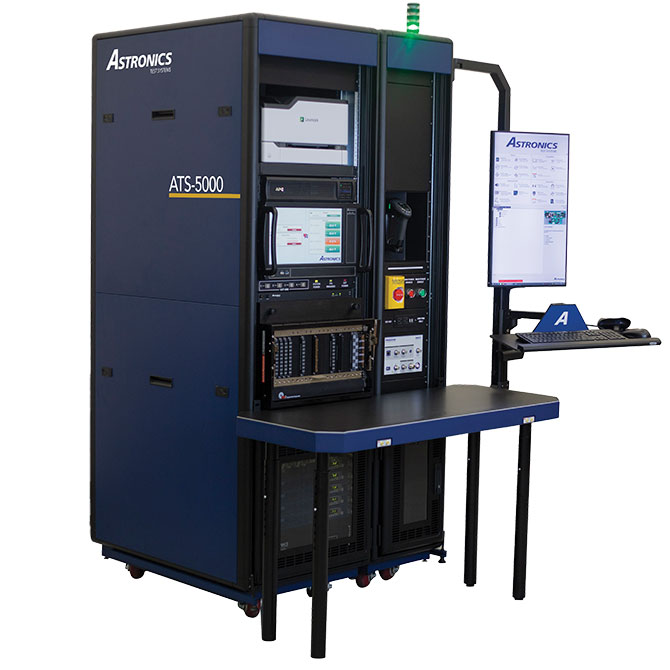 Product Information
Support legacy systems as well as today's newer electronics with this flexible tester, where you have the freedom to specify new instruments and software or integrate your own solutions. This universal tester is ideal for use in high reliability industries, including:
Military
Commercial aerospace
Space
Mass transit
Missile and weapons
Radio test
and more
Whether you're looking to replace a legacy system or create a new program, Astronics Test Systems delivers your solution with an open architecture based on industry standards for fast, easy configuring and efficient operation.
The ATS-5000 is your state-of-the-art choice to ensure optimal performance of critical systems.
A Complete Menu of Test Functionality
Configure your system for your needs with any variety of core COTS instruments and components, including:
VXI/PXI instrumentation
Core digital test
Analog test
Switching
Serial and parallel bus emulation
Boundary SCAN/JTAG
FPGA, expanding capability
Any variety of test management software
Multiple receiver/interface options
Racks, skins, chassis, electrical infrastructure
Select components from the library of products offered by Astronics, or, if you prefer, select third party instruments for integration – the choice is yours.
Astronics can also offer build-to-print to meet your specifications using the ATS-5000 as a core platform.
Services and Support
No program is complete without intense service and support. With Astronics, you can expect:
Engineer-to-engineer collaboration and customization
Interface Test Adapter (ITA) development
Program management
Installation and ongoing support
Contact & Support
Astronics Test Systems
Testimonials
"The Astronics FTS-940 has turned out to be a perfect test system for us. During development, the Astronics Test Systems team consistently went the extra mile to add useful features and exceed our requirements."