Escape Path Marking
Overview
The EPM system provides floor lighting and exit door identification to passengers and crew evacuating an aircraft in limited visibility.

EPM Datasheet
Astronics is a leading supplier of emergency egress lighting systems. These systems are designed to help airline passengers identify aircraft exits in the case of emergency. We provide escape path lighting direct to over 200 airline operators around the world. Astronics provides complete systems to include floor path marking, monument lights and low level exit indicators.
Floor Track
Seat Lights
Wall & Galley Monuments
Exit Locators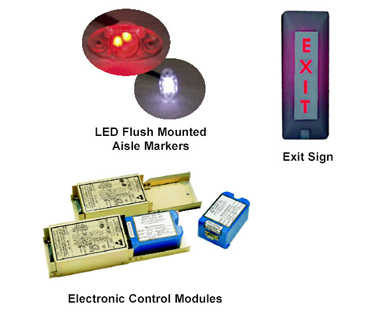 Product Information
Each EPM system installation consists of seat-mounted white or red LED aisle markers, LED exit signs for doors and escape hatches, independent electronic power supplies, and interconnecting wire harnesses.
Features
Long life LED light sources
Easy retrofit of existing floor mounted systems
Flush mounted aisle markers to eliminate damage from luggage and carts
LED lighting with multi-voltage input capability (6 to 28 VDC)
Full installation and certification support available
Ordering Information
Please contact us for part numbers and ordering information.
System Components
Electronic Control Module (ECM) – provides independent power to illuminate the lighting elements, monitor and activate the system, and maintain the charge readiness of the batteries.
Wiring harness assemblies – interconnect the EPM system to the aircraft electrical buss providing system and LED lighting element activation.
LED aisle markers – installed on the inboard side of selected aisle seats to provide a well-illuminated path to the exit doors and hatches.
LED exit signs – installed adjacent to all exit doors and hatches to provide evacuees with both illumination and visual cues for exiting the aircraft.
Certification / Compliances
FAR 25.812, 25.853, and 25.562
Contact & Support
Astronics LSI, Emergency Systems