Aircraft Power Distribution
Overview
CorePower® systems from Astronics replace traditional thermal mechanical breaker systems with intelligently controlled solid state switches providing unprecedented reliability and safety.
Astronics CorePower aircraft Electrical Power Distribution Systems are uniquely suited for today's sophisticated corporate jets, UAVs, VVIP, and advanced helicopter programs. With a history of high reliability, they are the ideal choice for aircraft power distribution.
Product Information
Electronic Circuit Breaker Units
CorePower® Electronic Circuit Breaker Units (ECBUs) used in power distribution systems have the unique capability to be conveniently located throughout aircraft. Smaller and lighter than their conventional counterparts, ECBUs create a more evenly distributed system. This distributed system allows for less wire throughout the aircraft, as well as aids in arc fault detection, replacement of many switches, relays, controllers, and contactors.
Performance/Reliability Advantage
Up to 20 times higher system reliability (electronic circuit breakers versus traditional breakers)
Certified and flying in many power systems
Current and voltage data automatically reported
Significant Size and Weight Advantage
Overall reduction of wire weight by 30%
Smaller LRUs reduce wire weight and volume
Safety & Certification
Each electronic circuit breaker has both I2t protection and a fast response feature to prevent false trips
Environmental qualification (RTCA/DO-160E), software qualification (RTCA/DO-178A)
Qualified and certified on Part 23 aircraft, qualified on Part 25 aircraft
Dual redundant digital interface via RS-485 digital bus
Improved Pilot Experience
Intelligent system integrates and automates control functions with fewer panels than before reducing pilot workload
Modernized cockpit look and feel
AC or DC Electronic Circuit Breaker Unit
The newest unit offers all the features of our earlier ECBU offerings but is a smaller unit requiring less space therefore providing more flexible mounting options.
Find out more about Electronic Circuit Breaker Units »

Datasheet
DC Electronic Circuit Breaker Unit
Offers increased functionality and system control. Certified and flying on PC-24 and Bell 525.

Datasheet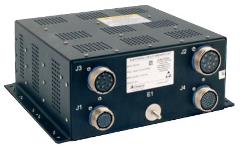 For more information or to request a quote, call +1.425.881.1700 or contact sales.
Contact & Support
Astronics AES, Business Aircraft, Rotorcraft and Military