Astronics Solutions at the Air Transport Industry's First Major Digital Trade Show
With live events currently on hold due to the global COVID-19 pandemic, Astronics is taking part in the interactive online air transport industry trade show FTE APEX Virtual Expo taking place on 8-9 of December 2020. For more information or to register, click here.
Here's a quick preview of what's new and recently introduced at Astronics to help airlines and airframe passengers improve both PaxEx and operational efficiency.
Please know that as we journey through this dynamic time that Astronics remains strong and committed to serve our customers whenever they're ready.
---
ESA Announcement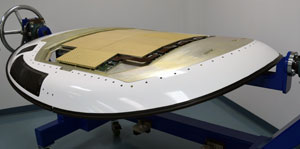 The E-Series universal chassis allows for customizable technology integration while solving the problems of cooling and environmental protection for high-performance active ESA panel technologies. The design of this system reduces airline operational costs and addresses each of the pain points presented by past solutions. Building off our multi-million-flight-hour experience with commercial airliners and ability to support maturing panel technologies in either Ku- or Ka-band, the E-Series offers unmatched interoperability, simplified operation, and future-proof performance at a cost point in line with existing connectivity solutions.
Find out more about the E-Series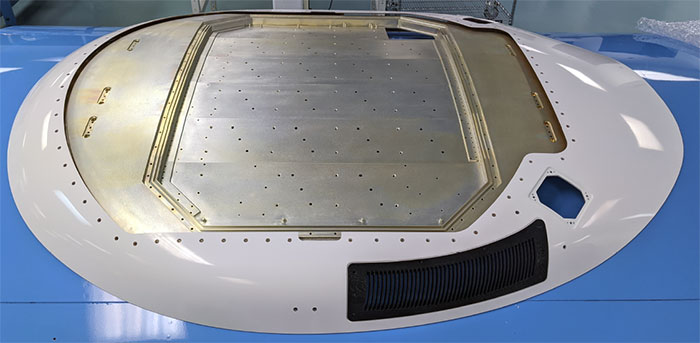 ---
Sierra Portable IFE system
Also being featured is Astronics' Sierra Portable IFE system, winner of the 2019 GOOD DESIGN Award, and nominated for the 2019 Crystal Cabin Award Shortlist. Sierra is a robust, scalable IFE solution that delivers IFE as a standalone unit from battery power, or when installed and powered, can support networking for multiple units to cover a larger aircraft cabin. Sierra enables passengers to enjoy hundreds of hours of streaming audio, video and other digital content on their personal devices.
Sierra delivers streaming content that matches the experience of installed IFE without the need for a supplemental type certificate (STC), operating in the overhead bin.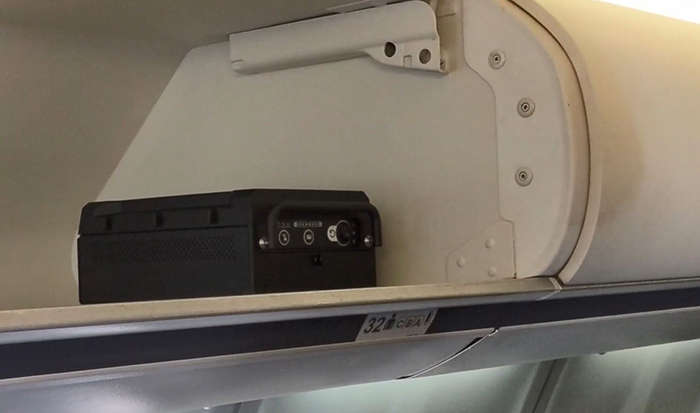 ---
An In-Seat Power System for Any Cabin Scenario
Astronics continues to lead the market with its EmPower® in-seat power solutions, offering a breadth of options unmatched by any other vendor. Here's a quick look at our lineup of innovative cost and weight saving solutions that satisfy the passenger demands for power and ensure your cabin is future-proofed for the devices of tomorrow.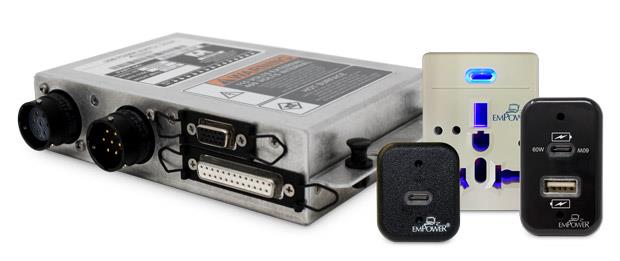 View our in-seat power solutions
---
Smart Aircraft – Imagine the Possibilities
Astronics is enabling the gathering of information through sensors & IoT technology to help you gain insight for improving operational efficiency, cabin safety, and the overall passenger experience. The innovative Smart Aircraft System uses the transforming power of data and insight to revolutionize your airline operations. It answers all your important questions: from bin condition, to passenger occupancy, to supplies and equipment status, and more. This highly configurable and expandable system delivers immediate benefits today – and compatibility with the future innovations of tomorrow.
For the past three years, Astronics has demonstrated its Smart Aircraft System at APEX with a myriad of applications, including seat occupancy sensing and bin capacity sensing. We are very proud of the fact that our innovative system received the "Best Cabin Innovation" award at last year's APEX Expo.
The versatility of the Astronics system delivers benefit where you need it most. Consider this potential use: using RFID (radio-frequency identification) tags to monitor and report on important aircraft assets such as life jackets, first aid kits, and other essential items. In this scenario, the Astronics Smart Aircraft System would detect the presence of FAA-approved life vests stored beneath an airline seat and obtain their expiration status. For the airline, this means that the system is able to verify – without user-intervention – the presence of serviceable life vests for all passengers. If there are any missing or expired vests, the system alerts the cabin crew or maintenance operations with the exact location for quick replenishment.
The video below shows an overview of our Smart Aircraft offering. For more information, visit our Smart Aircraft System page.
---
Cabin Integration Services
Astronics' experienced services team provides a tailored, end-to-end integration program to meet your cabin reconfiguration needs. Our dedicated team provides technical expertise and overall leadership for your program while ensuring on-time delivery.
Our cabin reconfiguration and certification services team support numerous capabilities including premium and economy seating product installations; galley, lavatory, and monument removals and installations; "zero pax" and high-density configurations; and airline rebranding. Capabilities also include removal and installation of inflight entertainment, in-seat power, and connectivity systems, including large radomes, as well as water and waste, lighting, mechanical and electrical systems integration.
As a service provider, Astronics offers dedicated program management, overseeing multiple suppliers and materials providers while remaining a vendor neutral integrator. We have experience working with numerous leasing companies in support of aircraft transitions. Additional offerings include customizable certification paths via FAA Aircraft Certification Office (ACO), Organization Designation Authorization (ODA), or EASA Design Organization Approval (DOA) to match airline requirements, schedule and budget.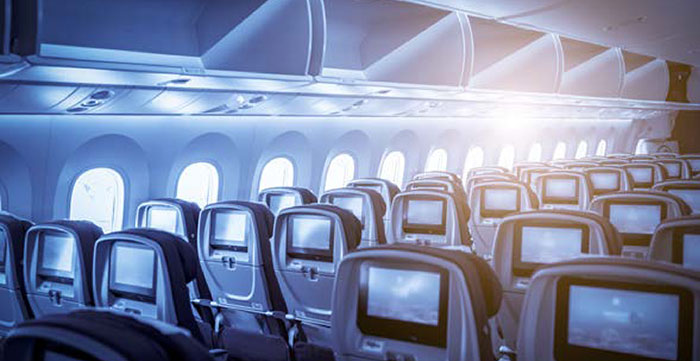 ---
Pulsed Xenon UV Light Disinfection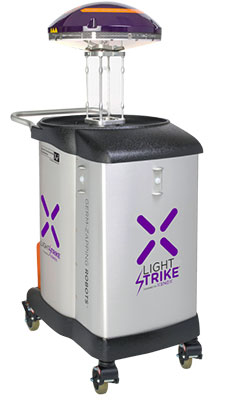 A powerful technology interrupting the spread of viral disease is pulsed xenon ultraviolet (UV) light disinfection. With accelerated timelines, PDT, an Astronics Company, and Xenex Disinfection Services designed, manufactured, and delivered its next-generation LightStrike Germ-Zapping Robots in response to COVID-19. Xenex's patented UV technology is proven to achieve a 99.99% level of disinfection against SARS-CoV-2, the virus that causes COVID-19, in two minutes.
Setting a higher standard in environmental disinfection, pulsed xenon UV light is unmatched in its high strength to safeguard people with a method free from human error and evidence-based effectiveness. Xenex is a market leader in UV disinfection for healthcare facilities. Today, UV technology is prioritized in the airline industry. Unlike typical mercury vapor-based UV light, pulsed xenon UV light will not damage materials present in aircraft cabins and airports.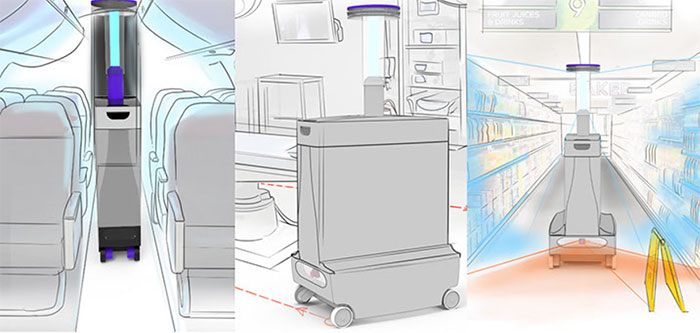 ---
Ozonated Water Hand Disinfection
As health stays at the forefront of travelers' minds, the airline industry is turning to technology to level the playing field in the battle against viral diseases. Aqueous ozone, commonly referred to as ozonated water, is a natural disinfectant that does not require hand-rubbing, use of soap or harsh chemicals.
PDT, an Astronics Company, expanded its partnership with 3Oe Scientific to manufacture Iggy™, a first-in-class hand-rinsing device that uses a proprietary seven-second mechanical water spray fortified with aqueous ozone to enhance the effectiveness of hand-hygiene protocols. Research on Iggy™ prototypes demonstrate the effectiveness of mechanical forces and aqueous ozone against a number of bacteria, viruses and fungi, including coronavirus. Is Iggy™ coming to an airport near you?
---
Li-Fi Technology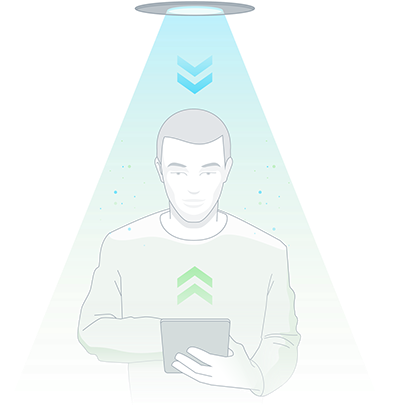 LiFi enables high speed data transmission through the full spectrum of light. Its speed, security, and adaptability make this technology unlike current radio technologies such as Wi-Fi or cellular. LiFi uses modulating light instead of radio frequency communication in Wi-Fi, making it virtually interference free and can securely transmit data at multiple gigabits per second. LiFi can drastically improve passenger experience by eliminating Wi-Fi bandwidth limitations and allowing overhead passenger service units to deliver a private connection to the internet, making LiFi a viable option for next-generation inflight entertainment and connectivity (IFEC) solutions.
At APEX 2019, Astronics helped Pure LiFi commercialize its future vision for rapid content loading to deliver personalized IFE content. "Imagine being able to load content on and off the aircraft at every turn of the aircraft," envisions Mark Schwartz, Vice President of PDT, an Astronics Company. "Airlines can offer passenger selections via their app ahead of time, and then simply load the aircraft with what has been pre-ordered. This can save the need to store immense amounts of IFE content, reduce server sizes and complexity, and provide an on-demand passenger experience for content that has never been seen before."
---
Innovation at the Core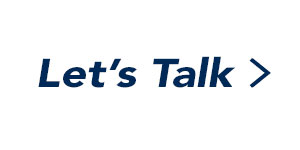 As we look forward to the time when we can again meet with you in person at live events, we want you to know that Astronics remains dedicated to bringing its long history of innovation and collaborative work style to your next program.
This blog speaks to some of the new technology explorations and proven systems we can provide for aircraft manufacturers, airlines, IFE providers, and other industry participants to improve experiences for passengers while also improving cost and time efficiencies for aircraft operators.
We are eager to collaborate side-by-side with you on your next program. Simply contact us when you're ready.
---
Note to editors: Astronics can provide an online briefing for you or answer questions in writing. Please just email press@astronics.com.