Astronics will demonstrate several new technologies at the upcoming Aircraft Interiors Expo (AIX) in Hamburg, Germany, from April 2-4, 2019 in Stand 3B30. The new technologies bring together a set of power, connectivity, interiors, and other solutions that will help airlines and airframe manufacturers improve the passenger flight experience while providing cost and operational efficiencies.
---
Smart Sensing on the Aircraft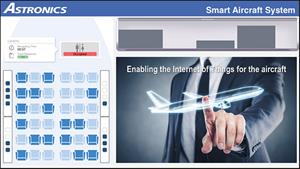 Throughout the three-day event, Astronics will demonstrate its pioneering Smart Aircraft System technology, which includes the innovative Intelligent Bin Solution, as well as additional features to detect the presence of passengers and other aircraft sensor data. This patented system uses Internet of Things (IoT) wireless technologies to detect and report in real time the status of various sensor data, such as remaining space available in overhead bins, passenger seat occupancy, and early detection of Lithium ion battery outgassing.
"Our new Smart Aircraft System integrates hundreds of advanced sensors with our webCS wireless communication server to collect and present meaningful data to crew members on their portable electronic devices," explains Jon Neal, President of Astronics Ballard Technology. "Crew members and gate agents can know exactly when to start checking bags and reduce boarding times. Additionally, they can understand when a seat is occupied and positioned for taxi takeoff and landing at a glance rather than a time-consuming walkthrough. There are a multitude of uses for this new system, which brings new data and insights into the hands of the crew in order to increase airline operational efficiency."
The Intelligent Bin Solution is shortlisted in the AIX Crystal Cabin Awards, and expected to start airline trials later this year.
Learn more about Astronics Smart Aircraft Initiatives.
Make your AIX sales appointment or press appointment
Back to top
---
Bringing Smart to the PSU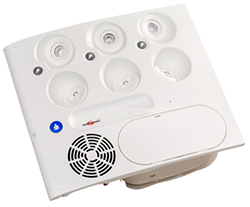 Astronics will also preview some initial concepts for next-generation passenger service units (PSUs) in the booth. Intended to generate feedback and discussion with conference attendees and customers, the exploratory demonstration units will include features including finish treatments, smart technology additions, customer interface, and other features.
"The PSU is the unsung hero of the cabin environment, and we envision it can serve the passenger experience and the airline better than it does today," said Dave Freund, President of Astronics PECO. "We are previewing these concepts for our customers so that as we go to develop next generation PSUs, we are working in partnership with them to meet their specific needs for safety, aesthetics, and technology. Astronics is also a pioneer in aircraft smart technology innovation, and we believe that some of the new features we can now offer will excite the industry."
See more about Astronics PSUs.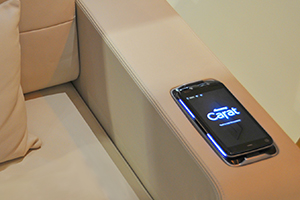 Finally, in the smart aircraft category, Astronics PGA will demonstrate its smart wireless handset, the GemOne, which is shortlisted for a Crystal Cabin Award. From this single device, premium jet passengers can operate IFE and cabin systems, order meals, make telephone calls, and more.
See details on the Smart Wireless Handset.
Make your AIX sales appointment or press appointment
Back to top
---
Inflight Connectivity Innovations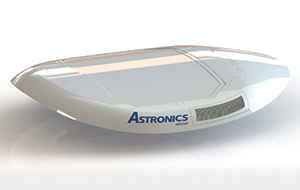 Astronics will preview a variety of inflight connectivity innovations at the show including the new E-Series electronically steered array (ESA) antenna system, developed by Astronics AeroSat in partnership with Phasor. Available in three sizes, the E-Series will provide Ku-band connectivity and offer multi-beam capacity for GEO/HTS, MEO, and LEO satellite networks. Ultra-low in profile, the E-Series supports the "make before break" requirement of non-geo networks.
"We are creating some very exciting new technology with this product, and we think the new E-Series will provide seamless connectivity for both new and existing networks while providing a true, solid-state, active array antenna system. This provides a lot of advantages for airlines, network operators, and most importantly the customer and their inflight connectivity experience," explained Matt Harrah, President of Astronics AeroSat.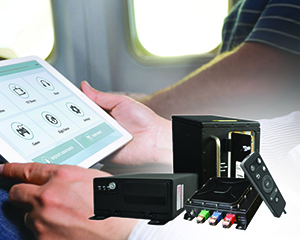 For connectivity routing inside the cabin, Astronics CSC will bring its next-generation Summit™ Line products of inflight connectivity hardware. Attendees can expect to see new versions of the portable wireless IFE system as well as traditional servers, content loaders, personal control units, and wireless access points.
"Our inflight connectivity system is the most widely adopted infrastructure in the industry today, and we continue to add innovative features, such as security enhancements like WPA3, 10Gb Ethernet, Bluetooth low-energy, and 802.11ax, all meant to increase speed and reliability in our already robust and successful product line," said Michael Kuehn, President of Astronics CSC.
Make your AIX sales appointment or press appointment
Back to top
---
Previewing Li-Fi Applications for Aircraft
PDT, an Astronics Company, will demonstrate some new potential applications for the emerging technology of Li-Fi, in a collaboration with pureLiFi. Li-Fi leverages light to send information, in contrast to Wi-Fi, which uses radio waves. Proven capable of transferring data at an unprecedented several Gigabits per second in multiple channels, Li-Fi could eventually empower passengers to download an HD video in just a few seconds, or transfer data on and off the aircraft, for example.
"We're building on the conversations we've had with customers over the past several months, and in addition to showing how Li-Fi can deliver passenger connectivity, we'll be demonstrating the immense advantages available with an aircraft data link application," said Mark Schwartz, Vice President of PDT, an Astronics Company. "Come by the booth to see how aircraft data can be transferred, wirelessly, between terminals and aircraft in seconds."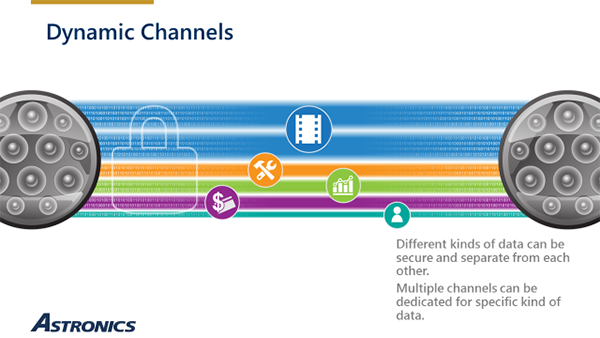 Make your AIX sales appointment or press appointment
Back to top
---
Powered Solutions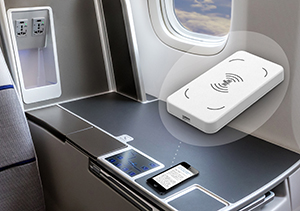 Keeping passengers' electronic devices (PEDs) powered is even more important in today's aircraft as more airlines depend on these devices to generate ancillary revenue through content delivery and Wi-Fi purchases. In support of this demand, Astronics will demonstrate a myriad of innovations including the recently introduced wireless charging module as well as their new High Efficiency EmPower® USB Type-C PED charging system.
Astronics will also have its airframe power system, CorePower®, on display in the booth. This system will feature a new 115VAC version of its recently introduced Electronic Circuit Breaker Unit, which replaces conventional thermal mechanical circuit breakers and functions as both a breaker and a switch for controlling loads.
Make your AIX sales appointment or press appointment
Back to top
---
New Lighting and Safety Products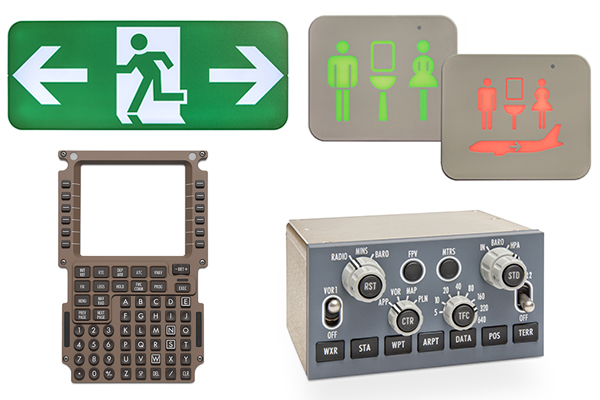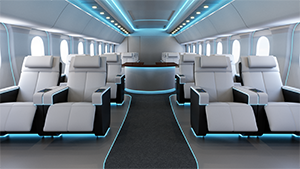 For aircraft cabins, Astronics LSI will demonstrate its full suite of cabin emergency lighting systems including floor path marking, ceiling emergency lighting, running man emergency exit signs and evacuation area lights, as well as its newest technology for passenger information signs. Lighted components for the cockpits, including HMI panels, dimmers, controllers and other products, will be on hand in the booth as well as the latest generation of low weight, highly efficient and reliable exterior lights.
For premium interior lighting, Astronics PGA will demonstrate its new Nuancia flexible ambient strip lighting system, which is also shortlisted for a Crystal Cabin Award.
Finally, in lighting, Astronics DME will be at AIX to feature their Air Lite LED flashlight systems for aircraft.
Make your AIX sales appointment or press appointment
Back to top
---
Innovation at the Core
Astronics brings a long history of innovation and the successful introduction of new technologies and products to market, including the EmPower passenger in-seat power technology that has had a profound impact on the passenger experience. The new technology explorations plus proven systems can provide a foundation for future aircraft manufacturers, airlines, IFE providers, and other industry participants to improve experiences for passengers while also improving cost and time efficiencies for aircraft operators.
"Astronics has broad expertise in many technologies that we are combining into integrated solutions," said Mark Peabody, Executive Vice President of Astronics Corporation. "Our goal is to sit side-by-side with our customers in a collaborative way to find new ways to solve their challenges."
Astronics will give demonstrations of these and other technologies on-demand throughout the three days of the exhibit in Stand 3B30. Two hands-on demonstration units will also display the breadth of technologies available for both commercial and business jet aircraft.
Make your AIX sales appointment or press appointment
Back to top
---
Interested to meet with us at the show? Make your appointment by emailing events@astronics.com.
Note to editors: Astronics will be conducting media briefings in the booth on these new technologies plus other news items. Please schedule your appointment by emailing press@astronics.com.