ActiveX Weather Radar Control
Programming Building Block
The ActiveX Weather Radar Control is a program building block that decodes the ARINC 708 message data and presents it in a highly customizable graphical display.
Key Features
Configure the grid, colors, fonts, and other properties to optimize the display
Specify the scan range--even increase it to 360 degrees!
Customize the display of fault indicator lights
Adjustable refresh rate accommodates the processing power of the host computer
Much more...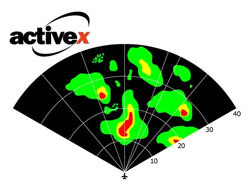 Ordering Information
For more information or to request a quote, call +1.425.339.0281 or complete the form above.
Downloads

Manuals, Drivers, etc.