Take Control with Open-Architecture Motor Control Solutions
The aircraft industry is experiencing a steep rise in electrification as hydraulic systems are replaced with fly-by-wire technologies. At the same time, aircraft manufacturers are moving to higher operational DC link voltages to reduce the current-carrying burden on wiring and to reduce aircraft equipment weight. The coming age of all-electric propulsion systems will further challenge requirements such as EMC performance, size restrictions, and weight limits. In this dynamic environment, the need for more capable and efficient motor control becomes a critical path to a successful airframe design.
Astronics is applying our extensive experience in motor control design to meet that industry challenge with a new scalable, high-performance, advanced motor control concept for cross-platform aerospace applications. With our family of motor controller designs, you can control all your motors with fewer unique part numbers in the system, benefitting from consistent programming interfaces and operating parameters regardless of the end application.
Motor Control Capabilities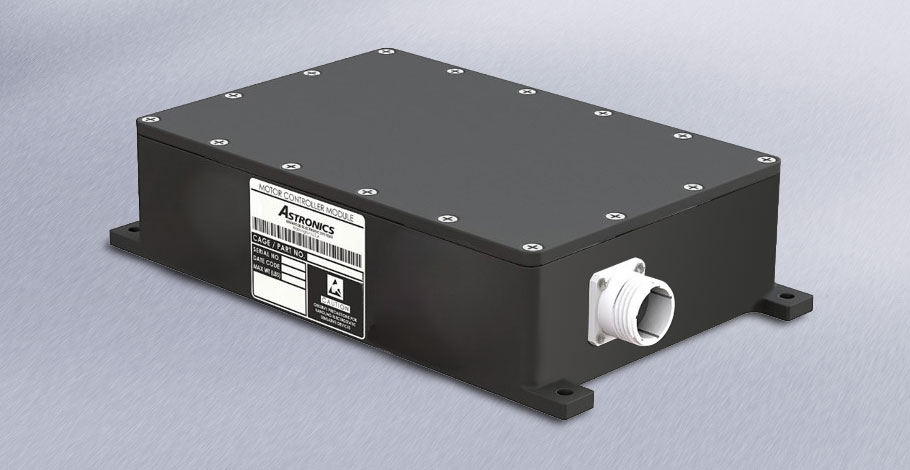 At Astronics, we work closely with you to build the exact system you need. We have full motor control product design and development capabilities, including:
Model-based architecture development
Full circuit design and development
Power electronics development to support high voltage (+1000 VDC) and high power (60 kVA)
Analog and DSP control – supporting torque-slip control, 4-quadrant control, and vector control
Thermal analysis and mechanical packaging
EMC to meet DO-160 and MIL-STD-461
Get the Motor Control Solution Designed for Tomorrow's More Electric Aircraft
Count on Astronics for the adaptable, scalable, open-architecture motor control solution that will meet your needs now and into the future. Whether your airframe is commercial or military, we can provide hardware/software design or full LRU solutions that deliver exceptional performance, reduced weight, and high reliability.
Key Features
Brushless DC – 28V, 270V, 540V and up to 1000VDC (4-quadrant control)
AC induction machines
High voltage power scalable drives using multi-level techniques
Flexible, software-based control solutions (DSP)
Analog or DSP control to support all motor drives
Advantages
Open-architecture design – quickly adaptable and scalable to meet customer requirements with shorter development schedules
High efficiency, advanced control capabilities
Smaller, lighter than traditional motor control solutions
High-performance analog solutions (can save money is applications where software is not needed)
Fault predictive maintenance features
Let's Start the Conversation