---
Xpress Outlet Module Installation Kit
For EmPower In-Seat Power Systems
Fast, Easy In-Seat Power Retrofits
Say goodbye to long and involved in-seat power retrofits with the new EmPower® Xpress Outlet Module Installation Kit. Attaching quickly and directly to installed seat tubes, this on-seat USB outlet housing solution delivers instant USB charging options for your aircraft in a simple overnight maintenance turn.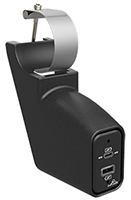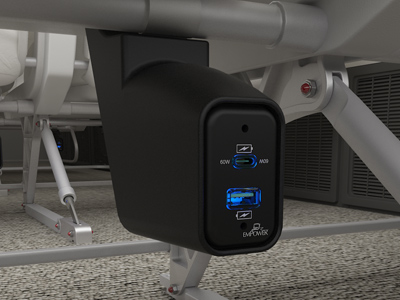 No Seat Service Bulletins Required
The EmPower Xpress outlet holder easily adjusts to the seat rail, either forward or rear-mounted, for maximum flexibility. Attaching to the seat without affecting the seat structure means installations occur without needing seat service bulletins.
Designed for Maximum Flexibility and High Power Delivery
Key features include:
Option to fit either an Astronics EmPower dual USB or single USB outlet unit. Photo shows a USB Type-A and USB Type-C configuration.
Lightweight: weight increase to seat assembly <3%
Standard product, no NRE
Standard black, grey, or cream powder coated finishes available
Custom coloring also available
Meets load, flammability and weight requirements while minimizing tripping hazards
Size: 6.29"H x 2.02"W x 4.87"D, 0.650 lbs MAX, 0.594 lbs nominal