ActiveX Weather Radar Control
Ballard Programming Building Block

The ActiveX Weather Radar Control is a program building block that decodes the ARINC 708 message data and presents it in a highly customizable graphical display. It was created as a programming accessory to be used with Ballard avionics interface products that include the ARINC 708 databus.
---
Key Features
Configure the grid, colors, fonts, and other properties to optimize the display
Specify the scan range--even increase it to 360 degrees!
Customize the display of fault indicator lights
Adjustable refresh rate accommodates the processing power of the host computer
Much more...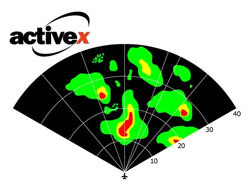 Ordering Information
Please contact our Customer Service Department for assistance in choosing the correct model for your application. For more information or to request a quote, call +1.425.339.0281 or fill out the form at the bottom of the page.
Let's Start the Conversation
For more information or to request a quote, fill out the form below or call us at: +1.425.339.0281