---
Smart Aircraft System
Intelligent Bin Solution
Instantly know the status of your bins – even when closed
Astronics is enabling the gathering of information through sensors & IoT technology to help you gain insight for improving operational efficiency, cabin safety, and the overall passenger experience.
The Revolutionary Smart Aircraft System
Use the transforming power of data and insight to revolutionize your airline operations. From bin condition, to passenger occupancy, to supplies and equipment status, and more, this highly configurable and expandable system delivers immediate benefits today - and compatibility with the future innovations of tomorrow.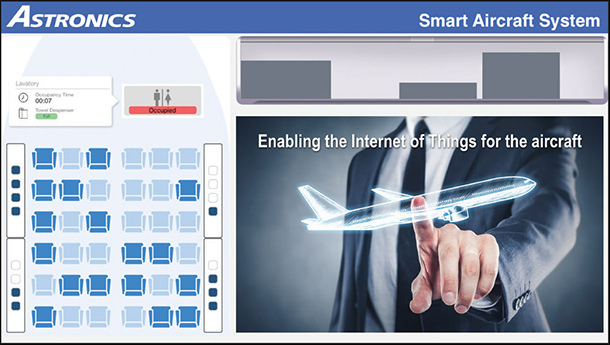 Wirelessly detect and report on the status of your bins in order to:
Speed the boarding process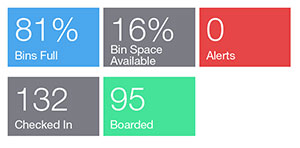 No more guessing or using crew time to check closed bins
Quickly direct passengers to available bin locations
Use all remaining bin space for happier passengers
Know exactly when to start checking bags
Avoid costly delays due to inefficient boarding
Increase cabin safety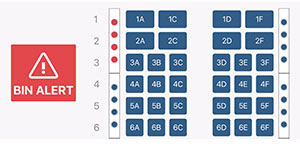 Get instant alerts during flight when problems occur in bins
Early detection of outgassing from lithium-ion batteries minutes before smoke or fire
Proactively take action and contain in-flight battery events
Avoid aircraft diversions due to smoke events
Increase cabin safety
Key Features
Gain valuable insight to drive operational savings
Shorten boarding times
Decrease passenger stress
Reduce physical and mental workload of cabin crew
Increase aircraft and cabin safety
Improve passenger satisfaction

Find out more.
For additional details, please fill out the form below:
Astronics is Your Connected Aircraft Partner
Simple
The plug and play nature of the Smart Aircraft System means it is easy to install, easy to program, and easy to operate. And, when needed, it's also easy to expand.
Safe
The Smart Aircraft System incorporates advanced sensors and machine learning for insight that increases situational awareness and improves safety.
Secure
The Smart Aircraft System is separate and isolated from your passenger network for complete protection and continuous, reliable operation.