Seat Motion
Motion Systems
Astronics PGA is a long time supplier of the cabin interior market. All Carat® Motion Systems are optimized for efficient energy use, easy integration, and ease of operation. Explore all product ranges to find the right Carat Motion System for your projects.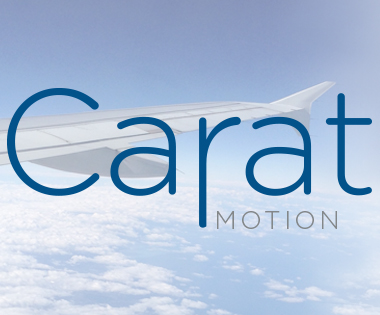 Quality Aircraft Seat Motion Solutions
Compatiable, reliable, customizable. Astronics PGA can provide the right seat motion solution to fit your needs.
One Step Ahead
Designed for VIP, first class, business class, and premium class seats, Astronics Carat Motion Systems consist of linear and rotary actuators, control units with power supplies, pneumatic units, air bladders, and a range of custom harnesses. Carat Motion Systems can also operate other furniture and devices such as beds, tables, partition dividers, minibars, sofas, pop-up TVs, and much more.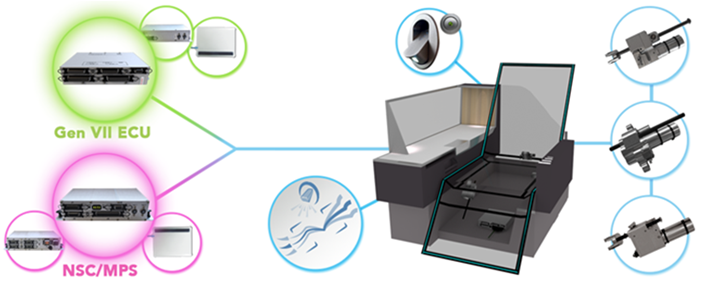 Understanding our Customer's Key Challenges
Astronics PGA delivers the best quality motion solutions to seat manufacturers and airlines around the world by offering tailor-made solutions and state-of-the-art seat architectures for their customers.
Flexible and Reliable Partner
Solutions from Astronics PGA make your seat development easy. We collaborate with you to save energy, time, and hassle while producing a terrific product. The global Astronics PGA supply chain delivers short lead times and cost savings with customized services from project definition through design, delivery, and ongoing support. With Astronics PGA, you'll eliminate the technical risks that occur when integrating products from several suppliers. Moreover, an internal team of multi-disciplinary experts designs the products to ensure best-in-class product reliability in the aircraft market.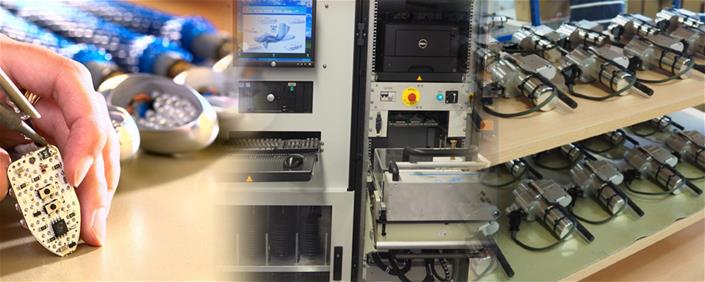 Certification
Astronics develops products to the latest OEM requirements to ensure the highest level of passenger safety with modern design aesthetics.
Seat Electrical System Brochure
Actuators
Astronics PGA actuators deliver the smoothest kinematics. They can install in any type of seating thanks to a wide range of linear, rotary and compact actuators that add value to passenger experience and comfort.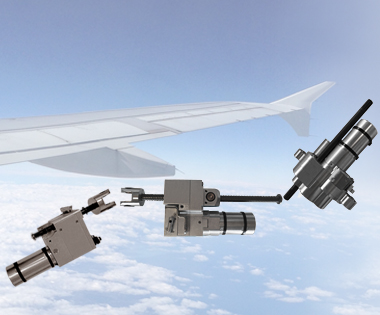 Actuators for Any Aircraft Model
Wide Range of Products
Highly adaptable, Astronics PGA actuators match any type of aircraft and seat model. Apply smooth motion to your cabin interiors to ensure your passengers arrive at their destinations feeling refreshed and relaxed.
The actuator family is offered in multiple categories to match any type of integration and performance.
Compact and Reliable Actuators
Actuators offer multifunction options and outstanding comfort for your seating solutions. They handle very high operational loads and support extra long strokes. Actuators are equipped with manual release and feedback position.
All actuators are designed and tested to ensure the highest reliability level available in the market today. Astronics PGA designs and tests all actuators to comply with the latest Airbus (2520M1F001200) and Boeing (D6-36440) standards.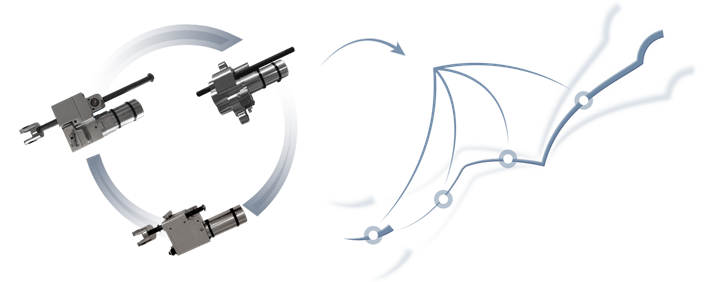 Customize Actuators to Your Seats
Each actuator offers customizable speed, operational load, static load, manual release interface, and stroke length.
The Linear L2T actuator can pass 16G crash tests when equipped with the reinforced brake. Forget about solenoid and sensors when you select the superbrake option.
Compact actuators are available in both linear or rotary options.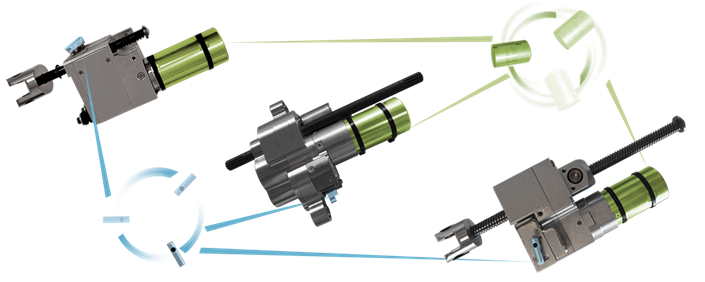 Actuators Brochure
Control Units
Astronics PGA offers two major architectures for Carat® Motion Systems: with or without integrated power supply. This allows you to choose the most optimized architecture for each of your different installations.
Intuitive Control for Your Seat Motion System
Whatever your needs, Astronics can provide a control unit for your seat motion system. Explore the Gen VII ECU, Nano Seat Controller, and Master Power Supply.
Gen VII ECU
Compact and Easy Integration
Built with the latest design and technology techniques, this unique hardware meets all of the current requirements from Airbus and Boeing. This Electronic Control Unit (ECU) is very compact and lightweight, enabling easy integration and a simplified design of your seats. The daisy chain option complies with all power architectures for any aircraft generation. The latest power connectors (BACC65/EN4165) for the newest generation of aircraft are included.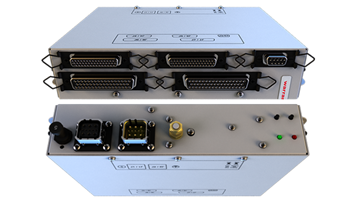 High Capacity and Configurable Control
Control all of your seat systems with a single Gen VII ECU. Customizable and configurable, this unit offers customers the opportunity to manage multiple seat systems and reduce overall controller count to save weight, space, and cost. The Gen VII ECU is suitable for a Bi-PAX seat configuration up through a super first class seat with multiple actuators and connected devices.
Customize the software to operate up to eight actuators plus multiple lighting sources (reading, ambiant, etc.) and communication protocols with other devices. With functions like lumbar support already integrated, replace multiple in-seat controls with this single all-in-one box.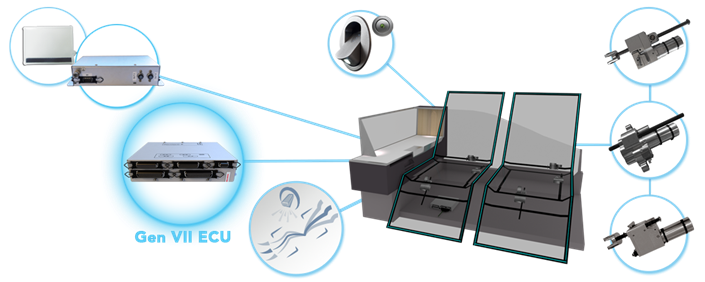 Simpler Diagnostics and Maintenance
The Astronics PGA Gen VII ECU captures events to record everything happening in the system, enabling you to perform predictive maintenance before seats become inoperative.
Pair this ECU with the Astronics PGA Carat Easy Monitoring Solution to monitor your entire seat electrical system.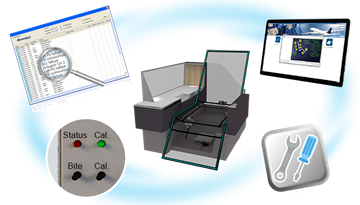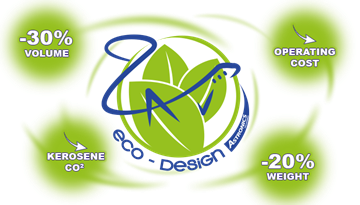 Earth and Budget Friendly
This ECU complies with ecology design requirements, including end of life for recycling. The new hardware architecture provides increased compacity and a very light form factor.
Improve seat design, lighten seat weight, and reduce maintenance to save your airline customers operating costs and downtime hassles with this all-in-one ECU from Astronics PGA.
Gen VII ECU Brochure
Nano Seat Controller: NSC
Compact with Full Options Inside
The Astronics PGA Nano Seat Controller (NSC) comes with everything you need to drive one seat with an integrated lumbar unit. Make your electrical system modular and scalable to any seat LOPA for any aircraft. The NSC provides advanced maintenance functions such as internal memory for log events and a display on the front for viewing error codes.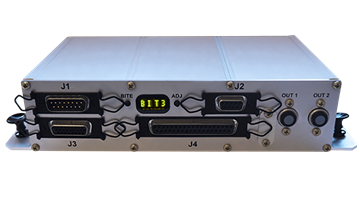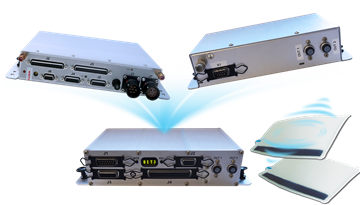 2-in-1: Controller and Pneumatic Unit in a Single Box
The NSC includes the lumbar unit function in the standard lumbar unit box. With the NSC, you can reduce the number of boxes installed in your seats to save weight, cost, and technical complexity.
A Modular Architecture Adapts to any Layout
The NSC serves as the brain of the nano architecture. The companion Astronics PGA Master Power Supply (MPS) can power up to four seats, with a single NSC to drive them.
Both the MPS and the NSC are the very first motion power supply and controller used and certified on the A350.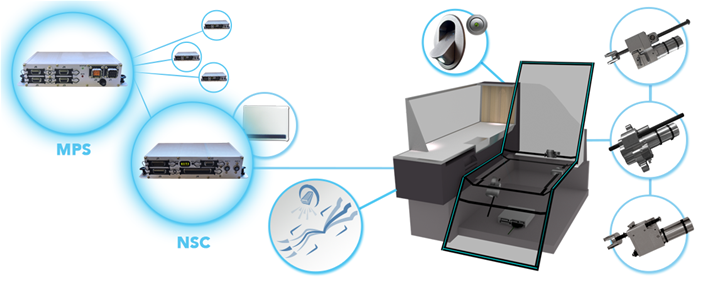 Advanced Maintenance Capacity for Easy Diagnostic and Replacement
Astronics NSC includes the capability of logging events to record everything happening in the system. Perform predictive maintenance to replace faulty parts before the seats become inoperative in aircraft.
With the companion Carat Easy Monitoring Solution from Astronics PGA, monitor your entire seat electrical system.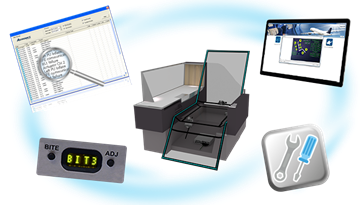 Available in 28 VDC certified Aircraft Power
The NSC also comes in a version for 28 VDC aircraft power, making it easy to use it directly without additional boxes in aircraft like the business jets from Dassault or Embraer. In the same size package as the standard NSC, NSC-Aircraft Power (NSC-AP) is a convenient option for these aircraft types.
Nano Seat Controller Brochure
Master Power Supply: MPS
A Single Product Powers It All
The Master Power Supply (MPS) from Astronics PGA supplies power to any box in 28 VDC with 115 VAC/360 Hz/800 Hz from the aircraft.
It serves as the cornerstone of the modular nano architecture. The MPS powers up to four seats, with a single NSC to drive them.
The MPS and NSC are the very first motion power supplies used and certified for A350.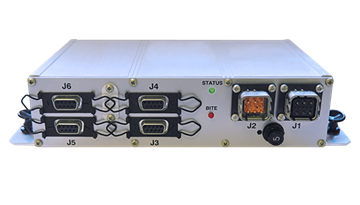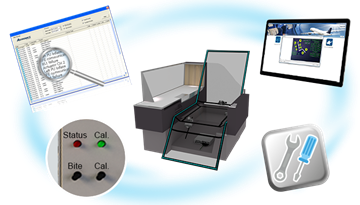 Simpler Diagnostics and Maintenance
The MPS is equipped with power management functions and centralized built-in test equipment (BITE). It communicates with inflight entertainment (IFE) systems via the Arinc 485 bus interface. You can launch a full BITE test to check all equipment connected to the MPS. Send collected data through your IFE system or access it via the Astronics PGA Carat Easy Monitoring Solution.
Master Power Supply Brochure
Pneumatic Units
Astronics PGA's Pneumatic Unit enables you to provide a complete set of comforts in your upscale airplane seats. Adjustable firmness levels plus massage features ensure passengers feel pampered while enjoying the amenities of the flight.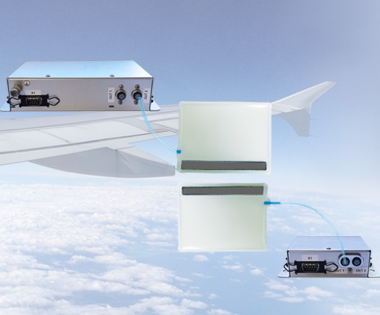 Treat Your Passengers
Reliable, easy to install, and with full system options, choose the pneumatic unit that's right for you.
Pneumatic Unit

Comfort and Reliability

Reduce your passengers' stress and fatigue with the Pneumatic Unit. The system inflates and deflates up to two air bladders for the angle adjustment or massage modes that are controlled by the ECU.

Full System Options

Astronics PGA also offers a full lumbar system, comprised of the Pneumatic Unit, pipes, and bladders, all packaged in one convenient, tested system.

Easy Integration

The Pneumatic Unit is easily installed in the backrest of any type of seat platform. All orientations are certified.
Slim Lumbar Unit

Compact and Active Massage

The Slim Lumbar Unit (SLU) uses active deflation for a real-time reactive massage. This extremely compact size and light weight unit enables easy integration in any seat model.

Full System Options

Like the Pneumatic Unit, Astronics PGA can provide the SLU as part of a complete lumbar system including the pipes and bladders, packaged in one convenient, tested system.

Easy Integration

The Slim Lumbar Unit is easily installed in the backrest of any type of seat platform. All orientations are certified.

PU & SLU Brochure
Harnesses
Astronics PGA works with your team to deliver smart cable harnesses that reduce your manufacturing time and production costs.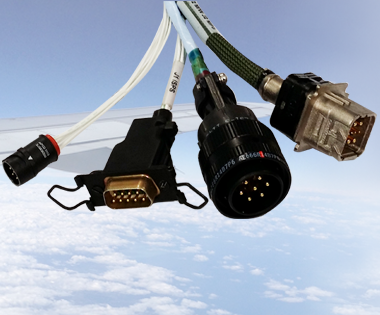 Custom Aircraft Cable Harnesses
Put Our Supply Chain and Manufacturing Capacity to Work for You

Astronics PGA defines and manufactures any type of harness, from standard references harnesses to specialty configurations. We collaborate with all specialized aerospace suppliers and offer you the cost- and time-saving benefits of a robust supply chain. With a flexible manufacturing model, we can expand capacity when necessary to ensure your project timelines are met.

Customized and Optimized

Astronics PGA works with your team to define the best harness structure while minimizing part count, installation time and costs for logistics and related storage. All of our cables are Airbus and Boeing standards compliant. Count on us to complete your project with the utmost efficiency.

Complete Solution Provider

We start with your 3D routing and work with you from definition through design, bill of materials, drawings, and production to deliver your custom cable configuration. We also offer support and complete certification packages.
Harnesses Brochure
Maintenance Tools
Astronics PGA offers diagnostic tools with worldwide support and maintains dedicated stock at all times in order to support your maintenance requirements.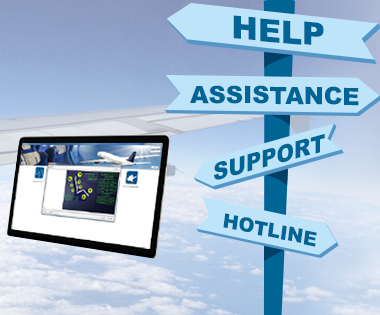 Monitor Your Aircraft with Ease
A variety of diagnostic tools provide you with full access to your Carat® Motion Systems.
Carat Tools Easy Monitoring Solution (EMS)

Your New Maintenance and Configuration Tool

The Carat Tools EMS provides technicians complete, intuitive control over the entire actuation system. This new software suite is available for either tablets or standard laptops, and can be used on the seat manufacturing assembly line or in the cabin for diagnostics and maintenance.

Applications

LRU firmware update
Seat remote calibration
BITE test
End-of-production seat test validation
Diagnostics and troubleshooting
History of events and failures management
Software modifications for test and demo

Cabin Version in Wireless Mode

An extension of this tool is in development for cabin use. This new version will enable a global report of all Astronics PGA's actuation systems health status, delivered wirelessly on a tablet.
ASDiag

Connect and Test

With ASDiag, just connect to the maintenance plug and access everything. Use this tool for failure detection or health monitoring.

Optimize Troubleshooting Time

Prevent critical LRU failures through health monitoring by using the different modules and functions in the tool to detect faulty line-replaceable units (LRUs). You are able to test any function such as actuators, solenoids, keyboard, communication, log records, etc.

Record Your Reports and Apply Astronics' Expertise

Save all of your test reports for traceability or deeper analysis by Astronics PGA. This helps you save time during maintenance operations, minimizing aircraft downtime.
Services

Worldwide on-site or any time remote assistance

Astronics can support you with worldwide assistance for maintenance tasks or training. Experts are also available to help you for troubleshooting or any assistance with Astronics products.

Part 145 repair station and replacement stock

Astronics can keep a stock available on-site at any time for fast replacement LRU. This will give you a great reactivity level to face any unscheduled issues.

Astronics has a dedicated repair station for instant diagnostic and repair of any faulty LRU at any time.