Helicopter Emergency Egress Lighting (HEEL)
HEEL Lighting
Helicopter Emergency Egress Lighting (HEEL) system provides an independent battery operated lighting system that marks crew and passenger emergency exits onboard a helicopter. In addition, it visually identifies exits under all cabin conditions including smoke or water filled, capsized and completely submerged thus providing the passenger with an unambiguous definition of the location of the nearest emergency exit.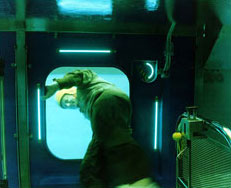 Product Information
In case of a ditching or a controlled emergency landing over water with smoke development and/or blackout, Astronics Helicopter Emergency Egress Lighting (HEEL) system provides valuable visual clues to identify the emergency exits during ditching. The Helicopter Emergency Egress Lighting (HEEL) system can be activated by a variety of means including loss of A/C power, water, impact or other. Following a ditching or crash, the system identifies the emergency escape hatches, pushout windows and emergency exits by illuminating their perimeter as required by MIL-85676(AS), JAR OPS 3.837(a)(4) and CAA Airworthiness Notice 27.
Description
28 VDC input system
Egress lights around the perimeter of all emergency exits
Marker lights for door handles, pull straps and other exit activation means
Controlled through emergency lighting ON/ARM/OFF switch in cockpit
System can be configured to operate in parallel or as part of the emergency lighting system
Battery back-up trickle charged off aircraft power in normal operation
Longer than 4 years battery life with 18 month check
Watertight up to 50 feet for 20 minutes
RTCA/DO-160 Tested
A typical HEEL system consists of a number of electroluminescent lamp encapsulated in fiberglass, an extremely rugged and durable construction, emergency sensors (immersion, impact, etc.) and a DC/AC power supply. The HEEL system can be used independently or as part of the Emergency Lighting and Emergency Exit Lighting system. HEEL meets the requirements set forth in JAR-OPS 3 and fully complies with the United Kingdom Civil Aviation Agency Airworthiness Information Leaflet AD/1L/0124/1-4, dated 16 December 1987, and has obtained CAA Accessory Approval under CAA Approval Number E15499. HEEL is designed to meet all pertinent aviation regulations and meets the airworthiness requirements of RTCA/DO-160.

HEEL Design Concept The ultimate test of any emergency system is the ability to reliably perform in a catastrophic situation. Since an EL lamp is solid state, it is the ideal technology to use as the basis for such a system since it will survive a crash without breaking. In a smoke-filled environment, the area light of the EL lamp is far more visible than a point source of light.
Ordering Information
Please contact us for technical inquiries and ordering information.