Fuel Access Doors
Exterior Structures
From casting to finishing access doors, Astronics' vertically integrated manufacturing provides unique value to customers at lower costs. Our capabilities include:
Aluminum die-casting
Composite with honeycomb core and Titanium-bonded face sheet
Carbon-fiber injection molding
Titanium machining
Aluminum machining
NADCAP-accredited chemical and bonding processing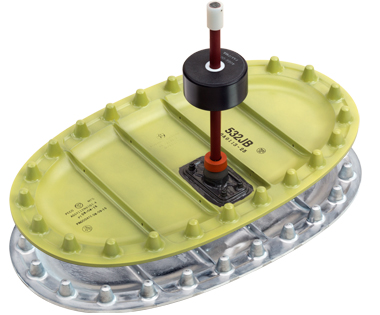 Product Information
Fuel Tank Access Door with Drip Stick
Since the 1980s, Astronics has provided access doors for The Boeing Company. On most aircraft, over 40 fuel tank access doors are housed under the wing to enable quick access for fuel system maintenance.

In manufacturing access doors, all of Astronics' processes are utilized. Using raw ingots of A380 aluminum, the drip-stick access door starts with die casting and goes through several CNC operations. In contrast, a honeycomb bonded composite access door begins in the plastic injection molding process using highly engineered aerospace resins. Both doors are processed through several NADCAP bonding operations to adhere phenolic rings, seals, and a drip-stick (for fuel sensing). NADCAP- accredited processes are used to provide chromate conversion and finishing operations. The access door undergoes painting, where a fuel-resistant finish and topcoat are applied. A fuel seal is bonded on the access door prior to hardware (nut/nut retainer) installation and a pressure test is performed. Quality inspections are performed throughout to conform to customer specifications. Kitting of final assemblies provides customers with the most efficient delivery and installation.