Flight Attendant Bags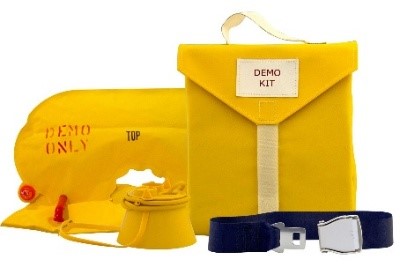 Product Information
Each variation of Flight Attendant Bags complies with FAR 25.853 and consists of one or two closing flaps with Velcro. Many sizes are available or they can be customized. The bags are easily accessible from their stowage compartments with large print name identification as well as grabbing/carrying handles.
Features
Comply with FAR 25.853 for flammability
Various sizes to accommodate many aircraft compartments
Customizable sizes and contents
Lightweight
Carrying handles for each of use
Product Variations
Demo Kit – Contains the items flight attendants use to give a safety demonstration to passengers, including a life vest (optional), seat belt extension, and oxygen mask.
Seat Belt Extension Kit – Kits used to store seat belt extensions that flight attendants distribute to passengers.Each kit contains 3, 6, 10, or 12 belts.
Life Vest Stowage Bag – Empty bags used to store life vests.Bags are available in either adult or infant sizes.
Oxygen Mask Stowage Bag – Bag used to stow an oxygen mask.
Ordering Information
| | |
| --- | --- |
| Description | Part Number |
| Demo Kit | S6-02-0001-xxx |
| Seat Belt Extension Kit | S6-02-0002-xxx |
| Life Vest Stowage Bag | S6-02-0003-xxx |
| Oxygen Mask Stowage Bag | S6-02-0004-xxx |
Contact & Support
Astronics LSI, Emergency Systems