Titanium & Aluminum Machined Products
Machining & CNC Capabilities
From machining aluminum and titanium billet to delivering a finished fuel tank access door, Astronics provides integrated manufacturing for a one-piece flow. Our capabilities include:
Titanium machining
Aluminum machining
Tooling, process, and fixture development
Design for Manufacturability
Vertically integrated NADCAP-accredited chemical and bonding processing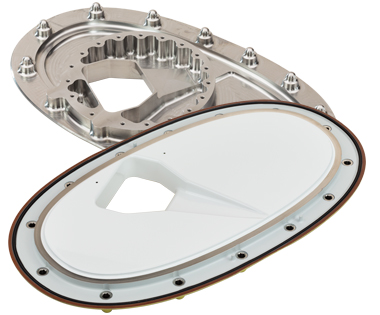 Product Information
Titanium Fuel Tank Access Doors
As mission-critical assemblies under the aircraft wing, access doors provide easy access to the fuel maintenance system. The Titanium access door is machined from Titanium billet to create a nearly indestructible solution. Astronics CNC Team developed programs and design-holding fixtures to achieve highly-specialized machining processes. CNC operations are optimized to reduce process time and decrease labor costs. Testing and training is provided to operators to the highest quality standards in order to ensure precise machining to very tight tolerances.
Astronics' machining capabilities include: vertical and horizontal milling with 4-axis capability to support large parts (up to 40"); 5-axis turning with live tooling; and advanced probing to measure features during the machining processes. Astronics' climate-controlled metrology lab houses two automated CMMs, two manual CMMs (with scanning), digital comparators, along with additional inspection and testing tools.
While sharing similar processes with other fuel access doors, the Titanium access door illustrates Astronics' one-piece flow in manufacturing, offering customers the greatest value.