Die Cast Products
Aerospace & Defense
Astronics' start-to-finish die casting, CNC, painting, and finishing provides customers with vertically-integrated manufacturing. Close collaboration between customers and our in-house multidisciplinary teams reduce manufacturing time and delivery lead times.
Our capabilities include:
Aluminum & Zinc Die Casting
Small to large parts, weights from a few grams to over 20 lbs.
Design for Manufacturing (DFM)
Latest CAD software including Onsite Flow Analysis
Advanced Tooling Engineering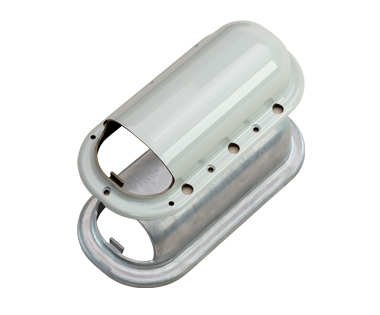 Product Information
Die-Casting Capabilities
Whether aluminum or zinc die castings, Astronics' production is efficient, cost effective, and reliable.
Astronics' die casting offers a wide range of capabilities, from 200 to nearly 1000 tons of clamping pressure. These machines run a wide range of alloys to meet customer requirements (A360; A380; A413; B390; Zinc; and many others).
Leveraging Astronics' vertical integration, most cast products undergo secondary, value-added processes to meet customers' stringent requirements. These processes include CNC machining, vibratory deburr, chromate conversion, finishing, and final assembly.
One example of this vertical integration is the co-developed exterior anti-collision light cover. Astronics Engineering collaborated to provide a finished die-cast part that features design for manufacturing (DFM) using existing manufacturing processes. Our processes integrate Quality Assurance to ensure accurate configuration, revision control, and traceability—delivering to our customers only the highest quality parts.