Composite Assemblies
Diversified Capabilities
Since the 1960s Astronics has offered product solutions for both custom injection molding and die casting in aerospace and defense. Now, with increased capabilities for composites, our product solutions give customers full access to our diversified services.
Injection Molding Presses from 40 Tons to 1,000 Tons
Tight-tolerance moldings
Integrated statistical process control (SPC)
Molding, Casting, CNC, Bonding, Painting, Finishing, Assembly
Design for Manufacturability (DFM)
Composite Fuel Tank Access Doors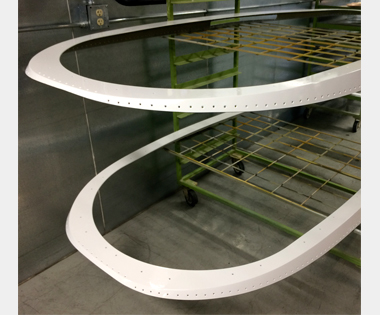 Product Information
Composites Collaboration
Astronics offers vertical integration for composites to meet a variety of customer needs. A recent example is the Radome skirt, the base on which a Radome assembly is mounted. The antennae inside the Radome provide aircraft passengers with in-flight WiFi connectivity.
Our customer approached Astronics to assist by manufacturing a Radome skirt to support the Radome final assembly. Astronics rose to the challenge, helping save our customer's production schedule. Working closely with industry experts, Astronics exceeded customer requirements, delivering the Radome skirt to be installed on an established commercial airplane.
In collaboration with our customer, Astronics Engineering developed tooling from a common 3D CAD database. By partnering with customers and suppliers, Astronics' design engineering, proven project management, and collaboration enabled a seamless transition to in-flight connectivity.