HD Monitors and Touchscreens
A World of Entertainment in Every Display
Experience true luxurious inflight entertainment with displays from Astronics CCC. Offering advanced features including: 3D, 4k Ultra HD, Dual View technology, and more.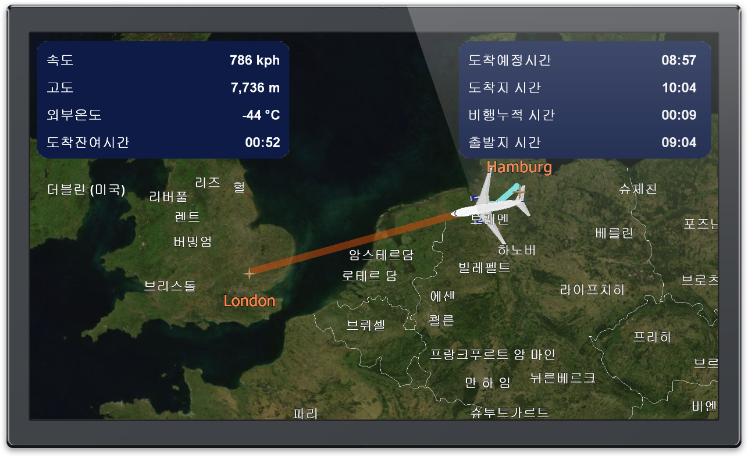 Our engineers developed our displays with one goal in mind: design a thinner, lighter, quieter, more entertaining inflight display that incorporates features not found on displays twice as thick. Our displays not only achieve these goals, they set a new standard for what an inflight display should deliver.
4k Ultra HD is Cleared for Takeoff
Cinema-quality displays for a difference you can see.
4K Ultra HD is the same resolution that today's biggest movies are filmed in.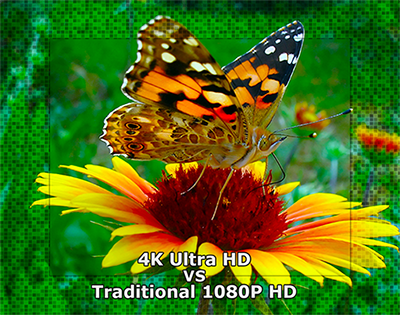 Take Your IFE to Another Dimension with 3D Monitors
The first 3D displays certified for inflight use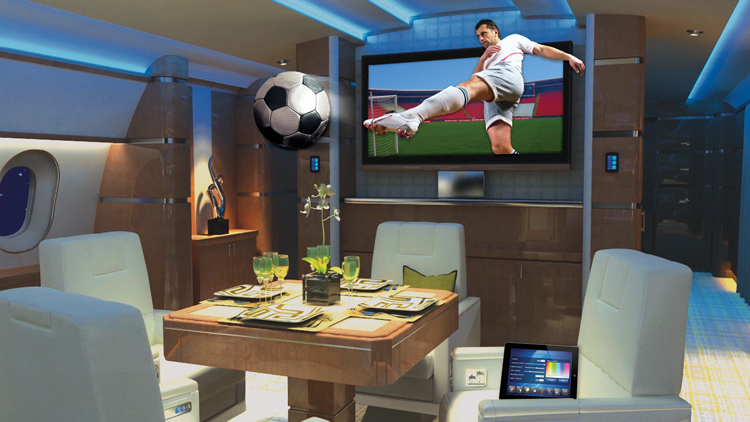 Don't just watch inflight entertainment, experience it like never before with Astronics CCC's full line of 3D displays. Featuring the latest 3D technology for images that are so real you'll think you're in the movies. Each display features an ultra-thin design, LED backlighting, silent fans, and designer glasses to deliver the world's most immersive inflight entertainment.
Dual View Mode
One display, twice the entertainment.
Dual View brings twice the entertainment to each monitor. Originally created for video game players, Astronics CCC adapted the technology for inflight entertainment, allowing each monitor to display two videos at once. Passengers wear specialized glasses that allow them to enjoy the video they prefer.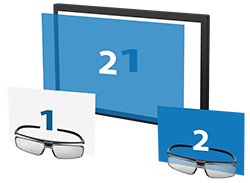 Superior Viewing Angles on Every Display
With an Astronics CCC display every seat has a perfect view.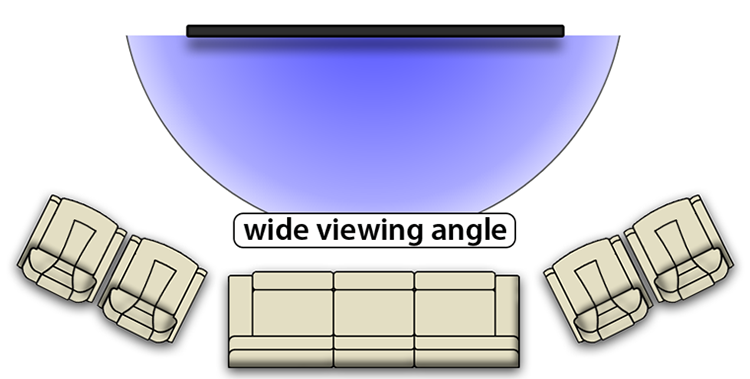 Every Astronics CCC display features extra-wide viewing angles for crisp HD and eye popping 3D at every seat.
Designer 3D Glasses
Lightweight, stylish, crystal clear optics.
Experience perfect 3D in style with Astronics CCC's premium designer glasses. Featuring lightweight metal frames so comfortable you'll forget you're wearing them and superior 3D circular polarized lenses to create jaw dropping 3D.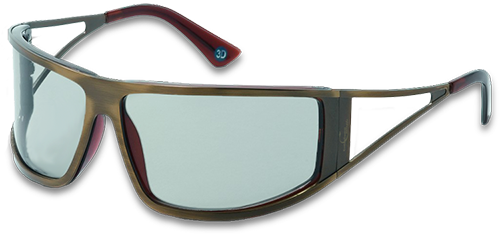 Better by Design
Our design team rethought every detail and refined every feature of our new monitors. What they created are the thinnest, lightest, most feature-rich monitors ever designed for inflight use.
LED Backlit LCDs
Our engineering team sources the highest quality LED LCDs to ensure that when you see our monitors you see a difference.
Features:
Low power consumption
Low heat output allows fewer fans and a quieter cabin experience
1.6 billion colors creates a brilliant picture
Truer blacks to display crisp HD images
Wider viewing angle ensures every passenger has the perfect seat
120HZ refresh rate renders smooth action sequences
Innovative Case
Our engineers thought outside the box, and came up with a unique design that magnifies both form and function. This new design offers several key advantages in the areas of heat, noise, and wiring.
Features:
Vents moved from the top to the front face of the display to allow efficient heat dissipation for in-wall installations
Heat producing components nestled directly behind the vents in the upper portion of the display to further enhance heat loss
Inputs and connectors moved to the top to accommodate common aircraft wiring practices.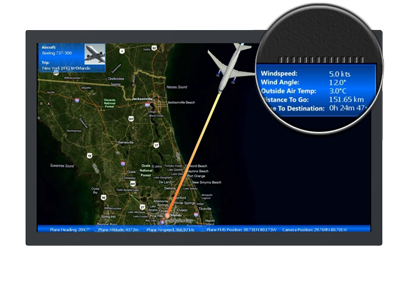 Advanced Composite and Aluminum Design
Our sleekest, most durable displays ever.

Aluminum
Starting with solid blocks of aluminum, craftsmen at our in-house machine shop mill each component with care and precision. This method creates a display that is exceptionally light, yet durable enough to pass the most rigorous DO-160 testing.
Composites
The design features ultra-lite composites created with a 3D manufacturing process. These components use an aviation grade thermo plastic that is flame-resistant and has a strength comparable to aluminum while weighing 50% less.
Polycarbonate Screen Protection
Our engineers placed a glare-reducing, crystal clear polycarbonate over the display to protect your investment and conform to DO-160 standards.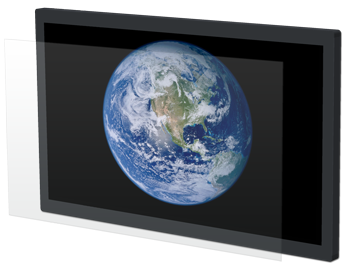 Audio Video On-Demand is Now Incorporated Into Every Display
Our engineers know that space and weight are premium commodities on an aircraft and that is why they integrated AVOD directly into the display housing, saving weight, simplifying wiring, and reducing box count.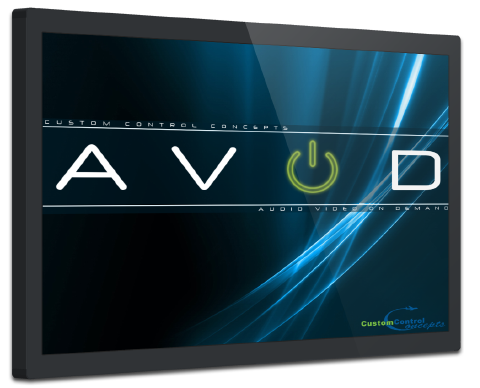 Inflight entertainment is essential for an enjoyable flight, and our new AVOD displays are the most entertaining displays ever designed. AVOD integrates your music and video collection directly into each display. Upload your IFE library and AVOD allows you to enjoy content anytime you want. Play back audio and video in crisp HD and 7.1 surround sound and distribute it to all monitors or just one. AVOD gives you the freedom to decide and enjoy.
A Display This Advanced Deserves the World's Most Advanced Cabin Remote
Fully integrated with our AVOD displays, our SkyPlay iPad remote application gives you full control of your IFE library allowing you to experience the freedom of true on-demand. Choose to play back content on all cabin displays or just one. In addition, you can enjoy content in the palm of your hand with wireless IFE streaming directly to your Apple device.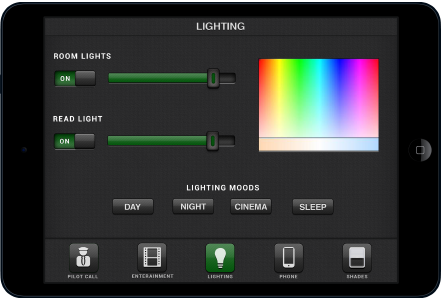 We Designed a Size for Every Location
Which size will you choose?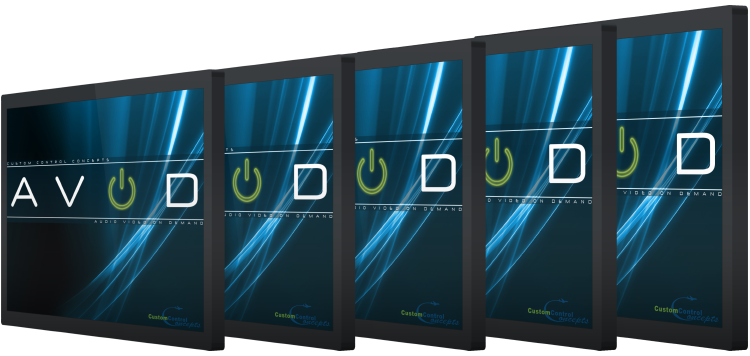 Sizes available from an incredible 65" down to a compact 4.8" all in stunning HD.