---
RUGGED ETHERNET SWITCH PMC
Rugged PMC Design.
The MPR-ES-1 is a full-featured Ethernet switch implemented on a rugged PMC card. It is ideal for embedded networking applications in both conduction and convection cooled systems.
Key Features
Managed or unmanaged operation
(unmanaged by default)
On-board magnetics
8 - 10/100/Auto (external)
1 - 10/100/1000/Auto (external)
1 - 10/100/1000/Auto (host)
8K MAC address table
Full/Half duplex
Auto crossover detection
Independent MAC per port
IPv4 and IPv6 operation
IEEE 802.3 compliant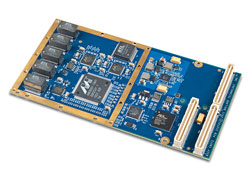 10-port Ethernet switch.
The switch features 8 fast switch ports and one GigE switch/uplink port brought to the card's P14 rear I/O connector. A second GigE port provides a direct host connection through an on-board Ethernet controller (NIC).
Managed or unmanaged.
The MPR-ES-1 operates as a simple unmanaged switch by default, or can be fully managed to control complex switch operations and gather detailed stastical data.
Applications
This MPR-ES-1 is a fitting choice for new system designs, or as a low-cost way to upgrade or expand existing systems. It provides reliable performance in applications such as:
High reliability/high throughput switching
Network bridging/segmentation
Red/Black network segmentation
VoIP and digital video
N-redundant network
Ethernet expansion for embedded systems
"In-chassis" or external networking
Management
Layer 2/3 support
Onboard management processor
Multiple management interfaces
VLAN
Quality of Service (QOS)
Health Monitoring
The switch collects information about card and network health, along with temperature data, and makes it available through the host or external GigE ports. Features include:
BIT (Built-In Test)
Temperature monitoring
RMON statistics counter
Port mirroring
Virtual Cable Tester
Easy Integration
The CCPMC form factor allows easy integration with modern embedded computers, including VME, VME-64, cPCI, and VPX systems. Low power consumption and high MTBF ratings make the MPR-ES-1 an ideal choice for rugged, high-availability systems.
System Diagram
PCI Interfaces
Universal PCI interface:
1. 3.3V or 5V I/O
2. 33 or 66 MHz, 32 bit
Power
5 V @ 1.5 A (idle)
5 V @ 2.2 A (typ)
5 V @ 2.7 A (max)
Host Ethernet Controller
10/100/1000 Mbps
Dedicated PCI interface
IPv4 and IPv6 operation
Environmental
Component temperature: -40 to +85 deg C
Storage temperature: -55 to +100 deg C
RoHS 6/6 compliant
Mechanical
Dimensions: 2.91 x 5.66 inch
(74 x 143.75 mm)
Weight: 2.3 oz. (65 g)
I/O connectors: P14 (rear I/O)
IPC class III design and manufacture
MTBF: 1,680,000 hours
Software
None required for unmanaged switch operation
API and examples for management functions
Drivers for NIC available for most operating systems