EmPower® 110VAC + USB In-Seat Power Systems

The latest generation of EmPower® design delivers up to 200VA of AC power and 10.5W of USB charging power to a passenger outlet
Integrated Outlet Unit incorporates a universal AC socket and a USB charging port with a high power output capable of charging all the latest smart phones and tablets
System power is managed with Astronics' patented power management technology
Available with Astronics' Master Control Unit (MCU) or Advanced Master Control Unit (AMCU) and number of system options
Flexible and expandable to fit any size aircraft
System Description
A block diagram for the EmPower® 110VAC and USB In-Seat Power System is shown below. The head-end unit (AMCU or MCU) provides power management and distribution for the system. Three-phase 115VAC, 400Hz aircraft power is distributed to the downstream In-Seat Power Supply (ISPS) units on multiple outputs (columns) along with one data/control discrete. The AMCU/MCU includes several input discrete controls and programmable features to manage power within the limits of the available aircraft system, and provide the specific customer desired features and controls.
In-Seat Power Supply (ISPS) units are typically installed at each seat group, and are available in three basic configurations: 110VAC only, 110VAC plus Standard Power USB, or 110VAC plus High Power USB. In all configurations the ISPS can deliver up to 200VA of AC power. The Standard Power USB will provide an extra 7.5W of USB charging per outlet and the High Power USB will deliver up to 10.5W.
The EmPower® universal AC Outlet Unit is compatible with plugs from over 170 countries and is designed such that 110VAC power is not present at the outlet until a suitable plug is fully inserted. For the systems with USB power, an integrated AC/USB Outlet Unit is available, or the airline may choose to install separate AC and USB outlets. All Outlet Units are available in a variety of standard and custom colors.
The In-Use Light is driven from the ISPS, and provides system fault status as well as an indication to the flight crew that the system in that row is being used.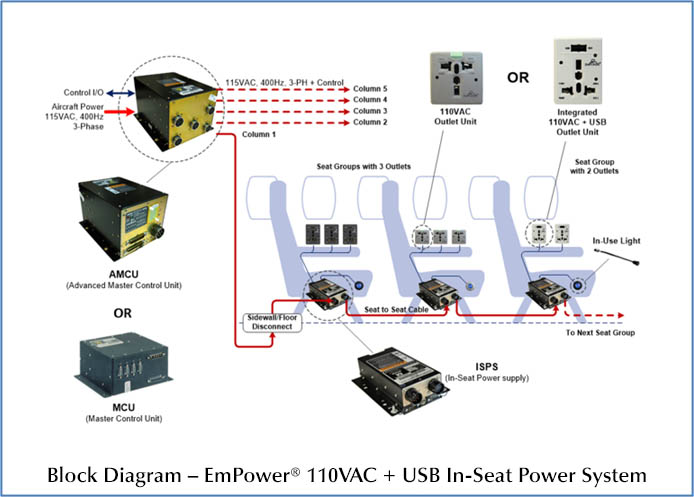 The EmPower® In-Seat Power Systems are available with either the AMCU or MCU for power management. The MCU provides a lower cost option for some retrofit installations when less outlets are installed and/or the full configurability of the AMCU is not required. Contact your EmPower® Sales Representative to determine which system is right for you.