TestBase
Test Executive
TestBase is a test executive that supports the visual development, database storage and run-time execution of test program sets.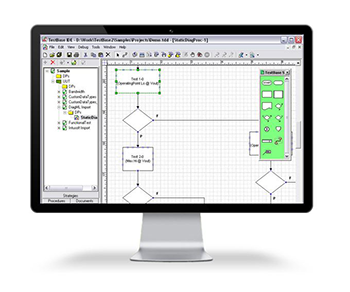 Product Information
To effectively run test programs, the TestBase Test Executive integrates third-party applications such as:
Test programming languages
Document viewers
Report generators
Database engines
Configuration management systems
Diagnostic tools
The TestBase Advantage
Customize, extend, integrate with other apps - due to a modular and open architecture
Increase productivity - combines the simplicity and self-documenting nature of visual design with the versatility of third-party test programming languages
Future supportable - offers extensive design-time verification and enforcement of good development practices such as test procedure encapsulation
Reduce lifecycle costs of Automatic Test Systems - leverage your investment for a long time due to its interoperability, customization, extensibility, and long-term maintainability
Supports all maintenance levels through XML-based transfer and centralized database storage of test results, test data analysis, test control integration, and code reuse.
TestBase supports the entire Automatic Test Equipment lifecycle (new, re-host, legacy) through common user interfaces, configuration management capabilities, and automatic generation of development documentation.
Contact & Support
Astronics Test Systems