Universal Counter/Timers
Universal Counter/Timer
This line of high-precision universal counter/timers delivers the ultimate in reliability for your application.
Products are available in VXI and PXI versions.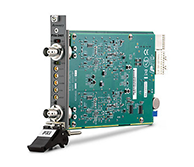 Product Information
All Astronics units are built for tough duty and offer up to 11 measurement functions with high speed and high resolution.
Choose from the PXI and VXI versions listed below.
PXIe-2461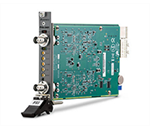 The Astronics PXIe-2461 is a high-performance, 2-channel, universal 235 MHz frequency interval counter.

Occupying a single PXI Express peripheral slot or hybrid slot, the frequency and time interval/counter (FTIC) offers 12 easy-to-use automatic measurement functions including:
Frequency and period
Time interval
Time interval (delayed)
Rise and fall time
Pulse width
Duty cycle
Frequency ratio (channels 1 to 2 or 2 to 1)
Totalize (manual, by pulse, by cycle, and timed)
Phase
Outstanding Resolution: The Astronics 2461 counter offers frequency measurements up to 235 MHz and up to nine digits of resolution per second. In time interval, the resolution is 1 ns in single-shot mode and 100 ps in average mode.

High-Voltage Measurement: You can set the Astronics 2461 to measure timing and amplitude characteristics in either of two voltage ranges: ±5.1 V or ±42 V.

Measurement Timeout: With the programmable measurement timeout, you can optimize system performance where input signals are missing.

Datasheet
Driver
2461c VXI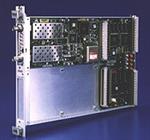 Formerly sold under the Racal Instruments™ brand name, the Astronics 2461C is a high performance, 2- or 4- channel, universal 200MHz counter occupying a single C-size VXIbus slot.

The module is available in three versions:
2461-Cd with no oscillator
2461-Ce with a TCXO
2461-Cf with an OCXO high performance oscillator
The 2461C is a high performance unit offering eleven automatic measurement functions:
Frequency
Period
Time Interval
Time Interval Delay
Rise Time
Fall Time
Pulse Width
Frequency Ratio channel A to B
Totalize
Phase
DVM (MAX, MIN and DC voltages)
Outstanding Resolution. The 2461C offers 200MHz frequency measurements with up to 10 digits of resolution per second. In time interval, the resolution is 1ns in single shot and 100ps in average mode.

High Speed Time Measurement. By using Time Error Correction (TEC) in combination with traditional recipromatic techniques, measurement time is minimized without any performance compromise.

Datasheet
User Manual
Driver
Contact & Support
Astronics Test Systems