Rugged Ethernet Switches
Overview
The MPR-ES-1 is a full-featured Ethernet switch implemented on a rugged PMC card. It is ideal for embedded networking applications in both conduction and convection cooled systems.
Key Features:
Managed or unmanaged operation (unmanaged by default)
Health monitoring
Easy integration in embedded systems
Product Information
Click on a product below for more information, or contact Astronics to discuss your specific avionics interfacing needs:
MPR-ES-1 Rugged Ethernet Switch Card
The rugged MPR-ES-1 is a full-featured Ethernet switch PMC card. It features 8 fast switch ports and one GigE switch/uplink port brought to the card's P14 rear I/O connector. A second GigE port provides a direct host connection through an on-board Ethernet controller (NIC).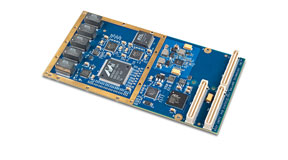 Also Available:
AB2-ES Ethernet Switch Box
The AB2-ES is a rugged, flight-ready, 9-port Ethernet switch. It features built-in health monitoring and is suitable for fixed wing, helicopter and ground mobile applications.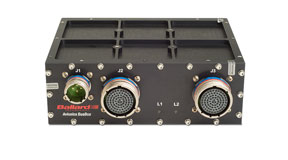 More Avionics Interface Information
Software
Find out more about Software »
Cables & Accessories
Find out more about Cables & Accessories »
Avionics Databus Protocol Tutorials
Find out more about Avionics Databus Protocols »
Legacy, Obsolete & End-of-Life Products
Find out more about Legacy, Obsolete & End-of-Life Products »
Contact & Support
Astronics Ballard Technology