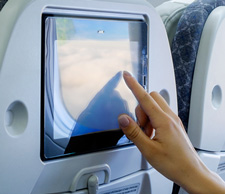 Astronics Connectivity Systems and Certification (formerly Telefonix PDT and Astronics Armstrong Aerospace) serves as the experienced, global market leader for in-flight entertainment and connectivity (IFEC) solutions for aircraft. Whether you are looking for a specific component or are ready to start a fresh system development effort, our teams of engineers work collaboratively with yours to deliver a tailored, certified solution that speeds your time to market.

Our proven technology, flexible design platforms, high customer satisfaction, and long-term relationships with industry leaders make us your ideal partner for your next connectivity system.


About Astronics Connectivity Systems and Certification
Astronics CSC is the newly formed subsidiary of Astronics specializing in in-flight connectivity hardware, integration engineering, and certification services. Our group combines the successful operations of Astronics Armstrong Aerospace and Telefonix PDT. Together with other Astronics subsidiaries, we offer the most complete set of IFEC hardware solutions available from a single vendor.



History
With over 25 years of aviation and design consultancy experience, we offer the knowledge and creative thinking needed to help you develop what's next.
Telefonix PDT evolved in concert with the growing expectation of a connected aircraft. From our beginnings as the "Leader in Cord Reel Technology" to the broad range of IFEC hardware we design and manufacture today, we have always been a partner you can count on. We pride ourselves on the ability to deliver today and be there with you in the future through the complete product lifecycle.
Telefonix PDT is a leader in the design, development, and manufacturing of complex product solutions, delivering custom solutions as well as embedded and portable IFEC hardware solutions for both commercial and business aircraft. Our team of more than 300 employees worldwide, including more than 100 engineers of various disciplines, delivers the expertise, passion and drive to help you push the boundaries of technology delivery in the air.
Astronics acquired Telefonix PDT in 2017 and continues to deliver these quality products and services in synergy with the additional Astronics connectivity and data solutions.
Core Values
Founded in Oak Brook, Illinois in 1996, Armstrong Aerospace Inc. began engineering aircraft modification projects by installing seat back telephony systems. Since then, Armstrong Aerospace has successfully installed passenger power systems, WiFi Internet, 802.11n wireless access points, mobile phones, satellite TV, and in-flight entertainment as well as navigation, communication and flight safety upgrades on commercial and business aviation aircraft. Customers and strategic partners can expect a passionate approach to problem solving, design, and certification leading to reduced cost and faster time to market.

Astronics Armstrong Aerospace is recognized throughout the aviation industry as a reputable aviation engineering and manufacturing firm by providing customers with turnkey design solutions that result in lower cost kits, shorter installation time and a favorable approach process. Astronics tailors services to fit customers' specific needs and then develop a matching installation kit with FAA certification and the capability to provide foreign approval (EASA, CASA, CAAC, JCAB, CTA, etc...).

It is the commitment to quality that distinguishes Astronics Armstrong Aerospace from other aviation engineering and consulting companies.

Throughout the years, Astronics Armstrong Aerospace has worked on over 115 STC projects and holds over 90 US and Foreign STCs.

In 1999, Armstrong Aerospace was contracted by Astronics to install in-seat power systems, starting a long term partnership that led to Astronics' acquisition of Armstrong Aerospace in January of 2015.
Leadership
Click the button below to view our current job openings.
About Astronics Connectivity Systems And Certification
Featured Products
A stand-alone content loader that allows for loading content to a remote server via one of four USB ports.

View Product

PowerBox's off-seat mounting allows system components to be added without modification to the seat.

View Product

ARINC 791 compliant adapter plates simplify and standardize antenna and radome installations.

View Product
Featured Products
A stand-alone content loader that allows for loading content to a remote server via one of four USB ports.

View Product

PowerBox's off-seat mounting allows system components to be added without modification to the seat.

View Product

ARINC 791 compliant adapter plates simplify and standardize antenna and radome installations.

View Product
Featured News
Astronics announced today that it will supply inflight entertainment system hardware for a next-generation inflight entertainment and connectivity (IFEC) system being developed by one of the largest airlines in the United States.

More Information

Astronics will collaborate in the mission to enable seamless in-cabin connectivity experiences

More Information

Milestone affirms Astronics' position as the leading provider of wireless access points for commercial aircraft

More Information
Telephone
+1.847.244.4500 (Main/Connectivity)
+1.630.285.0200 (Certification)
+1.847.821.3000 (PDT Design Services)


Main Office/Connectivity Products
AOG & Support
Location
AOG
24 Hours
P:
+1.877.691.7478 (toll free), +1.708-873-6883